Metro Transit Service Changes - September 2012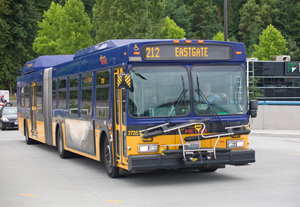 On August 15, the Council adopted a transit funding plan that includes a Congestion Reduction Charge, (CRC) but also steps to provide transportation alternatives for commuters who may see a reduction in bus service in their communities. Read about the plan.

The adopted plan is the result of negotiations between the Council and the County Executive, and after several opportunities that many citizens took advantage of to testify on the original proposal. That initial proposal included just a $20 Congestion Reduction Charge.

The CRC is estimated to generate a two-year total of approximately $50 million for Metro Transit service. In combination with the use of reserves and other one-time measures, the CRC will provide for more stable transit revenue conditions for the Executive's 2012-2013 Proposed Budget.

Included in the new plan are:

• Incentives to encourage drivers to try using public transit. The Transit Incentive Program provides car owners with eight Metro bus tickets worth up to $24 in exchange for each car tab renewal. Individuals can use the tickets for bus rides to work, play or a special event. Or they can choose to donate the value of those tickets for distribution by select human service agencies.

• Implementation of different types of transit services for riders who depend on routes that serve lower-density areas. As part of the adopted Transit Strategic Plan, the Council directed Metro to move ahead with strategies for introducing more cost effective transit services on some lower ridership routes currently served by buses. But rather than eliminating transit service altogether in these communities, the adopted plan calls on Metro to explore alternatives that ensure that public transit will be available when needed—such as Dial-a-Ride Transit service (DART), community access transportation services, Vanpools and vanshares.

• Language calling for routes which carry more riders due to the effect of highway tolling as candidates for added service to maintain the quality of existing service—consistent with the direction of the Transit Strategic Plan.

• Elimination of the Ride Free Area (RFA) from Jackson and Battery Streets and in the Downtown Seattle Transit Tunnel starting in October 2012. The RFA, started in 1973 to encourage retail development in the downtown Seattle business core, has become a money loser for King County. The elimination of the RFA is expected to generate $2.2 million in revenue for Metro.

• Investigating whether to increase the number of transit tickets allocated to human service and homeless programs, or reduce the cost these agencies pay for transit tickets, to reduce the impact of the elimination of the Ride Free Area.

Since Executive Constantine introduced his transit proposal in June, more than 4,900 comments were sent to the Council regarding the Congestion Reduction Charge and other legislation addressing the crisis facing Metro Transit. An additional 850 people attended special evening meetings of the Council's Transportation, Economy and Environment Committee held in Kirkland, Burien and Seattle, with over 200 providing testimony.

County Executive Constantine sent the Congestion Reduction Charge to the County Council with two other pieces of legislation:

• An ordinance approving a Congestion Reduction Plan, a prerequisite for Council action on a Congestion Reduction Charge (2011-0287). That ordinance was adopted by the Council on July 18.
• An ordinance cutting 100,000 hours of Metro bus service effective February 2012 and directing Metro to plan for reducing bus service by an additional 500,000 service hours in the 2012-2013 budget (2011-0289). That ordinance remains in the Transportation, Economy and Environment Committee.
Compare
the adopted legislation with the original proposal
Sustainable future for Metro

Read the legislation:
2011-0287
2011-0288
2011-0289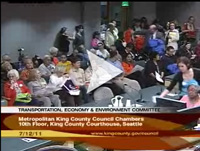 Watch video of the special meetings:
Watch video from the July 6 meeting
Watch video from the July 12 meeting
Watch video from the July 21 meeting