Councilmember Pete von Reichbauer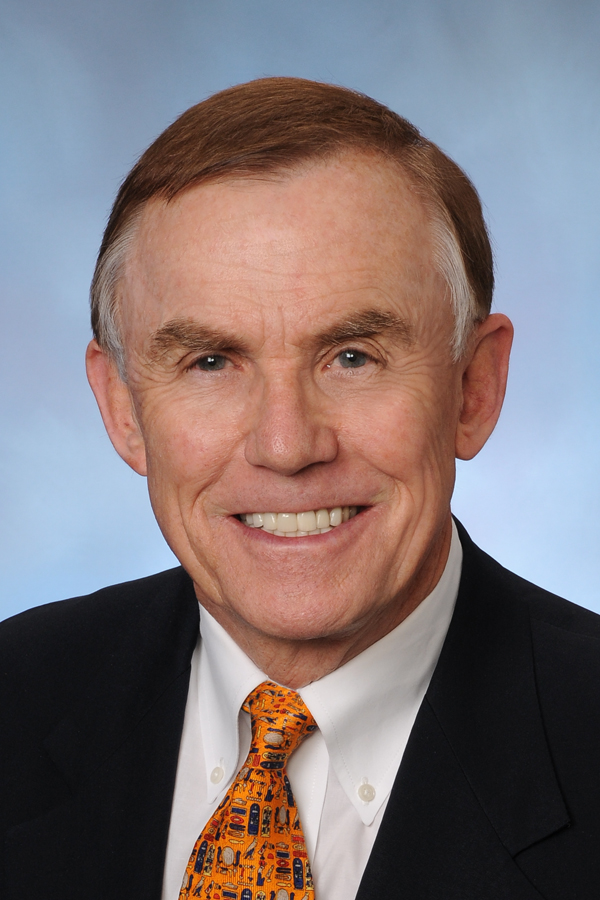 Welcome!
My name is Pete von Reichbauer, and I am honored to represent South King County on the King County Council. I am committed to advocating for your needs and the needs of our local communities.
As a citizen of the state of Washington, I take great pride in local community service and community engagement. My involvement as a past president of the Kiwanis Club, service as a founding member of the Auburn/Federal Way Boys and Girls Club's board, my role as a founding board member of St. Francis Hospital, and my work with similar non-profit organizations has not only allowed me to better represent the people of King County's District 7, but it has also brought me greater knowledge of our district and the concerns of each neighborhood.
I have been elected chair of the Regional Policy Committee and the Government Accountability and Oversight Committee. In addition to these assignments, I am also a member of the Committee of the Whole; the King County Flood Control District; the Transportation, Economy, and Environment Committee; and the Sound Transit Board of Directors. It is an honor to serve on each of these committees.
I welcome your calls, emails, letters, and suggestions! I am always open to the questions and concerns of the people whom I serve.
Thank you for visiting my webpage. Please come back again soon.
Pete von Reichbauer
King County Councilmember
Join us for a conversation about South King County Agriculture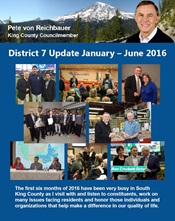 Six-month Review
In the first 6 months of 2016, I have visited with and listened to constituents, worked on many issues facing residents, and honored those individuals and organizations that have made a difference in our quality of life. This overview includes highlights of legislation and issues, as well as community events throughout South King County.
Let me hear from you
Dear Friends,

Your suggestions, concerns and opinions on local, regional and national issues are important to me. Please take a few minutes to complete this survey.

Your answers will allow your voice to be heard and help determine public policy on key issues facing us today. I believe listening is the key to better understanding, and government works best when we all work together.
Levee work begins along the White River
As a Flood District Supervisor I was proud to help kick off new levee work along the White River to reduce the flooding affecting hundreds of homes and thousands of people. I am grateful for the tremendous effort given by all parties involved. The Countyline Levy Setback Project is the culmination of extensive public interest, and thousands of research hours by staff. This project will help to provide added safety and security for hundreds of residents along the White River for many years to come. I was joined by Pacific Mayor Leanne Guier and Flood District Chair Reagan Dunn. Learn more at http://www.kingcounty.gov/depts/dnrp/newsroom/newsreleases/2016/June/29-Countyline.aspx.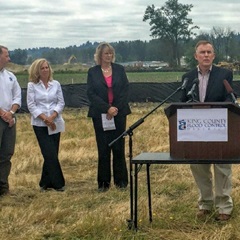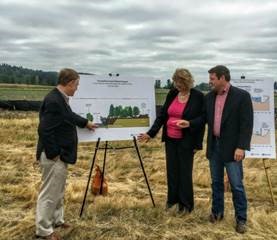 Honoring WWII Veteran Arthur Jacobson
On the anniversary of D-Day, I had the privilege of recognizing 101 year-old Arthur Jacobson for his extra ordinary service at Pearl Harbor and throughout WWII, as well as Arthur's public service after the war.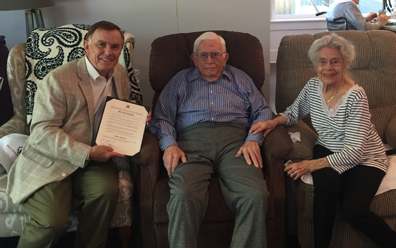 Town Hall, Thursday June 9th
Every day, our area is faced with the growing crisis of addiction. This town hall is an opportunity to come together as a community to confront the problems of addiction and discuss solutions for recovery. Please join us on Thursday, June 9th, 7:00 pm at Thomas Jefferson High School. Thank you in advance for your participation.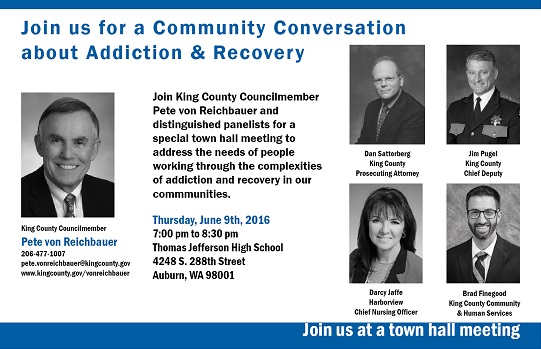 Dan Satterberg discussed with South King County leaders the Prosecuting Attorney's office new approach to the evolving environment of crime in King County
King County Prosecuting Attorney Dan Satterberg discussed with South King County leaders the Prosecuting Attorney's office new approach to the evolving environment of crime in King County at the monthly breakfast meeting hosted by King County Councilmember Pete von Reichbauer.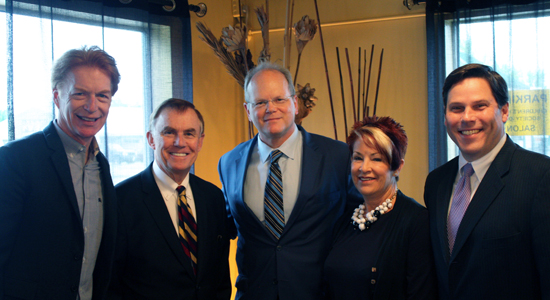 Pictured left to right: Pastor Casey Treat, King County Councilmember Pete von Reichbauer, King County Prosecuting Attorney Dan Satterberg, City of Auburn Deputy Mayor Margo Wales, City of Federal Way Mayor Jim Ferrell.
Councilmember Pete von Reichbauer and Assessor John Wilson Listen to Concerned Property Owners at Federal Way Town Hall on Property Values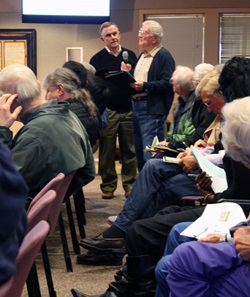 On Monday, April 11th we held our annual Town Hall on Property Taxes at Federal Way's City Hall with Assessor John Arthur Wilson. The video of the event on YouTube is available at https://www.youtube.com/watch?v=vAy88YBPCvs&feature=youtu.be.
Among the issues discussed was property tax affordability for seniors and those families recovering from the challenging economy. Many seniors were concerned about being taxed out of their houses. There was also concern about upcoming assessments, including proposed taxes for Sound Transit 3.
Those with questions about their property taxes should call the Assessor's office at 206-296-7300 or Barbara Sbisa, tax advisor in the King County Council Ombudsman Office at 206-477-1061. For any additional questions, contact me at 206-477-1007 or pete.vonreichbauer@kingcounty.gov.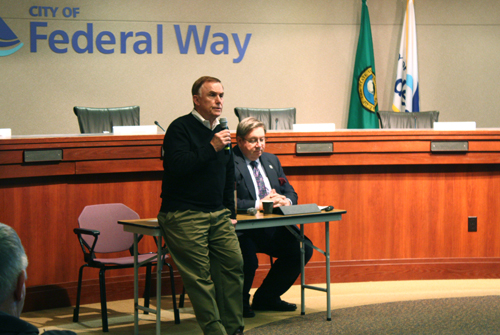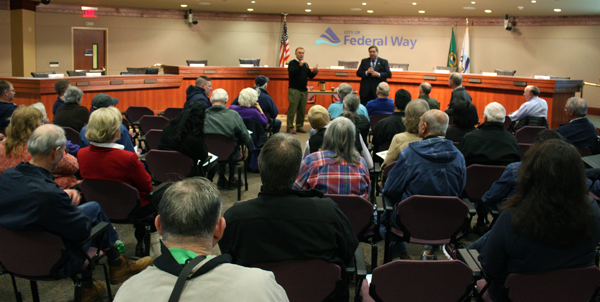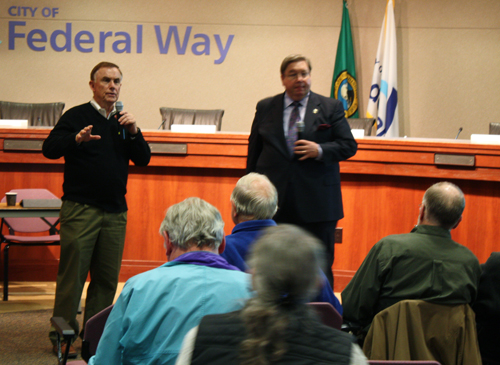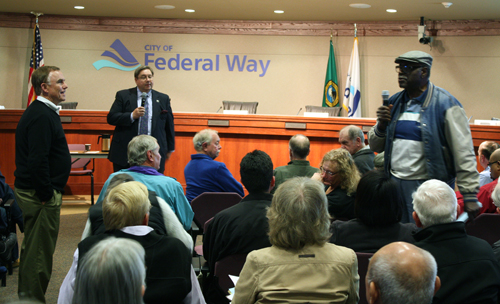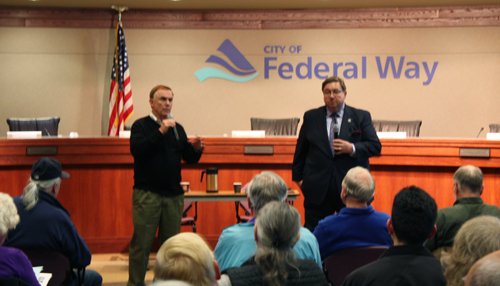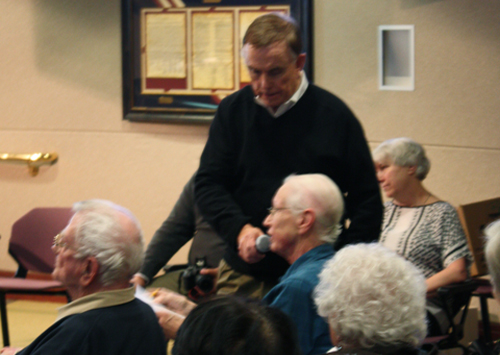 Economic and Revenue Outlook
For your review, here is an "Economic and Revenue Outlook" for the State of Washington presented to Councilmember von Reichbauer this past week by Dr. Steve Lerch, Executive Director, State of Washington Department of Economic and Revenue Forecast Council.
While the global stock market fluctuations grabbed all the headlines, it's important to review a professional analysis of the underpinnings of our regional economy.
Councilmember von Reichbauer presents WSU Regent with recognition honoring the late WSU President Elson Floyd
At the July 6th King County Council meeting, Councilmember von Reichbauer recognized Washington State University President Elson Floyd. This recognition, honoring the late President Elson Floyd and his legacy, was presented to Washington State University Regent Ron Sims and WSU Vice President for Government Relations, Colleen Kerr.


Light Rail: I-5 or 99?
"I had the pleasure today to speak to the Greater Federal Way Kiwanis Club about the future of Sound Transit Link Extension to Federal Way, as well as the importance of service groups such as Kiwanis in improving the lives of youth in a community," said Councilmember Pete von Reichbauer."
Federal Way Street named "Pete von Reichbauer Way S" during Federal Way's 25th Anniversary Celebration
State legislators, King County Councilmembers, Federal Way Councilmembers and the city's key leaders came together during Federal Way's 25th Anniversary Celebration June 20 join in the renaming of 20th Avenue South to "Pete von Reichbauer Way S".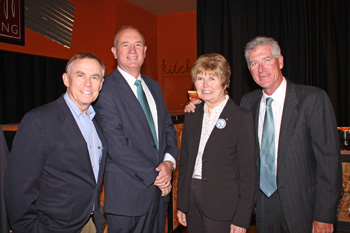 King County Sheriff John Urquhart meets with South King County leaders at monthly Good Eggs Breakfast roundtable discussion
King County Sheriff John Urquhart provided an update on issues facing the Sheriff's department and law enforcement today. He discussed with South King County leaders the importance of building trust within the general community for law enforcement officials.

"Public safety programs work through relationships built on trust," said Councilmember Pete von Reichbauer. "During these challenging times and changing attitudes towards law enforcement officers, we need to encourage our officers to be visibly involved within their communities."
South King County's 26th Annual Flag Day Celebration honors Korean General Nam Pyo Park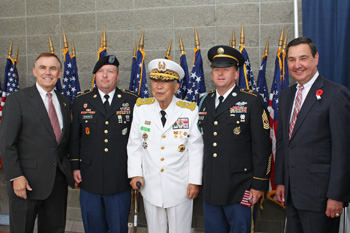 King County Councilmember Pete von Reichbauer and the Federal Way Soroptimists hosted South King County's 26th Annual Flag Day Celebration on Saturday, June 13 at the King County Aquatic Center in Federal Way. This annual celebration has provided the South King County community with the opportunity to honor current and fallen military personnel, as well as the flag itself.

US Army Brigadier General (Retired) Doug Richardson gave the keynote address. Richardson spearheaded the creation of the South Sound Military and Communities Partnership to address military growth and coordination issues. He served in the 2nd Ranger Battalion at Fort Lewis and retired from the Army Reserve as Brigadier General after 32 years of active and reserve service. He was awarded the Distinguished Service Medal.

General Nam Pyo Park, ROK Army, was recognized for his service. He is also involved in sponsoring a Korean Way Memorial in Federal Way

A special recognition was also given to police officers from Algona and Federal Way for their efforts to keep our community a safe place. Officer Terry Carter and Officer James McKay from the Algona Police Department along with Officer Jeff Mundell and Lt. Brigham Schulz from Federal Way Police Department were all recognized for their dedication as public safety officers and for their military service.
"On this day we recognize the meaning of the American Flag and all that it represents," said von Reichbauer, who served in the U.S. Army, "We salute our flag and give thanks to all of those who have served, whether it be in the military or as public safety officers, to protect the freedoms that we enjoy."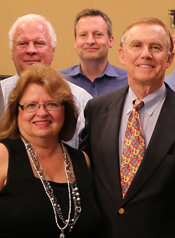 Council recognizes program supplying retired County vans to organizations throughout the region
At today's meeting, the King County Council recognized the van donation program that I initiated in 1996 that has benefited non-profit organizations. Retired vans will continue to provide critical lifelines to local nonprofits, and improve the quality of life for many of our region's residents.
Photo: Auburn Food Bank Executive Director, Debbie Christian; Auburn Youth Resources Executive Director Jim Blanchard; Councilmember Dave Upthegrove; and Councilmember Pete von Reichbauer.
King County Council recognizes Federal Way High School Coach and the 2014-2015 Boys Basketball Team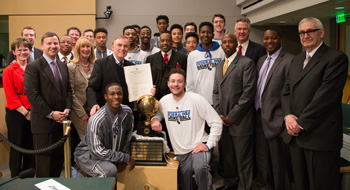 King County Councilmember von Reichbauer organized a county recognition of the Federal Way High School Boys Basketball coach and team at today's King County Council meeting; von Reichbauer presented the recognition to the coach and players for their success in winning the WIAA 4A Boys State Championship.
"In Jerome Collins' 31 years of coaching, he has always emphasized the importance of the hard work necessary to be successful on the court and in the classroom," said von Reichbauer. "Leaders like Coach Collins empower the youth in our community to lead successful lives long after they have played the game."
Coach Jerome Collins led his team to a 65-46 victory over Davis High School at the Tacoma Dome on March 7th.
Coach Collins was joined by members of the championship team: Timoney Buckley, Troy Conley, Viont'e Daniels, Ferron Flavors, Eli Graham, Mykael Henry, Christian Jones, D'Jimon Jones, Jalen McDaniels, Malik Montoya, Leon Njama, Marcus Stephens and Jovon Vonsaveng.
Councilmember von Reichbauer hosted the team at a lunch and reception prior to the Council meeting.

Satterberg discussed local crime prevention, innovative sentencing proposals and the importance of keeping juveniles in the education system at the monthly Good Eggs breakfast
"Listening to Dan Satterberg speak about criminal justice reform was helpful in reviewing the larger picture of how to address crime at the community level. It is critical to keep juveniles in the education system in order to reduce the odds that they will later become part of the expensive criminal justice system," said Councilmember Pete von Reichbauer.
Completing the Reddington Levy Setback Project
In July 2013, work began on the largest in-river flood protection project since the creation of the King County Flood Control District in 2007.

Over the last 16 months, the leaky old, constrictive Reddington Levee was demolished and a new levee, farther back from the river, was built. The new levee makes room for flood flows to fan out and lose their erosive force, while creating areas for improved fish and wildlife habitat.

"I have looked forward to the completion of this important project in the City of Auburn, as it will protect the residents and businesses in surrounding areas for generations to come," said Flood Control District Supervisor Pete von Reichbauer, whose district includes the city of Auburn. "My top priority is to ensure the safety of my community from the rising threat of flooding by completing similar projects along the floodplains in South King County."

The scale of the project is impressive. Roughly 160,000 cubic yards of soil were excavated on a project that also involved construction of a 4,800 foot long setback levee with trail, 48,000 tons of riprap (rock armoring), 340 logs, 4,270 feet of pipe and planting of more than 18,000 trees and shrubs.

The Reddington Levee Setback Project is part of a larger overall flood management strategy by the Flood District and King County Water and Land Resources Division for the entire Green River, which includes the Hawley Road Levee, Boeing Levee, Black River Pump Station and Briscoe-Desimone Levee.

Veterans Day and Flag Dedication
"As we express our gratitude, we must never forget that the highest appreciation is not to utter words, but to live by them."
-President John F. Kennedy
I was honored to join Mayor Ferrell, Senator Murray, and more than 1,000 South King County residents as we raised one of King County's largest flags at a Veterans Day and Flag Dedication ceremony in Federal Way.
Thanks to Jim Ferrell's leadership and Bob Kellogg's vision, a large portion of 320th Street will now be known as Veterans Way.