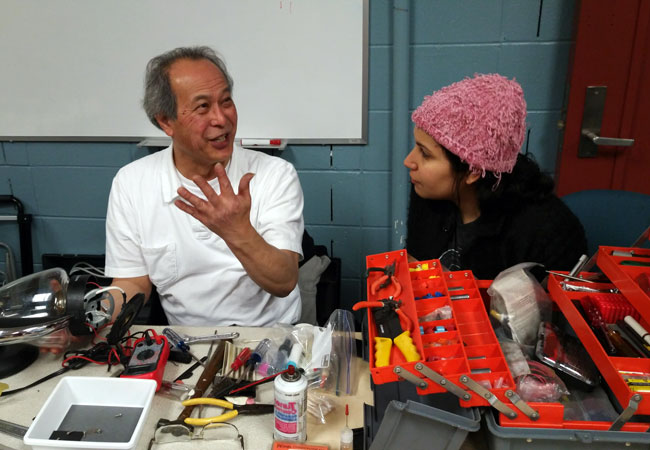 Upcoming repair events
The King County EcoConsumer public outreach program helps sponsor repair groups and events in King County, where people can bring small household items and clothing. Our experienced all-purpose fixers and sewing fixers will work on them, and can help you learn repair as well.
Each repair event or group operates differently, based on the needs of the local community. It might be a one-time event, or they may be held every few months.
At all of these events, people can bring in household items including small furniture, small appliances, personal electronics and clothing. (What are the items we see the most? Lamps and pants!) Our overall success rate at these events for repairing items or helpfully diagnosing the problem (you may need to get a new part, for example) has been 80 percent or higher, although some electronics are often difficult to fix.
Contact Tom Watson via e-mail or at 206-477-4481 if you have any questions about these events. Also contact Tom if possible to let us know in advance what items you are planning to bring, which is helpful to the fixers. But walk-ins are fine too!
Past repair events
Feb. 25, 2016 – Kent Senior Activity Center
March 14, 2016 – Federal Way City Hall
April 2, 2016 – Renton Community Center
April 7, 2016 – Kent Senior Activity Center
April 26, 2016 – Seola Gardens Community Center, White Center
May 24, 2016 – Federal Way City Hall
June 11, 2016 – Seola Gardens Community Center, White Center
June 15, 2016 – Kent Senior Activity Center
July 12, 2016 – Renton Farmers Market, downtown Renton
Aug. 13, 2016 – Valley Ridge Park, SeaTac
Aug. 20, 2016 – Marymoor Park, Redmond
Sept. 10, 2016 – Steve Cox Memorial Park, White Center
Sept. 26, 2016 – Federal Way City Hall
Oct. 4, 2016 – Kent Senior Activity Center
Oct. 10, 2016 – Bellevue Botanical Garden
Jan. 26, 2017 – Auburn Library
Feb. 4, 2017 – Lake Washington Institute of Technology, Kirkland
March 1, 2017 – Burien Community Center
March 18, 2017 – Penny Farcy Building, Vashon
March 22, 2017 – Skyway Library
April 8, 2017 – SeaTac Community Center
April 17, 2017 – Bellevue Botanical Garden
April 22, 2017 – Steve Cox Memorial Park, White Center
May 6, 2017 – Issaquah Library
May 22, 2017 – Federal Way City Hall
May 31, 2017 – Renton Library
June 24, 2017 – Newport Way Library, Bellevue
June 24, 2017 – Penny Farcy Building, Vashon
July 13, 2017 – Shoreline Library
Aug. 26, 2017 – Kent Library
Aug. 29, 2017 – Greater Maple Valley Community Center
Sept. 6, 2017 – Kingsgate Library, Kirkland (moved from Bothell Library)
Sept. 13, 2017 – Auburn Library
Sept. 25, 2017 – Enumclaw Library
Oct. 7, 2017 – Woodmont Library, Des Moines