West Point marine water quality monitoring
More information | Sampling map | Graphs
Monitoring update: June 23, 2017
This page provides information regarding the additional marine water quality monitoring that was conducted during the restoration of the West Point Wastewater Treatment Plant following the flooding and damage of the plant that occurred on February 9, 2017. As of May 10th, repairs at West Point were completed to ensure that quality of secondary treated effluent will consistently meet all NPDES permit requirements for discharge to Puget Sound. Consequently, the additional marine water quality monitoring has been discontinued and the County has resumed its routine monitoring programs in Puget Sound.
King County Wastewater Treatment Division's mission is built around protecting our region's waters. For decades, WTD has provided high quality treatment at our regional treatment plants. As part of our commitment to water quality, King County has conducted decades of water quality monitoring in the central Puget Sound basin where our treatment plant outfalls are located.
The County's marine water quality monitoring program collects and analyzes water quality samples at 12 offshore sites and 20 beach locations. This year-round monitoring program has collected data for up to 50 years in some locations, and provides an understanding of water quality throughout the Puget Sound Central Basin.
While repairs to restore operations at West Point were underway, monitoring frequency was increased at four routine offshore sampling sites and one additional offshore sampling site close to West Point. With West Point processes now able to consistently meet permit requirements since May 10th, the County's routine marine monitoring program will resume its regular schedule of collecting offshore water quality samples twice per month and beach samples once per month.
The June 23, 2017 update of the bi-weekly marine water quality report, listed below, will be the last routine monitoring report produced regarding the West Point flooding incident. This update provides a brief summary of the marine water quality conditions observed over the course of the additional monitoring that King County has conducted for the West Point incident since late February through mid-June. A comprehensive marine water quality summary report will be prepared later in 2017.
Water Quality Reports. Download complete reports:
Summary: Marine and Environmental Monitoring Results as of June 23, 2017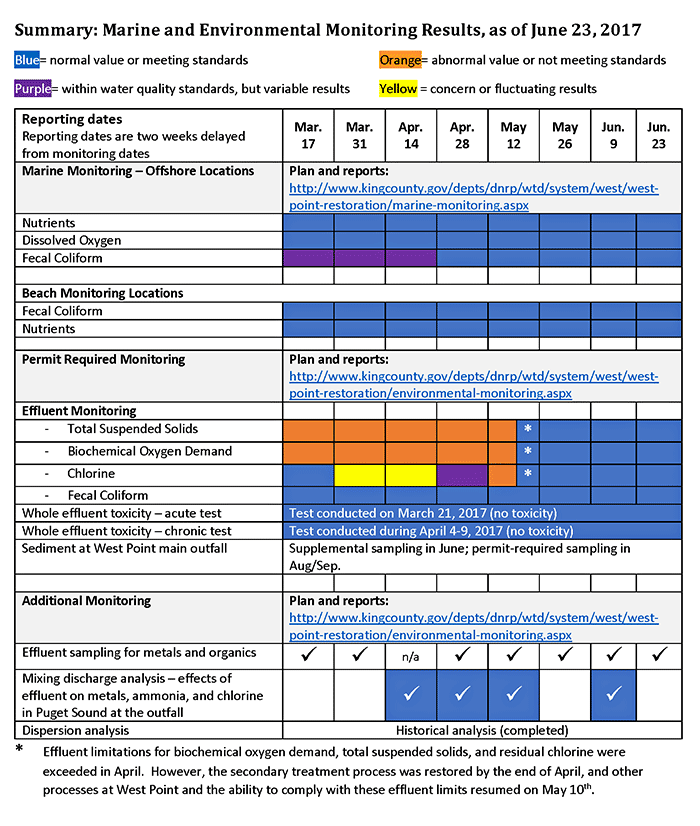 The
marine monitoring program
is conducted in accordance with scientific protocols of the region-wide Puget Sound Estuary Program (PSEP). King County conducts the marine water quality monitoring program in collaboration with Ecology's Environmental Assessment Program.
Below you will find a current snapshot for three important water quality tests: fecal coliform bacteria, ammonia (nitrogen), and dissolved oxygen.
We will update this page as new monitoring reports are available, expected every two weeks.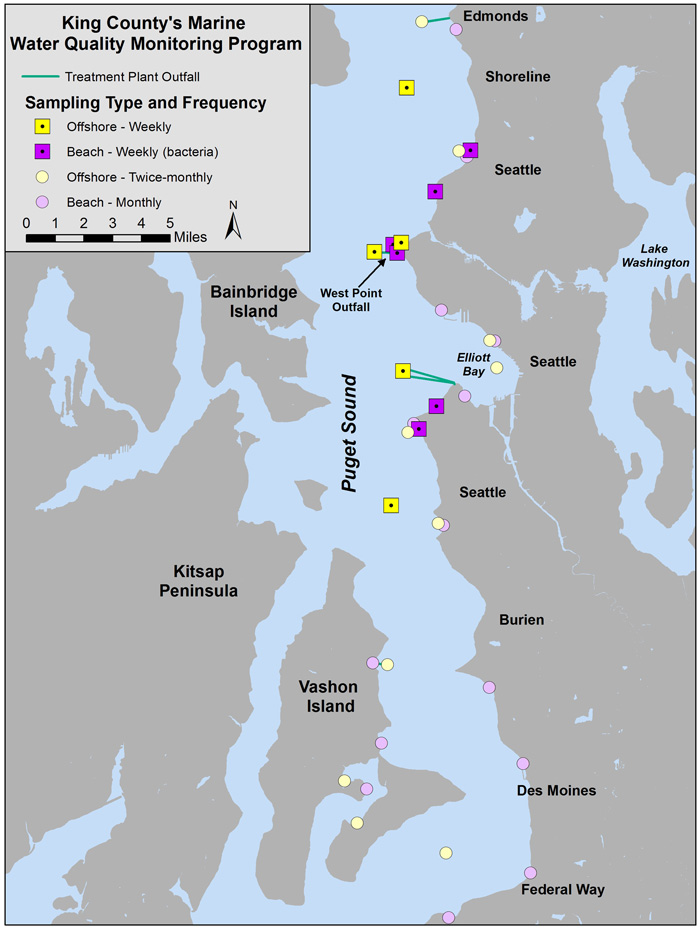 King County Marine Water Quality Monitoring Program - Sampling Type and Frequency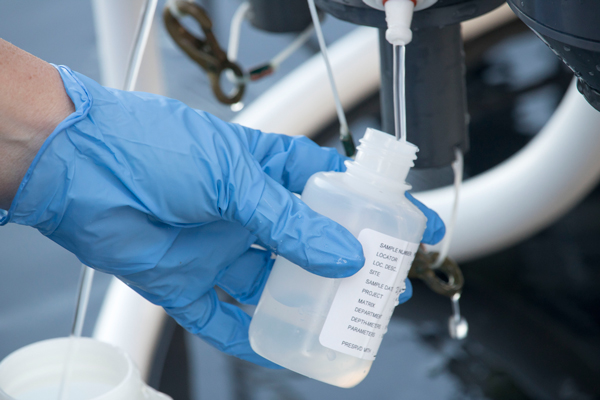 Follow WTD on social media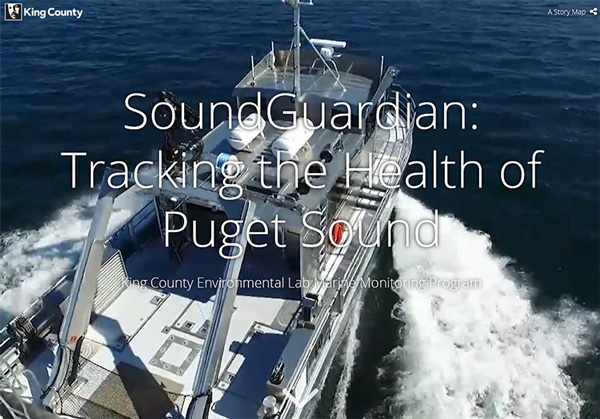 Meet the SoundGuardian: King County's working research vessel
Fecal bacteria
Two types of fecal bacteria are routinely monitored by King County at marine beaches as well as at offshore stations. Fecal bacteria are found in the intestinal tracts and feces of humans and other animals and tests for the bacteria are used for evaluating the suitability of water for human water contact recreation such as swimming and scuba diving, and shellfish consumption.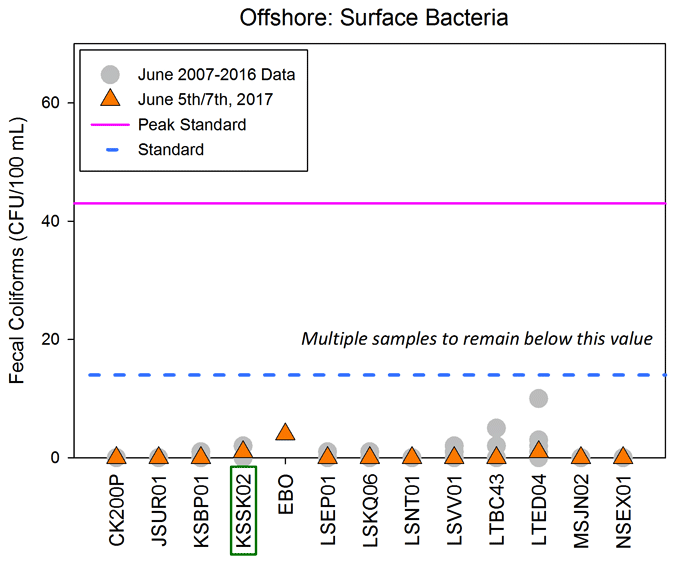 KSSK02: Offshore site near West Point outfall
Immediately following the West Point flooding and bypass, fecal bacteria levels in beach samples were high and beaches at West Point, Golden Gardens, and Carkeek Park were posted for closure to water contact recreation. Fecal bacteria concentrations declined over several days following the bypass events, and all beaches were re-opened on February 21st, and have been open since then. Samples for fecal coliform bacteria evaluated in this most recent update were collected at the offshore and beach locations on June 5/6. The figure shows fecal coliform bacteria concentrations measured in surface samples (1 meter) at all offshore stations, as well as historical bacteria concentrations for the month of June. The results indicate:
Fecal coliform levels near the West Point Treatment Plant outfall, at other offshore locations, and at the beach locations, were all low compared to state standards and similar to typical concentrations measured in June.
Nutrients
Nutrients like ammonia and nitrate are essential elements for aquatic plants. However, excess nutrients can cause a sudden increase in aquatic plants that can lead to unfavorable conditions. High ammonia concentrations can be toxic to aquatic organisms, including fish.
KSSK02: Offshore site near West Point outfall
LSEP01: Offshore site near South Plant outfall
The figure shows ammonia concentrations measured in near-bottom samples at all offshore stations for samples collected on May 15/16 and May 24th sample dates, and the results indicate:
Ammonia levels at offshore sites and depths were generally within normal ranges for June. All ammonia levels were below the lowest (chronic) water quality criterion for aquatic life. Near-bottom ammonia levels at the South Plant outfall were elevated compared to historical conditions, similar to observations in the past seven weeks that may reflect the processing of additional solids from West Point. Since the most recent sampling trip in early June, supplemental trucking of excess solids from West Point to South Plant has ceased as the West Point sludge digesters resumed their full production capacity.

Low nitrate/nitrite and silica levels at the surface in addition to high chlorophyll-a values indicate the continuance of the regularly-occurring spring phytoplankton bloom which began in mid-to-late April. The timing of the phytoplankton bloom, and the phytoplankton's subsequent uptake of nutrients for growth, is consistent with historical data.
Dissolved oxygen
Dissolved oxygen is important for marine life. Aquatic plants and animals require a certain amount of oxygen dissolved in the water to live, and different species have different tolerances. Waters with high concentrations of dissolved oxygen are considered healthy for sustaining many species.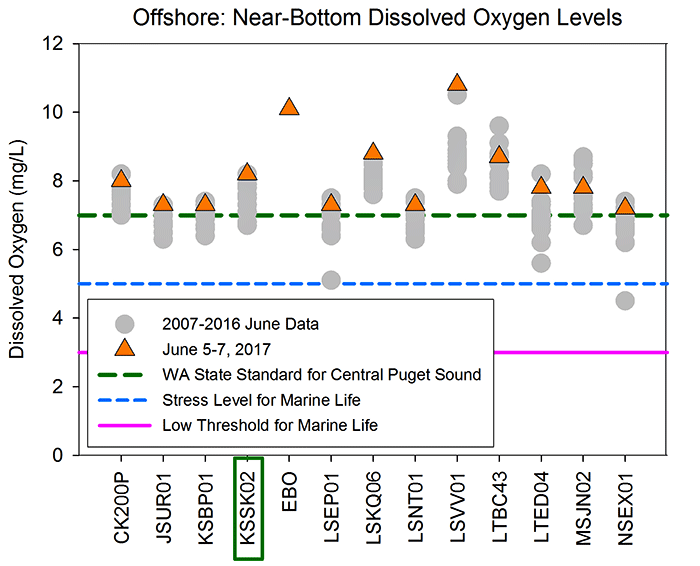 KSSK02: Offshore site near West Point outfall
Near-bottom dissolved oxygen values were at healthy levels and all sites were above the state water quality standard.

Near-bottom dissolved oxygen values were at healthy levels at all offshore and beach locations and all sites were above the state water quality standard. Higher dissolved oxygen levels persisted through early June from top to bottom of the water column, reflecting the growth of aquatic plants and algae which produce oxygen. This shows a continuing of typical spring conditions since April.