Pet of the Week

Pet of the Week:
Meet Pretty Boy (#A541028)
posted October 18th, 2017
Hi! My name is Pretty Boy (A541028) and I am available for adoption at the RASKC Pet Adoption Center in Kent. I am a 3 year-old neutered male Akita mix. I was brought in by an Animal Control Officer on October 4, 2017. My personality color is RAMBUNCTIOUS RED. I am a spirited dog with a fun-loving personality! I am still working on my manners, so I would do best with a family who is willing to work with me and help me become the best dog I can be! I am a very smart dog. I have shown my caregivers that I already know how to "sit", "stay" and "shake". I am full of energy and I love to play! I do best when I have lots of exercise and something to keep my mind busy. My caregivers have observed that I might not get along with other dogs. I may do best as the only dog in my new home, or need to meet other dogs in the home first.
To read more, type in my name in the "Search for Name" box below.
Helping you find a great match!
Each animal at RASKC is assigned a color to give our adopters a little more information about their personality.
Please note that as each animal spends more time with us, their personality can evolve and their color may change. These colors are general guidelines intended to help you find the right fit for your family and lifestyle!
Review the three adoption colors below to find the personality description that best fits what you are looking for in your new family member!
Rambunctious Red Animals in the red category are spirited, independent-thinkers. They may be particular in who or what they like or have quirks that are best suited for seasoned handlers. Investing in them will provide you with a lifetime friend!
Bashful Blue
Animals in the blue category are gentle and loving, but they may be nervous in new situations. They might need some time to come out of their shell, but once they do they will be a devoted part of the family!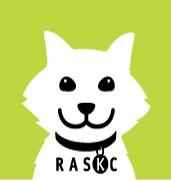 Easy-going Green Animals in the green category are adaptable and carefree. They are wonderful companions who love to go with the flow!