King County Metro Transit is good for our economy, our environment, and our people. Metro provides 400,000 daily rides and takes 175,000 cars off the road each weekday, carrying nearly half of downtown Seattle's workforce to and from their jobs.
Demand for transit is at an all-time high, but the Central Puget Sound region is growing faster than anywhere in the United States. Recent studies project 30% more people by 2040.
Roadways throughout the County are already congested during peak commute times, limiting the mobility of people who live, work, and play in our beautiful region. As we continue to grow, public transportation will play an important role in reducing congestion, protecting our environment, and getting more people where they need to go.
Mobility is now the #1 concern of people in King County:
Congestion is a major challenge for most people traveling during peak commute times.
According to a 2013 study, Seattle has the fourth worst congestion in the U.S.
We spend 34 minutes of every peak commute hour stuck in traffic delays, and are stuck in traffic 83 hours per year. That's enough time to watch the Seahawks play 26 times!
Metro is part of a healthy transportation system that includes buses, rail, rideshare, bicycles, cars, and more. These choices free us to go where we need to and do things we enjoy.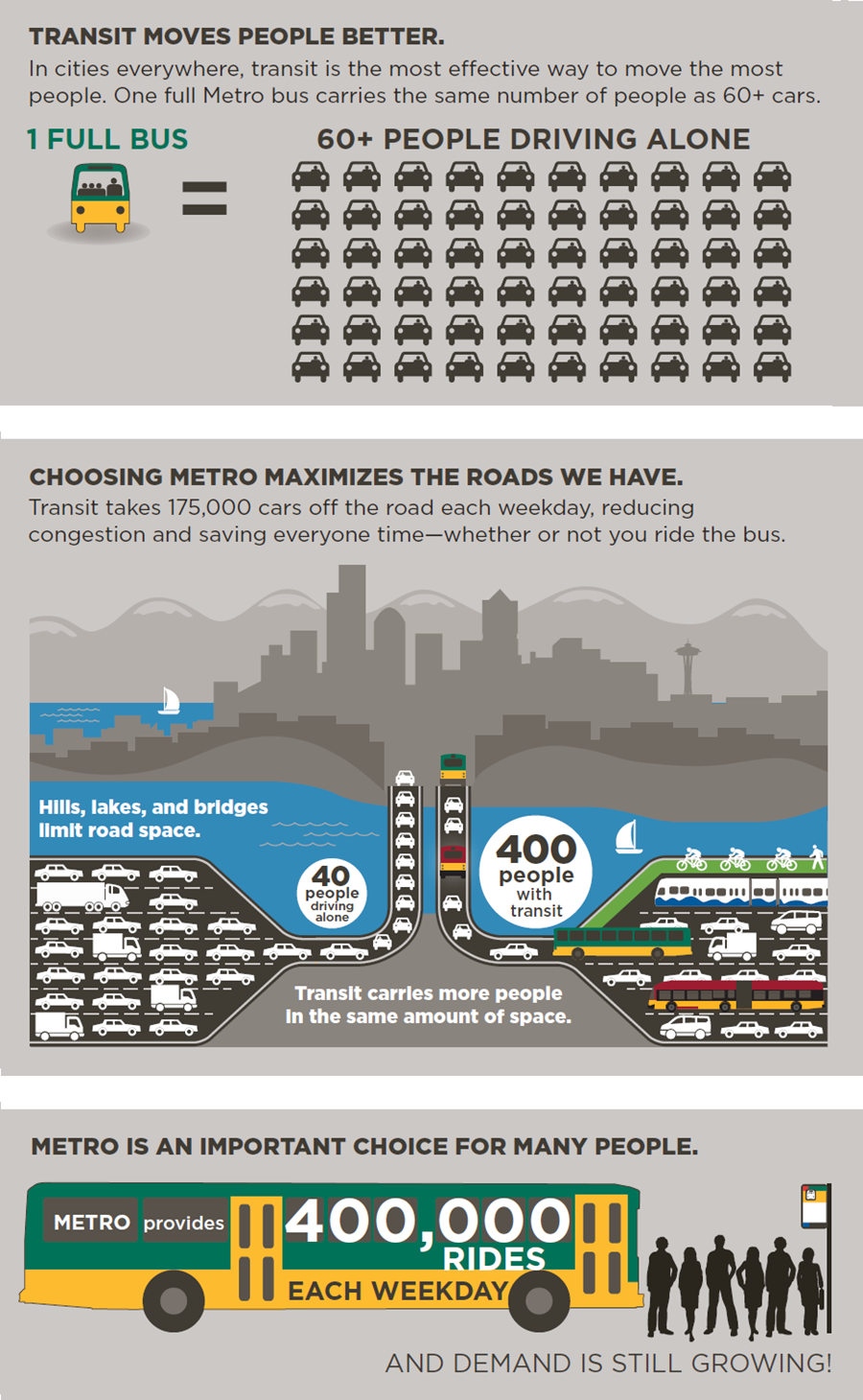 * See the full infographic to learn more about why Metro matters.

Metro moves people better
:
Metro maximizes the roads we have, as one full Metro bus carries the same number of people as 60+ cars with a single passenger.
Metro provides 400,000 rides each weekday, taking 175,000 cars off the road and saving everyone time, whether or not you ride the bus.
Transit helps get more people, more places, more often. You may ride the bus downtown for a cheaper and stress-free daily commute, or you may take light rail to the stadium to avoid game day traffic.
89% of Metro riders own a car but choose to ride the bus.
Metro protects the environment:
Metro operates the nation's second largest fleet of zero-emission electric buses, which uses less energy, reduces pollution, and makes for healthier communities.
Each year, Metro prevents 1.4 billion vehicle miles from being logged on local roads.
Metro's net annual benefits include 600,000 fewer metric tons of CO2 released into the air; equal to 15 million trees planted and grown for a decade.
Metro provides transportation for all of us:
All kinds of people use transit. For many of us, it's our only option because of age, income, or ability.
Because it's the right thing to do, Metro connects people to the most important places in our lives – jobs, school, health care, family, and friends.
Starting in 2015, Metro will offer a reduced fare to provide more people and communities with transportation choices
Using transit saves you money, up to $1,000 a month.
Metro serves all of King County:
Video: 24 Hours of King County Metro from James Davenport on If We Assume.

Report shows regional benefits of integrating Metro and Sound Transit services:
Joint planning and integration creates greater operating efficiencies and will enable future service expansion in our growing region.
Integration allows transit agencies to provide more overall service with fewer resources, benefiting long-term plans for the region's high-capacity rail and bus systems.
We're working on a new smartphone app for joint trip planning, and a pilot program that enables riders to pay Metro and Sound Transit fares with their smartphones. We're also going to provide cellular service inside the Downtown Transit Tunnel and underground University Link light rail line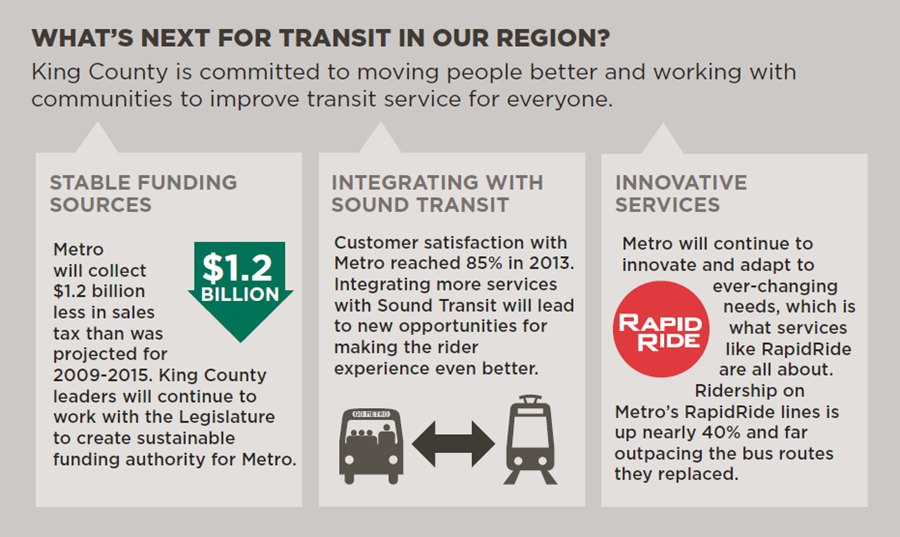 * See the full infographic to learn more about why Metro matters
.
Metro resources:
More priorities from the Executive: