Riparian Noxious Weed Specialist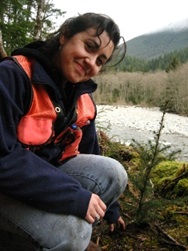 Frances Lucero manages the progam's cooperative knotweed and riparian restoration projects throughout King County. She is currently managing or partnering on projects on the Middle Fork, South Fork and North Fork Snoqualmie, Green, Cedar, Raging, and South Fork Skykomish Rivers, and Soos and Issaquah Creeks, as well as a variety of smaller projects and partnerships elsewhere in the county. Because knotweed is too widespread for county-wide control and is not a regulated weed in King County, these projects are cooperative, voluntary partnerships between public and private landowners and non-profit organizations and are primarily funded through external grants.
Frances started as the Riparian Weed Specialist in 2010 and has been with the King County Noxious Weed Control Program as a noxious weed specialist since 2006. Frances is also the program's technical expert on invasive knotweed and has considerable knowledge and experience with a wide range of noxious weed and invasive plant management methods and issues. Frances has over 15 years of experience in natural resource management, including invasive species removal and project implementation.
Contact Info:
Frances Lucero
King County Noxious Weed Control Program
201 S. Jackson St., Suite 600
Seattle WA 98104

206-477-4760
cell: 206-225-6310
frances.lucero@kingcounty.gov