Progress Report - 2015 Annual Report
King County Strategic Climate Action Plan - June, 2016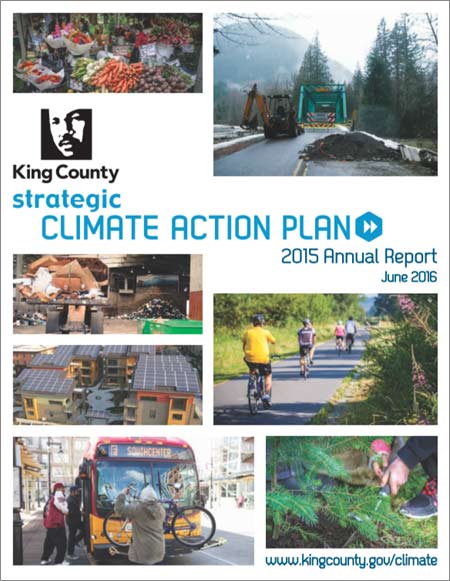 This webpage includes the 2015 Annual Report on implementation of King County's Strategic Climate Action Plan (SCAP). The report is designed to be transparent, performance-based, and aligned with the goals, targets, measures, and priority actions in the SCAP, which was unanimously adopted by the King County Council in November of 2015.
Here are just a few of the successes that are detailed in the report:
Metro Transit achieved record passenger boardings on buses and other services.
King County surpassed its goals for reducing energy use in buildings and facilities.
More than half of all new single-family buildings achieved green building certification.
Recycling at our transfer stations increased by one-third.
Our King County-Cities Climate Collaboration grew to 14 local governments and was recognized with a national award from the Environmental Protection Agency.
Please download the report to learn the details. For more information about climate change in King County, please send us an e-mail.
Download here: