Environmental education programs and resources
King County, Washington
Programs for Educators Directory (Acrobat pdf)
A guide to King County programs and resources of interest to educators on topics ranging from cultural diversity to water quality and wildlife.
School programs and field trips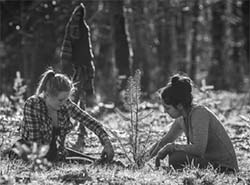 King County's Solid Waste Division provides assemblies and classroom workshops on waste prevention and recycling to elementary school students throughout the county. In 2009, more than 32,300 students heard the division's presentations.
Education and school assistance - Solid Waste Division
Waste reduction, recycling, and resource conservation are the focus of these programs. Storytelling sessions, an assembly show, classroom workshops, teaching materials, and assistance in forming Green Teams are among the offerings. Programs range from preschool through high school.
Household Hazardous Waste school and youth programs
What is household hazardous waste? How does it affect the environment, salmon, AND us? Visit this site to learn how you can schedule highly interactive classroom presentations, download lesson materials, borrow teaching kits/videos/ books, find related field trips, take a training, and more! All services are free.
Wastewater education
Treatment plant tours, speakers bureau, school tours, Wheels to Water Program, Brightwater Center and other wastewater treatment goodies for schools.
Noxious weed resources for schools
Learn about presentations and other programs for teachers and students customized to curriculum needs.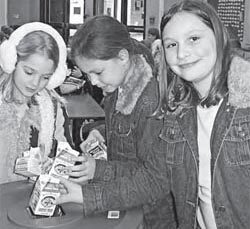 School credit program
School districts in unincorporated King County may qualify for a waiver of their SWM fees based on their teaching of surface water-related curriculum. Applications are sent to each school district in the late summer and are due by November 1st. School District properties which are served by a stormwater flow control or water quality facility must correct any maintenance deficiencies identified by King County before that property is allowed the discount. Please call Wes Chin to find out more.
Cool School Challenge (external link)
Educational program provides information and motivation and outlines specific steps that students and teachers can apply to reduce carbon dioxide (CO2) and other greenhouse gas emissions school-wide. Provided courtesy of Redmond High School and the Puget Sound Clean Air Agency.
Educator training
ArcGIS Online for Educators
Learn how to create and share interactive web maps to teach students for school projects.
Environment Washington: Tools for Teachers (external link)
Washington State Department of Ecology site offering teacher workshops, grants, action project opportunities, research and references, and a database of environmental curricula, activities, and subject areas by grade range.
Educational resources
Parcel viewer or iMAP
Interactive maps of King County useful for looking up information about specific parcels or for viewing and researching layers of geographic features such as historical photos.
SciFYI Newsletter, by Water and Land Resources Division Science Section
Quarterly newsletter promotes the use and understanding of our scientific data and information, and to share knowledge about the value and benefits of Environmental Sciences.
Introduction to stormwater in King County
Learn about the science of stormwater, common problems related to stormwater including causes and solutions, homeowner tips, regulations, and how to get help from King County.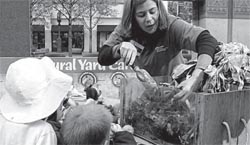 Resources for teaching about surface water issues
Curricula, resources, and local agencies related to water.
The Groundwater Story
Musical animation conveys the importance of groundwater to living things -- including people -- and how everyone can help protect this hidden resource.
Native plant salvage program
The plant salvage program is a wonderful opportunity for middle school and older students to learn about native plants, protect water resources and get their hands dirty! We can accommodate students on Saturday fall, winter and spring salvage events or arrange work at the plant holding facility in Issaquah (at Duthie Hill Park) during weekdays. If you have questions about the program or would like to participate, please contact Cindy Young.
Environmental quizzes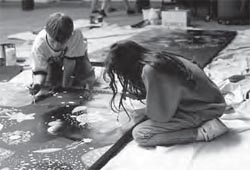 Take the EQ* quiz
Assess your personal *Environmental Quotient and see how it compares to your neighbors.
Family Fun Quiz
Take the green challenge, see how well you score on 8 questions and win an eco-friendly prize.
Quizzes, games & fun facts about waste
How well do you know the Four Rs - Reduce, Reuse, Recycle and Rethink? Find out what you know and what you need to know about garbage, recycling and hazardous waste by quizzing yourself.
Homework help for students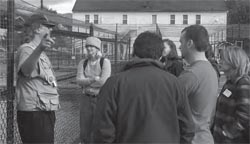 Introduction to our local environment
Ways you can help
Sign up for volunteer announcements