Land Conservation Work Plan
King County, Washington
Sign up for announcements

King County has a goal of working with cities to conserve more than 60,000 acres of high conservation value lands within a generation - including farmlands, forest lands, natural areas, and trails.
King County's landscape is spectacular – from the depths of Puget Sound, with iconic salmon and orca whales, through a thriving metropolis, quiet rural communities, and abundant farms and working forests, to the alpine peaks of the Cascade Mountains.
King County is one of the fastest growing large counties in the U.S. More than 2 million people call King County home today, with an expected 25 percent increase in population by 2040.
We must act quickly to protect our most-important remaining conservation lands before prices escalate and we lose opportunities to development.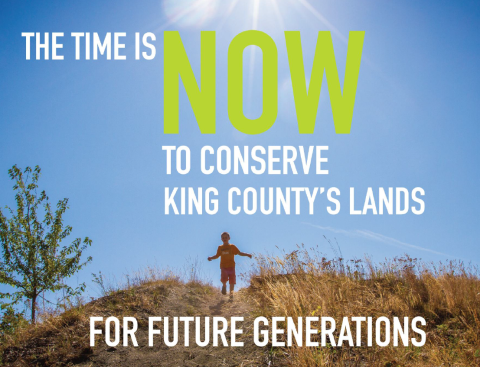 The plan
Executive Constantine transmitted the Land Conservation and Preservation Work Plan to King County Council in March 2016. View the document here:
Moving forward, near-term actions of the plan include:
Refine the analysis of lands the County seeks to protect.
Identify existing and new opportunities for revenue streams to support and achieve the conservation goal.
Look for opportunities to forge public and private partnerships.
Collaborate with cities in King County to identify their priorities for conserving land.
Provide opportunities for public engagement and input.
Convene an Advisory Group to provide input on the County's overall land conservation goal; input and recommendations on financial strategies; and approaches and timing considerations for achieving the goal.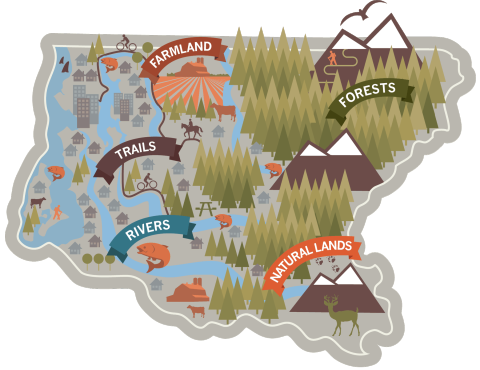 Areas of focus
King County's conservation efforts are focused in five major categories, which taken together benefit nature and people.
Natural lands for clean water, clean air, passive recreation opportunities, healthy communities, salmon recovery and wildlife, and resilience in an uncertain future.
Farmland for healthy local food and a thriving agricultural economy.
Forestland for clean water, clean air, salmon recovery and wildlife, and a sustainable timber industry.
River valley and nearshore land for flood safety, salmon recovery, recreation, and a healthy Puget Sound.
Trail corridor connections to complete a world-class regional trail network to increase mobility, improve human health and reduce pollution.
Our surrounding landscape gives King County a competitive economic advantage in the global marketplace. People want to live here and businesses want to be here, in part because of the natural beauty and accessible open space.
For King County to thrive we need to keep our natural lands and river corridors intact, maintain viable working resource lands, and preserve great places for people to explore, relax and stay connected to the natural world.
Land preservation benefits include:
Climate change: We are already seeing the effects of a changing climate on our region's natural and built systems. Open space and forests can mitigate and minimize the effects of extreme weather and natural disasters and absorb greenhouse gases.
Biodiversity: Open space in developed regions like central Puget Sound is critical to supporting a diversity of species and their benefits to the region's economy, health and culture.
Social equity: Historically, minority and low-income populations have been underserved and under-represented in open space planning and access. Open space planning which prioritizes equity can ensure that all residents benefit from conserved lands.
Human health: "The quality of air, water and soil, healthy food and good nutrition depend on open space and it provides opportunities for physical activity, reduces stress and improves social connections. Access to nature improves health and well-being in many ways—physical activity, stress reduction, spiritual renewal, and more." - Howard Frumkin, UW School of Public Health
Economic development: From supporting the timber, agriculture, recreation and tourism industries, to attracting anchor businesses, retaining their employees and boosting real estate values, open space plays a significant role in the region's economy. Balancing the preservation of open space with the demands of growth is a challenge now and will be for regional decision makers in coming years.
Competitive advantage: "Some of our nation's most dynamic companies call this region home. One reason they choose to locate here is the open space at our doorstep and the quality of life we enjoy. Open space is a competitive asset." - Maud Daudon, Seattle Chamber of Commerce
In September 2016, King County convened an Advisory Group to refine the options and make recommendations on a final approach to achieving King County's land conservation goals. The Advisory Group has issued their Phase 1 Report, which provides feedback on the work completed to date, and which identifies additional work needed during 2017. The Advisory Group will be reconvened in fall 2017 to review the results of this Phase 2 work and to issue a final report.
Go to the Advisory Group page.
King County sponsored public meetings to discuss the Land Conservation Work Plan with community members in November and December 2016. Please refer to:
News and announcements