Financial wellness
My Secure Advantage
Coronavirus (COVID-19) updates:
Financial wellness
Status: Available
Because all MSA programming is delivered online or over-the phone, it is available without change during the COVID-19 response. MSA does ask that you register online during this time if possible, instead of calling to register. Click here for more information.
My Secure Advantage is a free program available to provide employees with tools and coaching to support you in reaching your financial goals. You have access to a Money Coach, calculators, webinars and others resources to help with creating a budget, paying down debt, planning for retirement and more!
It provides 90 days of free, confidential telephone-based coaching, access to your own personal, confidential, and unbiased Money Coach and other resources to support your financial wellness. My Secure Advantage is available to all King County employees. Spouses and partners are welcome to participate on the coaching calls.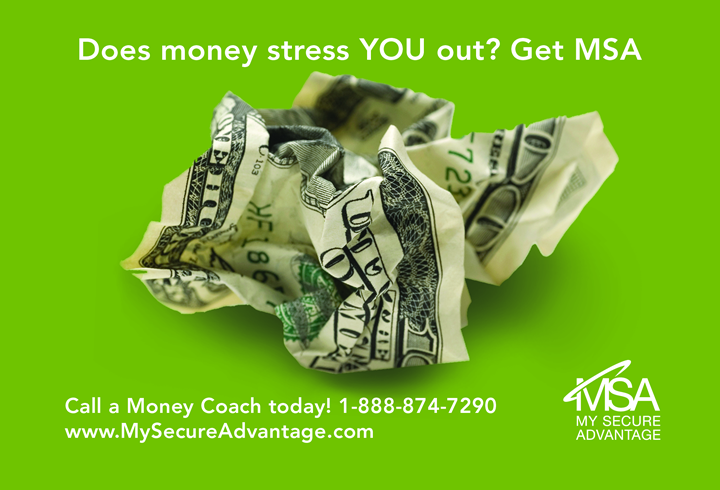 How to participate
Sign-up by phone
Call 1-888-874-7290 if you have questions or are ready to sign up for the Money Coach program. To schedule your first appointment, call and speak with My Secure Advantage's intake team, Monday - Friday from 6 a.m. - 5 p.m. PST. All subsequent appointments are coordinated directly with your Money Coach at the conclusion of each consultation. Money Coaches conduct consultations Monday - Friday from 6 a.m. - 8 p.m. PST.
Sign-up online
Visit the MSA website and click "register" to open an account and enroll in Money Coach services, webinars, and more. When asked for your Employee ID, enter your PeopleSoft number.
Additional resources
Learn more about other finance-related benefits offered through King County
Stay connected
Please share your feedback with the team at Balanced You so we can spread good ideas, share success stories, and bring new tools to help you feel energized and be your best. The more you tell us, the better Balanced You will be!
Email: BalancedYou@kingcounty.gov
Phone: 206-263-9626