COVID-19 Information and Resources
Opening High-Volume Vaccination Sites in Kent and Auburn
Both of these high-volume sites are currently serving individuals 65 years and older, individuals over the age of 50 who cannot live independently, or a resident who is the caregiver for someone over the age of 50. To schedule an appointment, call 1-800-525-0127 or visit covidvaccine.kingcounty.gov.
COVID-19 Vaccine Updates: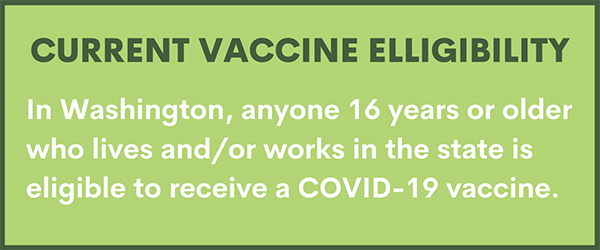 For more information about the vaccine and King Counties response to COVID-19, visit: https://www.kingcounty.gov/depts/health/covid-19.aspx

Councilmember Dunn has been working hard to make sure that every King County resident has access to a vaccine as soon as possible, including his budget proposal that dedicates funding to push the vaccine out into our communities.
Virtual Town Hall: COVID-19 Vaccine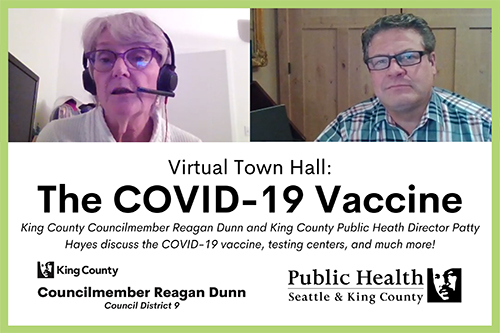 To watch the 'Virtual Town Hall: The COVID-19 Vaccine', click HERE
Local COVID-19 testing sites:
Renton – HealthPoint Drive-Through
Click here to make a reservation
805 SW 10th St, Renton, WA 98057
Hours: Mon-Sat, 8:30AM-5:30PM

Bellevue – ICHS Bellevue College
Click here to make a reservation
2645 145th Ave SE, Bellevue, WA, 98007
Hours: Mon-Sat, 9:00AM-5:00PM

Enumclaw – Discovery Health
Click here to make a reservation
1512 Wells St, Enumclaw, WA 98022
Hours: Tues, Thurs, and Sat, 10:30AM-6:30PM

For other King County locations, visit: https://www.kingcounty.gov/depts/health/covid-19/testing.aspx


Project CARE, created by Councilmember Dunn and passed unanimously by the King County Council, identifies options for service, donation and other types of support in order to promote giving and volunteerism in a manner that doesn't further spread COVID-19 or interfere with existing public health efforts.

To find ways to help, visit: kingcounty.gov/council/projectcare.aspx
Project CARE Videos:
Project CARE—How to sew face masks at home
Project CARE—How to help your local hospital
Project CARE—Resources for eastside businesses:
Project CARE—Little free pantries
Project CARE—Support your local food bank
Project CARE—Blood donations help your community
Project CARE—Enumclaw Senior Center meals program
Project CARE—How to Recreate Responsibly
Project CARE—Helping those in need of food and housing assistance