COVID-19 Information and Resources Updates
Currently, of the King County residents that are eligible for a COVID-19 Vaccine (everyone ages 12+), over 80% —nearly 1.6 million people —are fully vaccinated. For updated statistics on vaccinations in King County, visit the Public Health vaccination dashboard.

To find a location to receive a COVID-19 vaccine, consult your primary care physician or visit the Vaccinate WA website.


Working to ensure equitable access to vaccines


I worked hard to make sure that everyone who wanted to get a vaccine was able to get one in King County. This meant putting needed infrastructure in place, like these high-volume vaccination sites. I am proud of this effort and am continuing to focus on getting our County through this pandemic.

For more information about where to get a vaccine or questions about the available vaccines, visit Public Health's COVID resources webpage.


Local COVID-19 testing sites:
Renton – HealthPoint Drive-Through
Click here to make a reservation
805 SW 10th St, Renton, WA 98057
Hours: Mon-Fri from 8:15 AM-6:15 PM and Sat from 8:15 AM – 4:15 PM

Bellevue – Bellevue College
Click here to make a reservation
2645 145th Ave SE, Bellevue, WA, 98007
Hours: Mon-Sat, 9:00AM-5:00PM

Enumclaw – Enumclaw Middle School
Click here to make a reservation
550 Semanski St. S, Enumclaw, WA 98022
Hours: Mon, Tues, Thurs, Fri from 11 a.m.-7 p.m.
This site will be closed from 3:00 PM-4:00 PM daily.
Free testing by mail
The Greater Seattle Coronavirus Assessment Network (SCAN) study is working to understand how COVID-19 is spreading throughout King County, and offers free, confidential, at-home tests. Enroll at the SCAN website here.

Find a list of other King County testing locations at Public Health's website.


COVID by the numbers in King County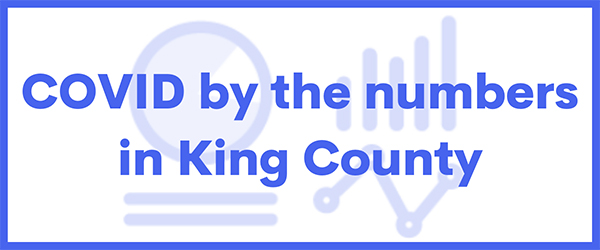 To view the most up-to-date information about COVID-19 cases in King County, visit the King County COVID-19 Summary Dashboard.
Find more breakdowns of COVID-19-related data kingcounty.gov/depts/health/covid-19/data
Results reported to the Washington State Department of Health as of midnight the day before. Data for previous dates will be updated as new results are entered, interviews are conducted, and data errors are corrected.


Virtual Town Hall: COVID-19 Vaccine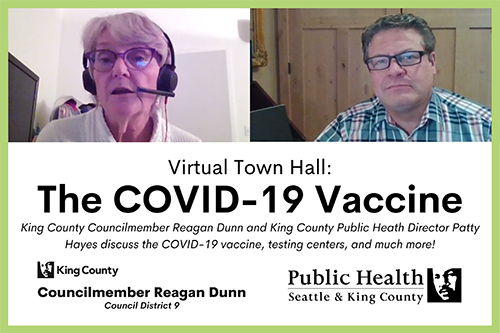 When vaccines were first being announced and distributed, I hosted a Virtual Town Hall with then-King County Public Health Director Patty Hayes to discuss the new vaccines, testing centers, and the County's response to the pandemic. I am proud to connect the public with their government and be a source of information through town halls like this one.


Project CARE


Project CARE, sponsored by Councilmember Dunn and approved unanimously by the King County Council, identifies options for service, donation, and other types of support in order to promote giving and volunteerism in a manner that doesn't further spread COVID-19 or interfere with existing public health efforts. Some of these include:

Donations - Many non-profits and organizations need donations to sustain operations and continue providing resources for those in need of services. Donations are the most immediate need at this time, and include food banks, blood banks, and non-profits who have experienced loss of donations due to cancelled events, decline in volunteers, and reduced resources. Find places to make a donation here.

Volunteerism - Many non-profits and organizations rely on those healthy enough and able, to coordinate efforts in helping those in need of services during COVID-19, particularly as non-profits see a decrease in volunteer participation. Areas of focus could be meal prep and delivery and opportunities for healthcare professionals. A special emphasis would be placed on activities people could do from home. Find places to volunteer here.

Find other opportunities to support your community through Project C.A.R.E.


Project CARE Videos:


Project CARE—How to sew face masks at home
Project CARE—How to help your local hospital
Project CARE—Resources for eastside businesses:
Project CARE—Little free pantries
Project CARE—Support your local food bank
Project CARE—Blood donations help your community
Project CARE—Enumclaw Senior Center meals program
Project CARE—How to Recreate Responsibly
Project CARE—Helping those in need of food and housing assistance