King County Council Equity and Social Justice

About
King County Equity and Social Justice Office
The King County Council's Equity & Social Justice Office works to achieve racial equity and social justice to ensure that all employees and residents in King County have the opportunity to thrive regardless of their race, gender, socio-economic status, ability, etc.
Mission: Our Mission is to promote and foster a culture of equity and social justice throughout the Legislative Branch and the communities we serve in order to achieve our highest potential.
Commitment: The King County Council's (KCC) Equity & Social Justice Office is committed to working in partnership with Councilmembers, Council Staff, Community Members and Organizations to achieve equity, racial equity, and social justice for all King County residents.
---
Juneteenth 2021
Watch the event: https://youtu.be/0QZqu-mtk0Q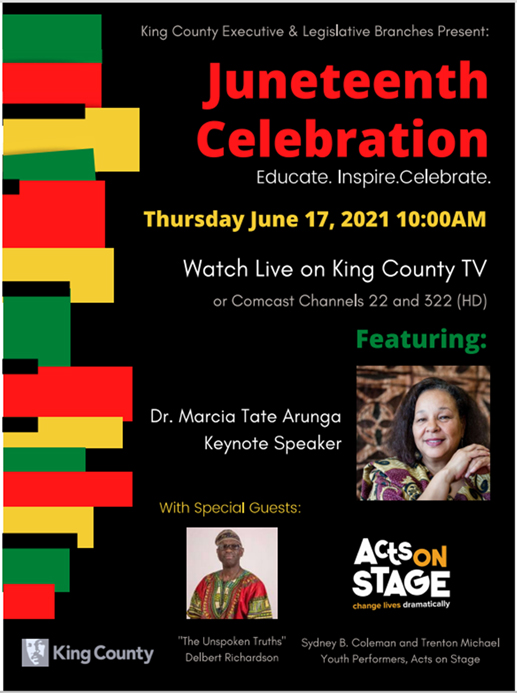 ---
Let's Talk About Equity Series
Creating the Beloved Community in 2021 (MLK Jr. Celebration)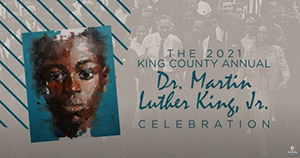 The 2021 Dr. Martin Luther King Jr. Celebration event, hosted by Vazaskia Crockrell (Director of the Metropolitan King County Council's Equity & Social Justice Office) & Anita Whitfield (Chief Equity & Inclusion Office of the Executive Office's Equity & Social Justice) examines what it will take to create MLK's "Beloved Community" in a country divided. Keynote Speaker, Dr. Ben Danielson, the Former Director of the Odessa Brown Clinic joins to share his perspective.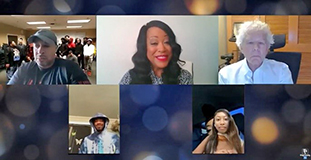 Equity & Social Justice Director Vazaskia Crockrell spotlights CP-FIT,a therapeutic evidence- and community-based intervention in Seattle. It empowers families and youth with skills and resources to independently address family, peer, school, and neighborhood problems. Learn more about community passageway at www.communitypassageways.org
Vazaskia sits down with Sean Goode, Executive Director of Choose 180, an organization that serves as an "emergency room" for young people in crisis and helps them find the path towards positive change.
Additional Resources