King County Councilmember Larry Gossett
Greetings!
I am proud to represent the residents of District 2. I continue to work on many issues impacting you: disproportionality in our juvenile and adult criminal justice systems, affordable housing, homelessness programs, transit/ transportation options, and improving services to the unincorporated areas like Skyway. I am chair of the Law and Justice Committee and Vice Chair of Government Accountability and Oversight. You can find video of committee meetings online at: https://mkcclegisearch.kingcounty.gov/Calendar. As always, I welcome your comments and suggestions. Please email me or call my office at 206-477-1002, I enjoy hearing from you.
---
Skyway Town Hall
Meet with Councilmember Gossett and other county officials and talk about issues that affect your community.
Wednesday, Sept. 18, 7-9 p.m.*
Albert Talley High School
7800 S 132nd Street, Seattle
*Doors open at 6 p.m. – Come early to meet some of your King County service providers!
View flyer
---
Expansion of Senior Citizens/ Disabled Property Tax Reduction Program
The Governor has signed legislation expanding the qualifying income thresholds for the property tax exemption and deferral programs for low-income senior citizens, individuals with disabilities, and veterans. These changes will take effect for taxes collected next year, 2020. Rather than being based on set income amounts, the new income requirements will be based on a percentage of each county's median household income. This is good news for those residing in King County. The previous income requirement to qualify of $40,000 or less in annual income, will now be replaced with an income level equal to 65% of the county median income. King County property owners can apply for taxes payable in 2020 as early as January, 2020. Please note, you will need your completed (2019) tax return prior to applying.

For more information, please visit: https://www.kingcounty.gov/depts/assessor/TaxRelief.aspx
---
Via to Transit
District 2 has a new transit option connecting to Link light rail and buses at the Mount Baker, Columbia City, Othello, Rainier Beach stations. Via to Transit is a new, pilot on-demand service that connects riders to and from five transit hubs in southeast Seattle and Tukwila. People who live, work, or go to school within the specified service areas can download the app and request a ride from Via to Transit to get to one of five transit hubs: Mount Baker, Columbia City, Othello, Rainier Beach, and Tukwila International Blvd. From there, riders can catch Link light rail or access one of 14 bus routes. The new service is brought to you by King County Metro in partnership with Sound Transit and the City of Seattle for a 12-month pilot period, ending in April 2020.

Metro understands that getting to transit can be challenging, whether you have limited options for accessing bus or light rail stations through public transportation or the spots at your park & ride are full too early in the morning. Via to Transit gets you to one of five stations to catch Link light rail or 14 buses to get you to your destination, with greater ease and peace of mind. Cash fare payment and paper transfers are not accepted, this is a app based program. This is one of many services Metro is testing to learn how we can serve you better—and I want to know how it's working for you! Email me with your comments or suggestions.

Click here for more information.
---
Eddie Rye, Jr.'s Lifetime of Community Activism Recognized with MLK Medal of Distinguished Service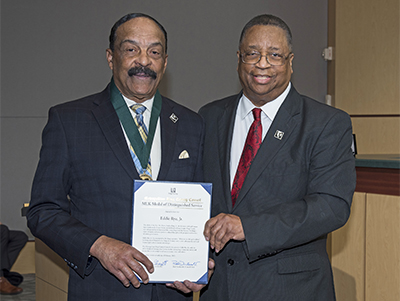 I had the honor of recognizing Eddie Rye, Jr. for his continuing work for communities of color, presenting him with the Martin Luther King, Jr. Medal of Distinguished Service. Rye has been called an activist and agitator, but his impact in support of civil and human rights has been felt throughout the region. Rye has had a role in renaming streets, renaming King County, and changing the logo of the county to reflect the image of Rev. Dr. Martin Luther King, Jr.
For over half a century, Eddie Rye has devoted his life to not only the equality of King County's African-American Community, but all underserved and unrecognized communities of color. Eddie continues to be a persistent and consistent voice for equity in our region, and his impact on this region is felt every time you drive along Martin Luther King, Jr Way, visit El Centro de La Raza, or walk into the Martin Luther King, Jr. Courthouse. It's fitting that a man who has worked to realize the dream of Dr. King is recognized with an award bearing King's name.
Rye has served the community in a number of capacities; he was a director of the Central Area Motivation Program (CAMP), Chair of the Central Seattle Community Council Federation Housing Committee, which released one of the first reports on redlining in the Central Area, and a Co-Founder of the Pacific Northwest Chapter National Black Chamber of Commerce. But he is primarily known for his activism throughout King County and the Pacific Northwest.
Rye was one of the leaders in changing Empire Way, the street through what was then the predominately African-American Central Area neighborhood of Seattle, into Martin Luther King, Jr. Way. As a co-founder of the annual MLK Celebration at Garfield High School, Rye worked with Councilmember Gossett in gathering support for officially changing the name of King County to Martin Luther King, Jr. County, which occurred in 2005. He also joined the call to remove the crown logo that was the county's logo and replace it with the image of America's foremost civil rights leader. Rye helped occupy the old Beacon Hill School, which is now El Centro de La Raza. At one time he occupied the Seattle City Council Chamber, all to advance the cause of increased inclusion of African Americans—and all communities of color—in the political process. Let's take time to honor Eddie Rye Jr. for his continuous service.
The annual presentation of the MLK Medal of Distinguished Service is the Council's way of thanking those who have made a particularly strong impact on the county and to encourage others to renew their dedication to serve their community. This is the fourth year Councilmembers have recognized individuals in their districts who have answered the question asked by the Rev. Dr. Martin Luther King, Jr.: "What are you doing for others?"
---
2018 Highlights with Councilmember Gossett
---
Metro Transit Updates
On March 23, 2019, the Downtown Seattle Transit Tunnel will transition from joint bus-rail operations to rail-only operations to accommodate increased light rail train frequencies that will occur with the opening of Northgate Link in 2021 and East Link service to Bellevue and Overlake in 2023. This means the tunnel will become rail-only operations. With this change, Metro will introduce all boarding on 3rd Avenue and begin Metro's new fare enforcement policy. All buses on Third Avenue will open for boarding at all doors, those paying with cash will board at the front of the bus. Those with an Orca can pay prior to boarding or once they board the bus. Most stops along Third Avenue have had Orca card readers added. At the stops where there is not an Orca card reader, Metro will have employees with scanners ready to help.
The new fare enforcement policy will begin on March 23, 2019, civil infractions for fare violations from King County District Court and sets up an alternative resolution process within Metro that offers reduced penalties and non-monetary options for resolving fare violations. Metro is required by King County policy to recover nearly a third of its operating costs from fare revenue. On Metro's RapidRide bus service, customers often pay before they board, so fare enforcement officers board to check for a valid proof of payment. Fare enforcement officers typically issue a warning for the first offense, followed by a civil infraction for $124 for the second violation.
Under the new program, infractions for second violations initially would be set at $50. Fines paid within 30 days could be further reduced by half.
Customers could resolve fare infractions through non-monetary options, such as:
Performing community service at a nonprofit organization
If eligible, enrolling into the ORCA LIFT reduced-fare program
For more information, click here.
---
Communities of Opportunity
King County and Seattle Foundation selected 27 nonprofit organizations that will help improve health, social and economic outcomes in the region. The total of $2.5 million in competitive grants will help confront startling racial inequities in King County. The community partners will achieve multiple goals, such as empowering small family businesses facing displacement, connecting youth of color with city leaders to prevent violence, and making it possible for more people of color to participate in the green economy.
This is the latest round of investments from Communities of Opportunity – a partnership between King County and Seattle Foundation – which is governed by leaders from community organizations, local governments, and philanthropies.
"We are setting a course for positive change by tapping into community expertise and supporting community priorities," said Tony Mestres, President and CEO of Seattle Foundation. "This latest round of community investments holds true to our shared vision with King County to further civic engagement, advance community leadership and support community priorities."
Communities of Opportunity is funded jointly through Seattle Foundation and Best Starts for Kids, a voter-approved initiative to promote healthier, more resilient children, youth, families, and communities in King County.
Here are a few examples of the partnerships funded by Communities of Opportunity grants:
---
Dreamers Legislation Passes Unanimously
This week, the King County Council passed legislation calling on Congress to swiftly and comprehensively protect the legal status of thousands of Dreamers. The motion, passed 9-0, also directs King County's federal government relations team to prioritize efforts in Congress to continue DACA protections. It also requests this team commence efforts to build a broad coalition of county officials nationwide. This heartless action from the White House punishes people who were raised, educated and contribute everyday to the only home they know--the United States. Congress must act to protect DREAMERS! A copy of the legislation is now being shared with Washington's congressional delegation. For more information on the termination of the Dreamers Program and various resources, visit: https://www.aclu-wa.org/news/termination-program-dreamers-act-cruelty.
---
Councilmember Gossett featured on Prosecutor's Partners
---
Celebrating Black History Month: King County's Logo

Click here for information on the 10 year anniversary of the county logo


---
What's Happening in District 2
Filipino Community Village Groundbreaking Ceremony
Wednesday, September 18, 2019
4 pm - 8 pm
Filipino Community of Seattle
5740 martin Luther King Jr Way S Seattle, WA 98118

Come join me as we celebrate the groundbreaking ceremony for the Filipino Community Village! RSVP are requested: https://forms.gle/rhH31ZyLKUwtaMMK9

Melbad's Nat'l Grandparents Day Block Party!
Sunday, September 8, 2019
3pm-7pm
Northwest Tap Connection (Official)
8732 Rainier Ave S, Seattle, Washington 98118

Join NW Tap Connection and community on Sunday, September 8th for an afternoon and evening of family fun to celebrate all the goodness Grandparents bring to this world! They'll have "Games for the Grands" including checkers, UNO, decks of cards and more; Dawg + Drink for $1.50 (hot dog, hot links and veggie sausage); music & karaoke, children's games... AND MOVIE NIGHT featuring Disney's Moana, a movie that captures the spirit of beauty in learning from, respecting, and celebrating our elders. DON'T MISS OUT! We're getting ready to give our Grands a good time! For more information: Northwest Tap Connection (Official)

Annual Walk for Sickle Cell
Saturday, September 14, 2019
10am-1pm
Seward Park
5898 Lake Washington Blvd Seattle, WA 98118

Join me and the Metropolitan Seattle Sickle Cell Task Force as we walk to find retreatment and a cure for Sickle Cell. Please join us to celebrate another year of life! Help us raise money to continue to support and advocate for those impacted by Sickle Cell Disease in our community. I will be walking with my cousin, who has lived many years with Sickle Cell, join us!

Memoir Writing
Thursday, September 19, 2019
10am-11am
University Heights
5031 University Way NE Seattle, WA

Spend your Thursday mornings with us! Each third Thursday of the month, we get together and work on telling the stories of our lives. Stop by and bring a friend. All are welcome! This is a tticketed event: Our Pay-What-You-Can model allows our events to be accessible to the entire community! We have no minimum or maximum amount suggested, we simply ask you to pay what you can. For more information visit: https://www.facebook.com/events/582304918903425/

4th Seattle Urban Book Expo
Saturday, October 5, 2019
12pm-5pm
Northwest African American Museum
2300 S Massachusetts St, Seattle, Washington 98144

Come enjoy the literary scene in Seattle, S.U.B.E. Style! The Seattle Urban Book Expo returns with its most ambitious event to date. Join us, as we celebrate black and brown authors, and show their literary projects on a national stage. For the general public, attendance is free. Visit us at www.seattleurbanbookexpo.com for more information.

We're holding this info session on September 3rd for TRU members, allies, and people who work in downtown Seattle where we will be focusing our efforts this fall. This is to give a preview of what we're hoping to accomplish and an opportunity for questions, discussion, and input. It's also a chance to find out how you can get involved.