King County Councilmember Larry Gossett
Metro Routes 4 and 48 to be Re-Routed off 23rd Avenue Temporarily
Metro Transit routes 4 and 48 will be re-routed between S Jackson Street and Rainier Ave S starting this spring for about one year due to construction for the Seattle Department of Transportation 23rd Avenue Corridor Improvements project.
Routes 4 and 48 will be detoured off of 23rd Avenue S to Martin Luther King Jr Way S, between S Jackson St and Rainier Ave S when construction begins in May.
Route 4 is a trolley route and there is no trolley wire on Martin Luther King Jr Way S, so all service south of the stops on E Jefferson St will be provided on 40-foot long diesel bus shuttles starting March 12, 2018. On weekdays, this will require anyone traveling beyond E Jefferson St to transfer between the regular trolley bus and the diesel shuttle bus. On weekends, Route 4 will operate full-length trips with diesel buses.
Look for signs at the bus stops, electronic alerts, and street teams getting the word out to riders. For questions, contact Tristan.cook@kingcounty.gov or Kamilah Brown at Kamilah.brown@kingcounty.gov.
---
Communities of Opportunity
King County and Seattle Foundation selected 27 nonprofit organizations that will help improve health, social and economic outcomes in the region. The total of $2.5 million in competitive grants will help confront startling racial inequities in King County. The community partners will achieve multiple goals, such as empowering small family businesses facing displacement, connecting youth of color with city leaders to prevent violence, and making it possible for more people of color to participate in the green economy.
This is the latest round of investments from Communities of Opportunity – a partnership between King County and Seattle Foundation – which is governed by leaders from community organizations, local governments, and philanthropies.
"We are setting a course for positive change by tapping into community expertise and supporting community priorities," said Tony Mestres, President and CEO of Seattle Foundation. "This latest round of community investments holds true to our shared vision with King County to further civic engagement, advance community leadership and support community priorities."
Communities of Opportunity is funded jointly through Seattle Foundation and Best Starts for Kids, a voter-approved initiative to promote healthier, more resilient children, youth, families, and communities in King County.
Here are a few examples of the partnerships funded by Communities of Opportunity grants:
---
Council Approves a Flat Fare for Metro Riders
The King County Council unanimously approved steps simplifying Metro Transit's complex fare structure to a flat $2.75 adult fare. The new fare plan eliminates a payment system that fluctuated between time and distance and could cost an adult rider between the ages 19-64 anywhere from $2.50 to $3.25 a ride. The new fare eliminates the Peak and Zone Fares for Single Adult Rate and does not affect the roughly 1 in 3 Metro riders who pay ORCA Lift—Metro's low income fare program— or youth, senior, and disabled fares. The new fare structure will go into effect in July of 2018.
---
Melba Ayco Recognized for Bringing "Rhythm to the Region"


Longtime director of Northwest Tap Connection receives MLK Medal of Distinguished Service
Over the last two decades, Melba Ayco has been bringing rhythm and wisdom to young people throughout South Seattle. Ayco's devotion to all forms of dance was recognized today by Metropolitan King County Councilmember Larry Gossett when he presented "Ms. Melba" with the Martin Luther King, Jr. Medal of Distinguished Service.

"For over three decades, Ms. Melba has been a servant of the people," said Gossett. "She has used her talents and love of children to give them access to the arts, thus, continuing to build Dr. King's 'beloved community' in this region."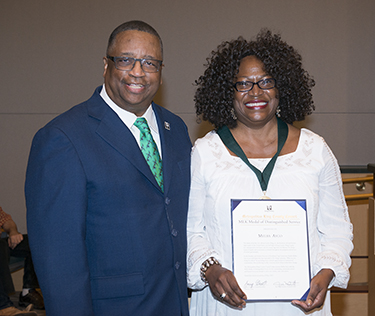 Ayco has worked for the Seattle Police Department for over three decades, but her passion is dance. Since the 1990's—first as the Program Director and Artistic Director at TTapp Central, and now as the Founder and Artistic Director of Northwest Tap Connection—Ayco's mission has been to provide a space of support and respect for artists of color to create artistic works "relevant to our past, present and future."

Race and Social Justice is the foundation of Northwest Tap Connection. Its mission is inclusive of providing quality dance and job opportunities to under-served communities, but also to raise a generation of socially conscious artist that product work that foster change. The studio has been committed to the support of Artists of Color through employment, use of their music through tribute shows and the history of their contributions to the Art World.

For thousands of students—from kids just out of diapers who are part of the fabled "10 o'clock" class, to young people who have performed on Broadway—Ayco has been there as teacher, mentor and friend.

Ms. Ayco has choreographed for Seattle Theatre Group, the Northwest Folk-life Festival, Chicago Human Rhythm Project, Seattle Children Museum, and MoPop (Experience Music Project). Her community service has been recognized by the City of Seattle, as a recipient of the 2009 Mayor's Art Award for outstanding leadership, and by Africatown, which recognized her as a Community Builder earlier this year.

Ayco is one of nine citizens living across King County whose contributions to their community echo the incredible selfless leadership of the Rev. Dr. Martin Luther King, Jr. The MLK Medal of Distinguished Service recognizes those who have gone above and beyond in their efforts to make a difference in communities across King County.
---
Dreamers Legislation Passes Unanimously
This week, the King County Council passed legislation calling on Congress to swiftly and comprehensively protect the legal status of thousands of Dreamers. The motion, passed 9-0, also directs King County's federal government relations team to prioritize efforts in Congress to continue DACA protections. It also requests this team commence efforts to build a broad coalition of county officials nationwide. This heartless action from the White House punishes people who were raised, educated and contribute everyday to the only home they know--the United States. Congress must act to protect DREAMERS! A copy of the legislation is now being shared with Washington's congressional delegation. For more information on the termination of the Dreamers Program and various resources, visit: https://www.aclu-wa.org/news/termination-program-dreamers-act-cruelty.
---
Councilmember Gossett featured on Prosecutor's Partners
---
Celebrating Asian Pacific Islander Heritage
The Martin Luther King, Jr. County Council declared May 2017 as Asian Pacific Islander Heritage Month in King County and encourages all residents to join in this celebration and participate in the many festivities planned to recognize Asian Pacific American heritage. The month of May was chosen as Asian Pacific Heritage Month to commemorate the immigration of the first Japanese to the US on May 7, 1843 and to mark the anniversary of the completion of the transcontinental railroad on May 10, 1869, as the majority of the workers who laid the tracks were Chinese immigrants.
Click here to read the King County Council's proclamation of the month of May as Asian Pacific Islander Heritage Month in King County.
---
Celebrating Black History Month: King County's Logo

Click here for information on the 10 year anniversary of the county logo


---
What's Happening in District 2
Spring is here and there are some exciting events happening! Here are a number of events happening throughout the district you may enjoy.
University District Farmers Market
Saturdays, year round
9am - 2pm
University Way NE (the "Ave"), between 50th & 52nd streets, Seattle, WA 98105
Montlake Community Club Board Meeting
Tuesday, April 10, 2018
7pm - 8:30pm
Boyer Children's Clinic, 1850 Boyer Ave E, Seattle, WA 98112
Board meetings are held the 2nd Tuesday of the month – 7 p.m. September – May. All residents, property owners and business operators, 18 years of age or older, with street addresses in the Montlake neighborhood are members of the Montlake Community Club.
School's Out Matinee: Coco
Thursday, April 12, 2018
2pm-3:45pm
Skyway Library, 12601 76th Ave S, Seattle, WA 98178
It's spring break, so come watch Coco on the big screen! Light snacks will be provided. Movie is Rated PG and runs 1 hour and 45 minutes. Sponsored by Friends of the Skyway Library. For more information: https://kcls.bibliocommons.com/events/5a9c9d2054d87c2f00f07380 Free and kid friendly.
Zoning & Segregation In The City Of Seattle
Thursday, April 19, 2018
7pm – 8:30pm
Skyway Library, 12601 76th Ave S, Seattle, Washington 98178
Margaret Morales, Senior Research Associate from Sightline Institute, will discuss how Seattle city zoning code perpetuates barriers to access of some of the city's best public resources. Discussion will focus on access to public schools and parks and how city zoning is an obstacle to racial and economic diversity surrounding these amenities. For more information: https://kcls.bibliocommons.com/events/5a9c9d6054d87c2f00f07382 This free discussion is open to all.
2018 Youth and Law Forum
Saturday, April 21, 2018
8am – 2pm
First AME Church, 1522 14th Avenue, Seattle
This is a free event for youth interested in the legal field. This year's theme is Technology Law and Justice, and will feature special forensics and other presentations that will reflect the integration of science and technology with the law. We hope that the end result will be an increased knowledge on juveniles' ability to navigate the system and a corresponding increased interest in law and justice careers. This year the forum will include exciting topics such as sealing juvenile records, discovering fun careers in the fields of law and justice, and close out with our Hollywood actor's presentation.
19th Annual May Day March for Workers and Immigrant Rights
Tuesday, May 1, 2018
2:30pm-6pm
Judkins Park, Seattle, 2150 S. Norman St., Seattle, Washington 98144
The annual May Day March in Seattle is hosted by the May 1st Action Coalition and El Comité. For more information visit: https://www.facebook.com/events/819095451626015/
El Centro de la Raza's 13th Annual Cinco de Mayo Celebration
Saturday, May 5, 2018
12 PM – 5 PM
Centilia Cultural Center & Outdoor Plaza at El Centro de la Raza, 2524 16th Ave S, Seattle, WA 98144
This event is free to the public and will take place on There will be mercado, children's activities, raffle prizes, vendor and informational booths, traditional food for sale, desfile multicultural and live music. Admission is free. Limited parking. Rain or shine. This event attracts about 1,200 folks. As such, volunteer support is greatly needed. For volunteer information, please contact Thamara Torres at volunteer@elcentrodelaraza.org or (206) 957-4602. We invite people of all cultures to participate in our "Desfile Cultural" by wearing their own traditional dress in a show that celebrates racial diversity and unity in our community. Please contact Hilda Magaña at hmagana@elcentrodelaraza.org or (206) 957-4627 to learn more about participating! http://www.elcentrodelaraza.org/events/event/cinco-de-mayo-celebration/
Free Bilingual Legal Clinics
Wednesday, May 9, 2018
6pm - 8pm
El Centro de la Raza 2524 16th Avenue South, Seattle, WA 98144
El Centro de la Raza will be hosting free bilingual legal clinics with volunteer attorneys from the Law Office of Schroeter Goldmark & Bender and the Latina/o Bar Association of Washington, on the second Wednesday of every month to November 2018. Sign up for consultations is on a first-come, first-served basis and will open at 4 PM. To support legal clinics at El Centro de la Raza, click here. Now, there is a hotline to report detentions and other immigration activities in Washington: Dial 1-844-RAID-REP (1-844-724-3737). Read more here in English or here in Spanish. Click here for more information.
---
King County Takes on Racial Disproportionality in our Juvenile Justice System
In 2001, King County implemented the Juvenile Justice Operational Master Plan, or JJOMP. Its intent was to decrease the number of juveniles being detained in King County's Youth Detention Center. While we were successful in drastically reducing the Average Daily Population (ADP) from approximately 200 in 2000, to our current ADP of approximately 60 youth, racial disproportionality increased in catastrophic ways.

For example, fifteen years ago, about 36 percent of youth in our detention facility were African American. Today, African American youth account for over 60 percent of the ADP. These numbers are beyond unacceptable, and call for a new paradigm shift in our system. As a result, in the fall of 2015 we convened the Juvenile Justice Equity Steering Committee (JJESC), a group of activists, organizers, and community members unlike any King County government has organized in the past. Many of the members of the JJESC represents our incarcerated juvenile population in terms of race, ethnicity, life experience, and cultural expertise.

While dismantling racial disparity is our top priority, it is just one part of a paradigm shift we are undertaking in our Juvenile Justice system. We need to stop criminalizing our youth, since studies show the longer and deeper a young person sinks into our system, the worse the outcome. This is not only counter to what our systems are SUPPOSED to do, it is counter to our stated principles of Equity and Social Justice. For more background information on this effort please visit:

https://www.kingcounty.gov/elected/executive/constantine/News/release/2015/July/29-racial-disparity-justice.aspx.

Community input on our workgroups will be critical to our success! Please check for the time and place of the JJESC monthly meetings.