Honoring local service in the "War to End All Wars"
100 years ago in early April, President Woodrow Wilson sought a declaration of war to join our allies fighting in the Great War, now known as World War One.
During the war more than 60,000 residents of Washington served in the Army, Navy, Marines or Coast Guard including more than 500 employees of Seattle and King County government.
In 1931, King County and the City of Seattle affixed bronze plaques entitled "Honor Roll of County Employees" and "Honor Roll of City Employees" at the entrance to the County-City Building — now the King County Courthouse —to honor the service of these brave men and women.
Today those plaques are weathered and ready for an update which is why Councilmembers Reagan Dunn and Rod Dembowski have partnered to recognize America's entrance into the "War to End All Wars," by restoring and reinstalling those plaques by April 6th, 2017—the date of our nation's entry into the war.
Dembowski and Dunn will be leading a ceremony to rededicate the plaques on April 6th. Family members of the county employees honored on the plaque are more than welcome to attend the ceremony. Please contact the office Councilmember Rod Dembowski or Councilmember Reagan Dunn for more information and to RVSP.


"Honor Roll of County Employees" who served in the Great War:
Engineer
Don H. Evans
Will R. White
W.C. Gaines
Ralph Smith
E.C. Furbush
T.J. Humes
E.T. Humes
W.H. Nelson
J.W. Roberts
F. L. Boardman
W.A. Wilson
Ralph A. Koch
L. B. Keith
W. J. Magillicuddy
Wm D. Roberts
CHAS. E. Wilkins
G. J. Truitt
T. R. Beeman
R. D. Higbee
Roy T. Early
T. D. Hunt
Hospital
Dr. Lynne A. Fullerton
Dr. Frances J. Delaney
Pearl Cunningham
Katherine Hamilton
Alfred Stinnette
Blanche Herron
Ruth Negard
Emily Rask
Dr. Sherman Rogers
Dr. GEO. I'. Birchfield
Elizabeth McConaghy
Rose Gallagher
Mae Monohan
Hazel Mcilvain
Hulda Cook
Auditor
M.C. Dewolf
Harold Moore
Lester Turnbull
Chas K. Spear
Minnie W. Barrett
C.W. Bown
M.A. Silver
Albert Hurwitz
Brace Shorett
Howard Burrington
George D. Adair
Clerk
Chas. L. Smith
H. A. Owen Jr.
Eugene Meacham
Earl F. Connor
Jas C. Quigley
Allen M. Peyser
Assessor
C. W. Harris
Guy Parmalee
F. W. Hull
Jos. Beckingham
F. L. Marshall
Garage
Dan Abraham
Geo. Laframboise
Prosecuting Attorney
Estelle Fitts
Justice of the Peace
John E. Carroll
Supt. Of Buildings
Harry Egbert
Coroner
Howard McDonald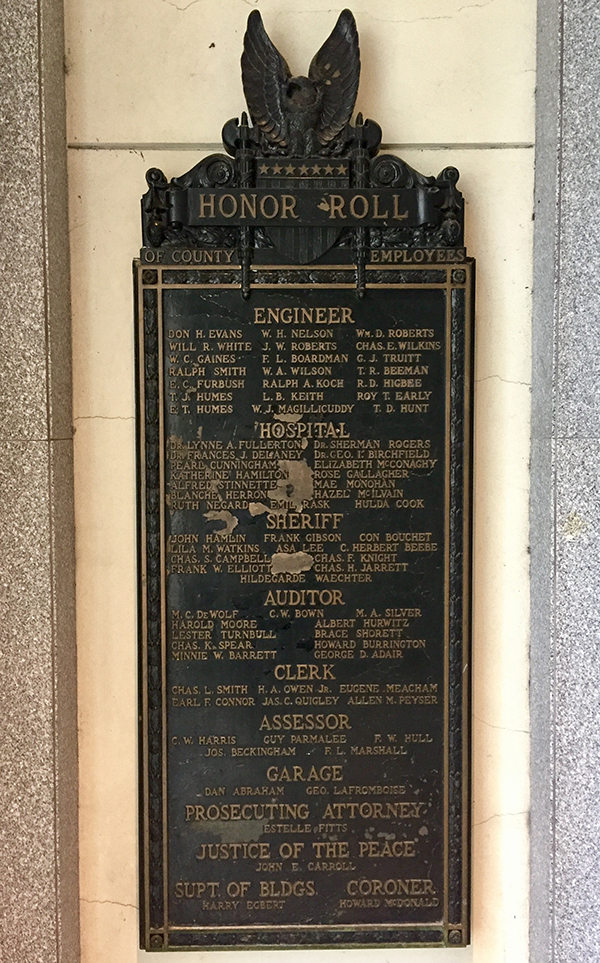 Plaque honoring county employees who served in WWI.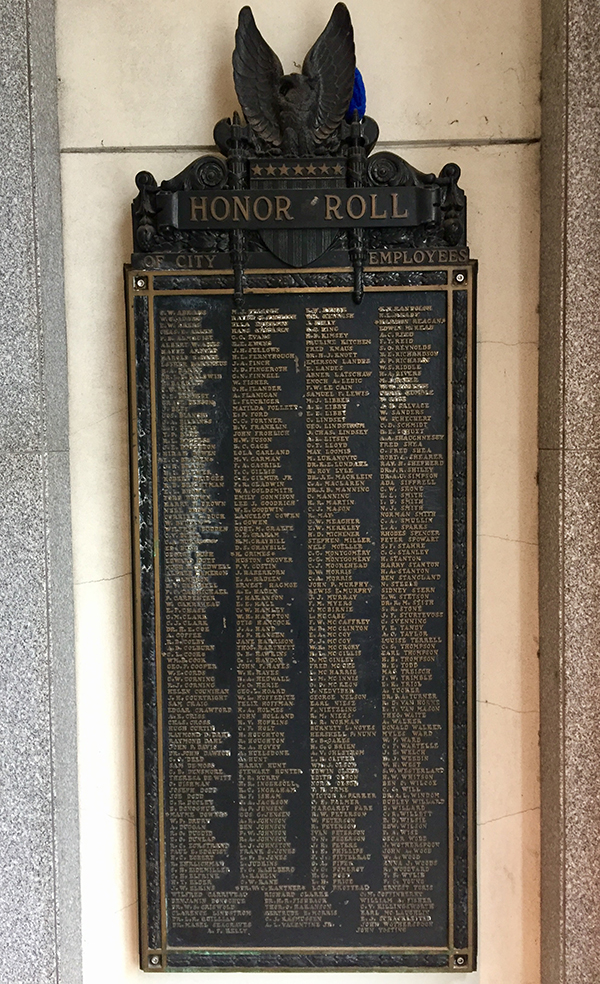 Plaque honoring city employees who served in WWI.
Contact the Council

Main phone:
206-477-1000
TTY/TDD:
Relay: 711
Contact all 9 Councilmembers directly:
Click Here