King County Immigrant and Refugee Task Force
With a population of two million residents, King County grows more diverse every year. Since 2000, the county has grown by more than two hundred twenty thousand residents, with most of the increase attributable to people of color. Only half of that growth is from births. Most of the rest is from immigrants and refugees- from all parts of Asia, Latin America, Eastern Europe and Africa. Foreign-born residents, including immigrants and refugees, face particular challenges upon arrival in the United States.
One quarter of King County residents speak a language other than English at home, and close to half of them report that no one in their households speak English well or at all. In total, King County residents speak over one hundred twenty different languages, or over one hundred seventy languages including dialects spoken.
In light of this, the King County Council and King County Executive formed the King County Immigrant and Refugee Task Force. The Task Force is charged with making recommendations on the creation of a King County Immigrant and Refugee Commission, including, but not limited to, recommendations on the commission's membership, mission and scope of duties (see Ordinance 18085).
The public is invited to submit comments via email at immigrantrefugee@kingcounty.gov or you can fill out the form below. The Task Force held a number of events around King County in 2016 to listen to and engage with members of the immigrant and refugee population in preparation for their final report and recommendations. The Task Force issued its final report and recommendations on July 8, 2016.
The final report is now available.
For questions, please contact immigrantrefugee@kingcounty.gov.
Members
Meeting Agenda & Minutes
October 1, 2015:
agenda and meeting materials
November 19, 2015:
agenda and meeting materials
February 22, 2016:
meeting minutes
April 25, 2016:
agenda
Resource Materials
Ordinance 18085, establishing the Task Force (PDF)
Ordinance 16948, regarding equity and social justice (PDF)
Progress Report, January 2016


Watch the King County Council Briefing:
Hear from members of the Immigrant and Refugee Task Force:
Are you a member of ethnic/ alternative press and want to learn more about what is happening with the Task Force? Please send Erin Arya an email at erin.arya@kingcounty.gov or call at (206) 477-1014.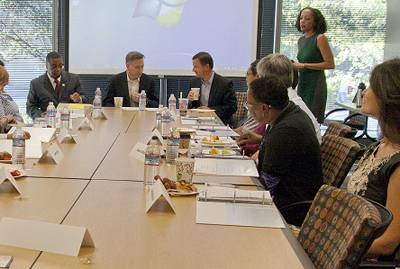 Contact the Council

Main phone:
206-477-1000
TTY/TDD:
Relay: 711
Contact all 9 Councilmembers directly:
Click Here