Eastside Rail Corridor Regional Advisory Council
The first ERC Summit, held on January 9, 2016, was a rousing success! Almost 200 people attended the six hour event at Meydenbauer Center in Bellevue, listening to inspirational speakers and identifying priorities for the next several years.
Watch this space for more news about the Summit and about the cross-sector partnerships that are being developed in support of corridor development. From parks and recreation, arts and culture, multi-modal mobility, to economic development and land use planning … the ERC is where 21st Century standards for infrastructure re-purposing and redevelopment come together.
If you'd like to be on the ERC email list, please contact marka.steadman@kingcounty.gov.


Watch the presentations from the 2016 ERC Summit!
Ryan Gravel, Atlanta Beltline:

Adrian Benepe, The Trust for Public Land: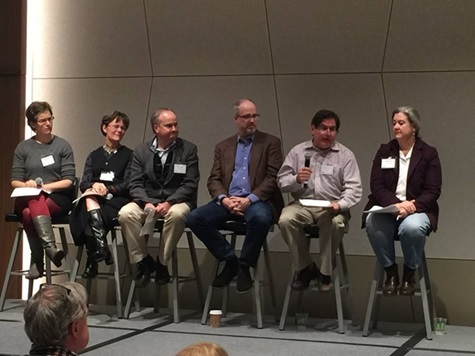 The final panel reacts to the participants' recommendations for priorities. From left to right, Elizabeth Kiker, executive director, Cascade Bicycle Club; King County Councilmember Kathy Lambert; Paul Kundtz, Washington State Director, The Trust for Public Land; Ric Ilgenfritz, executive director for policy and planning, Sound Transit; Kirkland Deputy Mayor Jay Arnold; King County DNRP Director Christie True.
Photo by Kirkland Mayor Amy Walen.