King County Councilmember Kathy Lambert
Arcadis Solid Waste Report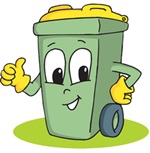 Here is the link to download the long-awaited solid waste report from Arcadis to help us figure out our future:



https://mkcclegisearch.kingcounty.gov/LegislationDetail.aspx?ID=4157155&GUID=B6B5D3D6-894F-4452-80EA-17607DB2E69A&Options=Advanced&Search=


Child Window Falls Prevention Demonstration
Each spring and summer, Harborview Medical Center traditionally prepares to see 40-50 children who fall through open windows, many of whom must be treated for serious injuries. Thankfully, there are resources available to prevent these falls.

Learn more about the practical strategies that you can implement to drastically reduce the risk of a child falling by watching the video below:
Councilmember Lambert's Favorite Waste to Energy Plant She Has Visited
Watch the video below to find out more about Councilmember Lambert's vision for what we should be doing to move toward zero waste and safe disposal of solid waste in King County.
Exciting transportation news for Snoqualmie Valley
Door-to-door bus service has expanded in the Snoqualmie Valley, covering the valley communities from North Bend to Snoqualmie, Fall City, Preston, Carnation, Duvall and now, the city of Monroe. Residents throughout the Snoqualmie Valley can get to and from their auto repair shops, medical appointments, farmers markets, food banks and other destinations on a Snoqualmie Valley Transportation (SVT) bus.

SVT's shared ride service has been serving the Valley for 15 years and is open to all riders, age 13 or older. The service operates weekdays, from 6 a.m. to 8 p.m. in North Bend, Snoqualmie and Fall City, and 8:30 a.m. to 4:30 p.m. in Carnation, Duvall and Monroe. Fares are $1 per person.

To schedule a ride with door-to-door service, call 425-888-7001 at least one day in advance of your trip. Be sure to give the date, time and complete addresses for your pickup and drop-off locations and to specify if you need assistance in boarding the bus.

With three to five days' notice, schedulers are better able to consolidate routes within the communities. Same-day ride requests will be accommodated on a space-available basis.

Once your ride is scheduled, SVT will confirm the appointment by phone. Plan to be at your pickup location about 15 minutes ahead of schedule, as the schedule can vary slightly. If you'd like to get an estimated time of arrival, you can call SVT at 425-888-7001 about 20 minutes before your ride is scheduled, to find out how close the bus is to you. All buses are marked with "SVT" on the front, and all buses are equipped with wheelchair lifts and bike racks. Drivers will typically pick up several riders before delivering them to their respective destinations, so trips may take longer than you expect. Schedulers do work to keep rides direct, while also keeping the service cost-effective. To cancel a ride, call SVT at least an hour in advance of the scheduled ride.

The Preston service excludes the Mitchell Hill area.

SVT also provides the Valley Shuttle service, getting people to their destinations throughout the Valley between North Bend to Duvall, and fixed-route loops between Snoqualmie and North Bend and a loop between North Bend and Rattlesnake Lake. Some riders may be referred to these routes, depending on their needs. Learn more about the door-to-door service, the Valley Shuttle and the fixed-route loop services at www.svtbus.org, or call 425-888-7001.

About Snoqualmie Valley Transportation: Snoqualmie Valley Transportation (SVT) is a project of Mt. Si Senior Center. SVT began its services in 2003 with funding assistance from Snoqualmie Indian Tribe, King County Metro Transit, and the Washington State Department of Transportation.
---
Property Taxes 101
You can now determine what the taxes are for your property and the percentages of where your tax dollars go by going to: http://localscape.property/#kingcountyassessor/m and entering your address. This will show you the percentage of taxes going to each government entity and the percentage of the total that is voter approved.

I taped a short video with some basic information about our property taxes (click on image to play):
---
Waste to energy options considerations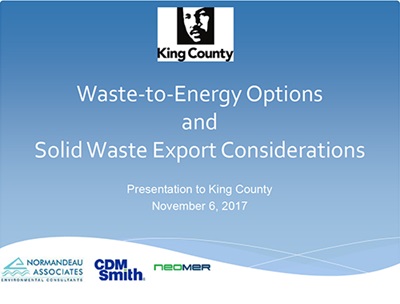 The report below was requested by the Department of Solid Waste. There is a link to the report and also one to the PowerPoint presentation. It is important that we look at all options when considering how we will dispose of our garbage for the next 50 years.

Waste to energy options considerations report
Waste to energy options considerations Powerpoint
---
Last year's Waste to Energy, Recycling, Upcycling and moving towards Zero Waste Symposiums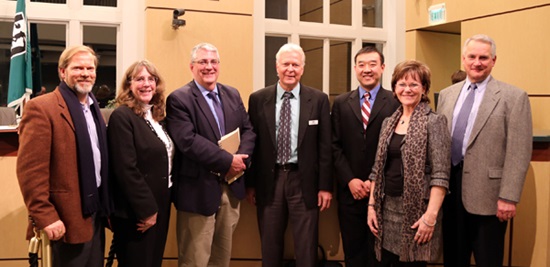 Thanks to everyone who attended our Symposiums. They were both great times of learning about Waste to Energy, Recycling, Upcycling and moving towards Zero Waste Symposium. The speakers were amazing!
Watch videos of the symposiums on YouTube:
Watch the Jan. 18 Symposium, click here to download speaker times for the Jan. 18 video
Watch the Feb. 28 Symposium
View the PowerPoint from Jan. 18
View the PowerPoint from Feb. 28
---
ACEs in our community
I wanted to share this serious and in some ways concerning and/or terrifying information:
On Monday, August 14, I attended the Key Leaders Summit which was sponsored by the Snoqualmie Valley Community Network.
The theme was learning about ACEs (Adverse Childhood Experiences) and becoming a trauma-informed community. It was truly enlightening about the needs of our children and teens in the valley and also encouraging that many of the valley organizations have been implementing helpful practices for quite some time.
Here's some of the information that was presented from the 2016 Youth Survey: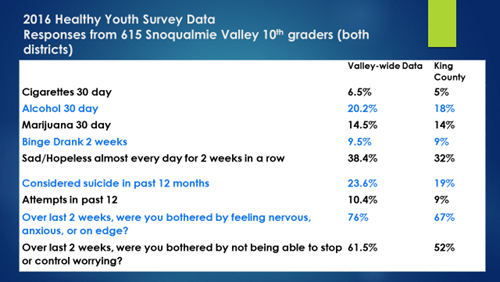 Jerry Blackburn from Friends of Youth also gave a great presentation on the importance of resilience in dealing with these issues. He said that there are 7 ingredients that comprise resilience: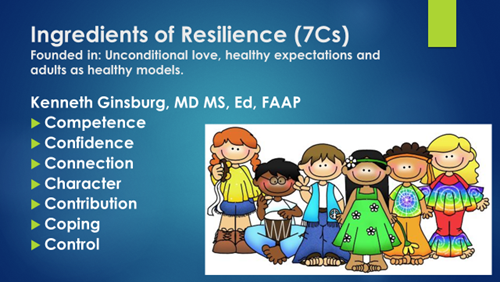 It was encouraging to note that several Washington State communities are leading the way with positive responses to ACES that are having outstanding results. Here's one example from Cowlitz County: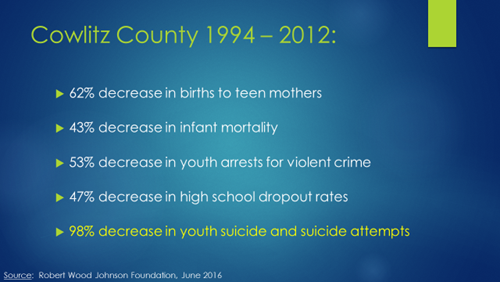 Knowing this information is vital as we meet with and see the youth around us, so we can be encouraging and supportive to them. (Not easy to be a child in these times of many stresses). There is work to be done and we need to encourage each other to make a difference.
---
A brief guide to the King County budget
The King County budget is composed of two types of funds: dedicated funds and the General Fund. Dedicated funds are the largest portion at about 85% of the total budget. By law, these funds are restricted to specific purposes, such as transit, sewage treatment, and voter-approved programs.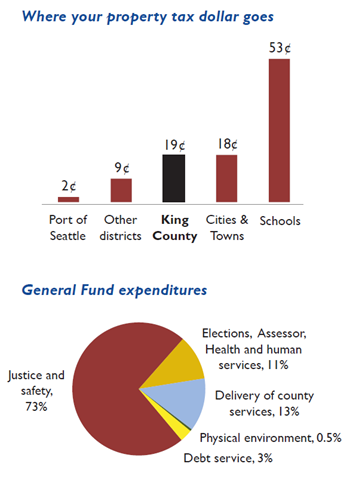 The discretionary portion of the county budget is the General Fund, which is about 15% of the total budget. These funds pay for critical day-to-day services not supported by other revenues. About three quarters of the General Fund (73%) pays for criminal justice and public safety, as mandated by the state. The remainder must fund other services, such as Elections and human services (see pie chart).
The General Fund is supported mostly by property tax and sales tax. By law, the County collects property tax on behalf of all taxing districts within the county. However, the County receives just 19 cents of every property tax dollar, with the rest going to other agencies (see bar graph). Similarly, King County receives less than one cent of the sales tax per dollar collected in most of the county.
Since Washington State enacted the 1% cap on property tax increases in 2002, counties across the state have faced a structural gap. With inflation at approximately 2% over these years, plus increases in the cost of maintaining the same level of services, the County has continued to face deficits in the budget. The deficit in the General Fund for the 2017-18 biennium is currently projected by the County Executive's office at $40 million.
To learn more about the County budget and the Council's budget review process for this biennium (2017 and 2018), please visit: www.kingcounty.gov/council/budget.
---
Bridges and Roads Task Force
Last fall King County Executive Dow Constantine and I convened a Bridges and Roads Task Force. It was charged with recommending sustainable solutions for funding bridges and roads in unincorporated King County. As many of you know, I've been a strong proponent of finding workable solutions as we cannot let our bridges and roads fall into disrepair! The 1994 funding formula no longer works and it's time for it to be reevaluated! The terrific group of people on the Task Force came up 152 recommendations in their final report. You can access all the information including the final report and the list of recommendations here: https://kingcounty.gov/depts/transportation/roads/roads-task-force.aspx
Here's more information that explains the problem in detail and gives more background:

http://www.seattletimes.com/opinion/editorials/king-county-needs-smart-solutions-to-fix-crumbling-roads-and-bridges-3/

http://kuow.org/post/king-county-rural-roads-how-they-got-so-bad
https://www.kingcounty.gov/~/media/transportation/kcdot/roads/SPRS/SPRS2014Update.ashx
---
Boost Your Brainpower
I'm a strong proponent of exercising the brain as it's a great way to stay sharp and avoid disease. I loved this article – it is chock full of very common sense ways to exercise our brains every day. Here's to more conversation until we're all over 100!
Parade Magazine: 23 Ways to Boost Your Brain
---
King County Noise Code
Effective July 2, unincorporated King County residents have a new, improved noise code. If you're experiencing loud and raucous neighborhood noise, you should call the King County Sheriff's Office non-emergency line at 206-296-3311. For construction noise, call the Department of Permitting and Environmental Review (DPER) at 206-296-6680. For unreasonable animal noise, call the Pet Information Line at 206-296-PETS (7387). Learn more, read the
King County Noise Code Fact Sheet
(pdf, 303KB).
---
County Health Rankings
Check out this website that compares the health of King County's residents to other counties around the state and nation.
There are two types of rankings: "Health outcomes" are a measure of length and quality of life. "Health factors" are a measure of health behaviors, clinical care, social and economic factors, and the physical environment.
I thought this was very informative. It's also a reminder that there is always room for improvement regarding our health.