Three Eastside efforts earn Green Globe Awards
Story
In honor of Earth Day, Metropolitan King County Councilmember
Kathy Lambert
presented environmental leadership awards to three Eastside efforts at the 2009 Green Globe Awards from the King County Department of Natural Resources and Parks. The awards included:
• Issaquah School District – Leader in Green Schools
• City of Issaquah – Leader in Land Preservation
• Ducks Unlimited – Leader in Beneficial Use of Reclaimed Water
"These model efforts are teaching children, parents and the public about the need for sustainable practices and the benefits not only to our environment but also to our economy and quality of life," said Councilmember Lambert, who represents Northeast King County.
The Issaquah School District was represented by Superintendent Steve Rasmussen, Resource Conservation Manager John Macartney, and Facilities Director Keith Simmonds. Their efforts included increasing the district recycling rate from 30 to 50 percent, and decreased energy usage by 6 percent even with new buildings adding 15 percent more square footage. The district also was able to reduce water consumption by 33 percent and irrigation by 20 percent.
The City of Issaquah, represented by Mayor Ava Frisinger and city staff, was recognized for its partnership agreement with King County to steer development away from high-priority open space lands and salmon habitat in rural areas and into the city's existing urban areas. The approach models regional land preservation and growth management for cities.
Ducks Unlimited, represented by Dan Golner and Thomas Dwyer, was recognized for partnering with King County's Wastewater Treatment Division to create the first wetland enhancement project in the state that utilizes reclaimed water. The innovative solution creates a beneficial resources from the wastewater treatment process at the new Carnation Wastewater Treatment Facility.
The Green Globe Award is King County's highest honor for businesses, organizations and individuals who have participated in one or more of DNRPs programs. Award winners are considered the "best of the best," and awards are bestowed only every two years. Seven other organizations around the county were recognized for their leadership in biosolids recycling, environmental education, hazardous waste reduction and sustainable business practices, market development for recyclable materials, sustainable building, environmental innovation and being an environmental catalyst.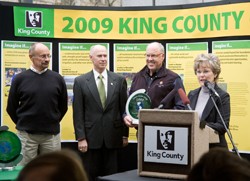 Councilmember Kathy Lambert with representatives of the Issaquah School District at the Green Globe Awards (
l-r
) Facilities Director Keith Simmonds, District Superintendent Steve Rasmussen and Resources Conservation Manager John Macartney