County Council, local farmers celebrate harvest
Summary
Public can visit working farms during "Harvest Celebration Tour"
Story
The arrival of fall is a reminder that it's harvest time at farms and orchards across the region. In celebration of the harvest and the working farms throughout King County, the Metropolitan King County Council today proclaimed Saturday, September 25 and Sunday, September 26 as Harvest Celebration Days in King County.

On September 25 and 26, between 10 a.m. and 4:30 p.m., working farms will open their gates for the free-range farm adventures of the twelfth Annual Harvest Celebration tours. September 25 will feature nine farms in the Snoqualmie Valley, and September 26 will feature seven farms on Vashon Island. The farm tours are presented by Washington State University King and Pierce County Extension, King County, and Puget Sound Fresh.

"Farms and farming in King County are alive, productive and sustainable, and we're lucky to have their bounty available for our residents," said Councilmember Larry Phillips. "In the densest, most urbanized county in Washington, King County is also home to over 1,500 active farms and a vital rural area. Harvest Celebration Days is an opportunity to visit these farms and thank them for providing King County residents with access to fresh, locally grown, and environmentally responsible produce."

"Support for local agriculture is at the heart of developing a sustainable community," said Councilmember Kathy Lambert, who represents the Snoqualmie Valley and Sammamish Valley agricultural areas. "Locally grown food is fresher, healthier and requires fewer natural resources for transportation and packaging. We are fortunate to have such productive agricultural areas so close and accessible to our large urban centers. The Harvest Celebration is a good opportunity to recognize the contributions of farmers to our quality of life."

"I'm excited that we have farmers on Vashon Island as part of the tour this year," said Councilmember Jan Drago, who represents Vashon and Maury islands. "My hope is that having two tour areas will encourage even more King County residents to come out and celebrate Harvest Celebration Days and connect with what's growing locally."

"Harvest Celebration Days is a chance to celebrate and showcase our thriving agricultural community here in King County," said Council Vice Chair Jane Hague. "I've always believed that we need to continue our work to create new local markets for our growers. Neighborhood farmers markets, for instance, have been very successful on the Eastside."

The Harvest Celebration Tour is a free event featuring chef demos, wine tasting, hayrides, corn mazes, pumpkin patches, farm animals, fresh produce, live music, and hands-on fun. It's an opportunity to meet local farmers, taste farm-fresh food, learn farm stewardship skills, and walk the fields of local farms.

For more information on Harvest Celebration Day, visit the WSU King County Extension Web page.
______________________________________________________________________________________________________
PROCLAMATION

WHEREAS, agriculture and farms contribute to the quality of life in King County; and

WHEREAS, a strong farming community is essential to the health and welfare of citizens, our local economy, the preservation of open space, wildlife habitat, flood control, and promotion of tourism; and

WHEREAS, for a farming community to remain healthy, it is vital that rural, suburban, and urban residents alike have ready access to locally grown, nutritious food and farm products and support efforts to maintain the viability of local agriculture; and

WHEREAS, fall is harvest time, one of the best times to visit our local farms, taste the wide variety of produce grown by local farmers, and enjoy chef demonstrations, hayrides, corn mazes, pumpkin patches, music, and more; and

WHEREAS, the 12th annual Harvest Celebration Farm Tour this year will feature two days of "free-range" farm activities: at nine farms in the Snoqualmie Valley on September 25 and at seven farms on Vashon Island on September 26, as well as a new partnership with Pierce County's HarvestFest on October 2; and

WHEREAS, this free event is presented by Washington State University King County Extension, in partnership with King and Pierce Conservation Districts and King County, and is sponsored by 4Culture, Bastyr Center for Natural Health, Puget Sound Fresh, King-Pierce County Farm Bureau, Northwest Farm Credit Services, Cascade Harvest Coalition, and others;


NOW, THEREFORE, we, the Metropolitan King County Council, proclaim Saturday and Sunday, September 25 and 26, 2010, as

HARVEST CELEBRATION DAYS

in King County and encourage county residents to participate in this event and enjoy the bounty of our local farms.

DATED this twentieth day of September, 2010.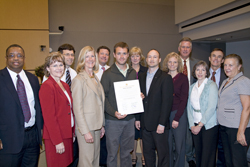 Representatives of the Washington State University King and Pierce County Extension join Councilmembers after the Council declared September 25 and September 26 as Harvest Celebration Days in King County. (l-r) Chris Benedict, WSU Pierce County Extension, Brad Gaolach, WSU King County Extension, Karen Kinney, KC Agriculture Program Staff, Martha Aitken, King County Food $ense Program Manager