County Council recognizes history and contributions of African-Americans
Summary
Black History Month celebration of "history of our nation"
Story
The Metropolitan King County Council today celebrated the continuing contributions of African-Americans in the United States and throughout the world by proclaiming the month of February Black History Month in King County.

"In a County named for one of the greatest African-Americans of the 20th Century, it is fitting that we celebrate those men and women—the famous and the nameless—who who have played a role in the history of our nation," said Council Chair Larry Gossett. "It is also an opportunity to remember the achievements of all the people who have contributed to the greatness of our nation, but have not been recognized in our history books."

"It's important we recognize the African-American community's significant contribution to our country and region," said Council Vice Chair Jane Hague. "It's even more appropriate given our county's great namesake."

"The contributions of African-Americans have shaped this County and our great nation in very positive ways," said Councilmember Julia Patterson. "It is crucial that we reflect upon and celebrate how they have influenced our lives and those of future generations."

African-American History month was the idea of historian and educator Dr. Carter G. Woodson, who hoped to raise awareness of African American's contributions to civilization. As the founder of the Association for the Study of Negro Life and History, Dr. Woodson created Negro History Week to be celebrated in February, the birth month of Abraham Lincoln and former slave and African American abolitionist Frederick Douglass.

"Black History Month gives us the opportunity to acknowledge the life contributions and accomplishments of African-American people throughout the history of our nation," said King County Councilmember Pete von Reichbauer. "And every February we are able to reach more people and establish relationships with other cultures through the knowledge and understanding of Black History Month."

"Black History month is a time to celebrate the many contributions African Americans have made to advancing our society--from Dr. Martin Luther King Jr., who King County is renamed for, to our very own Councilmember Larry Gossett, who founded the University of Washington's Black Student Union during the Civil Rights movement, and many, many others," said Councilmember Larry Phillips.

"It is an honor to celebrate the many contributions African Americans have made in our nation's history," said CouncilmemberKathy Lambert, who authored a children's book about Dr. Martin Luther King. "As a former teacher, I appreciate the ongoing efforts of our educators to highlight the accomplishments of African Americans who are meaningful role models for today's youth."
"Black History Month is an important opportunity to honor the experiences and celebrate the contributions of the African-American community to our region and our nation," said Councilmember Bob Ferguson.

The first Negro History Week was celebrated in 1926. In 1976, as the America celebrated its bicentennial, Negro History Week became Black History Month, a celebration recognized in the U.S. and Canada. 

---
PROCLAMATION

WHEREAS, the United States of America and the nation of Canada have designated the month of February as Black History Month since 1976; and

WHEREAS, Black History Month had its beginnings when famed activist, writer, and preeminent historian Carter G. Woodson called on the American Historical Society in 1926 to designate the second week of February as "Negro History Week"; and

WHEREAS, Carter G. Woodson, as President of the National Historical Society, chose the month of February because two individuals who were very influential in the lives of African Americans – President Abraham Lincoln, and former slave and abolitionist Frederick Douglass – were born in February; and

WHEREAS, Black History Month is a time to remember the important people, events, and contributions of African Americans, historically and currently, not only here in America, but throughout the world; and

WHEREAS, American history clearly suggests that all people have contributed to the greatness of our nation, often under the most difficult of circumstances, sometimes without proper recognition and acknowledgement in our history books;

NOW, THEREFORE, we, the Metropolitan King County Council, proclaim February as
BLACK HISTORY MONTH
in Dr. Martin Luther King, Jr. County and ask all residents to join us in commemorating the countless contributions of African Americans to our nation and the world.

DATED this fourteenth day of February, 2011.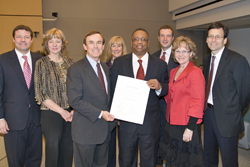 Councilmembers declared Feburary Black History Month in Dr. Martin Luther King, Jr. County