Lambert recognized by Scouts
Story
The Chief Seattle Council of the Boy Scouts of America surprised King County Councilmember 
Kathy Lambert
with a special recognition and trophy at the Jan. 10 meeting of the King County Council.
Diane Pottinger, Cascade District Advancement Chairman of the Chief Seattle Council, congratulated Councilmember Lambert for Council District 3's success in scouting, including having the most Eagle Scouts and registered scouts, and the highest average of service hours per Eagle Scout project.
"I am thrilled, and not surprised, to learn about the significant contributions of these young people to the communities in my district," said Councilmember Lambert, who also is the mother of two Eagle Scouts. "I am proud of their accomplishments, and of the families, schools and communities that supported them. They serve as excellent role models for teens throughout King County."
The scouts were invited to present the colors and lead the Pledge of Allegiance at the weekly Council meeting. Participating in the ceremony were Eagle Scouts from Councilmember Lambert's district, and three Sea Scouts from the most active ship, the Argo, including:
• Eric Fugelsang, Woodinville, Troop 422, Eagle project of 350 hours rebuilding a deck at 60 Acres Park
• Matthew Beecroft, Redmond, Troop 612, Eagle project cataloging and restoring graves at a pioneer cemetery
• Sean Beecroft, Redmond, Troop 612, Eagle project food drive for Ronald McDonald House
• Colter Arnold, Snoqualmie, Troop 466, Eagle project building picnic tables for a North Bend elementary school
• M. Bridget Eames, Mercer Island, Ship 2451, near quartermaster
• Brian Eames, Mercer Island, Ship 2451, Eagle project in 2007 producing slide show on DVD for Interlake High School
• Sandor Fogassy, Seattle, Ship 2451, near quartermaster
The scouts presented Councilmember Lambert with a unique trophy consisting of a glass orb produced by Sammamish High School hot glass teacher Jason Moodie set on a wood base designed and assembled by William Rahr VI. He is the woodshop teacher at Sammamish High School in Bellevue, Sea Scout Skipper for the Argo, and husband of King County Sheriff Sue Rahr. The base materials came from a 1930s project of William Rahr III at Boy Scout Sinawha Camp in Wisconsin.
Pottinger also thanked Councilmembers for providing opportunities for youth to demonstrate leadership skills, and for participating in Eagle Scout projects such as cleaning veterans' headstones at Evergreen Washelli Cemetery and assisting with the Green Up project in Fauntleroy.
"Service organizations such as the Boy Scouts of America provide not only a benefit to the community but also allow for youth to gain leadership experience," Pottinger said. "These types of organizations are the training grounds for many of tomorrow's leaders, and need support through donations of money, materials or volunteer labor to help the community."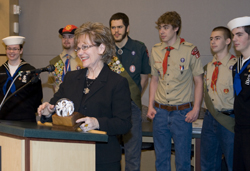 From left, M. Bridget Earmes, Eric Fugelsang, Councilmember Kathy Lambert, Colter Arnold, Matthew Beecroft, Sean Beecroft, and Sandor Fogassy.