Seattle and King County join together to proclaim Food Day
Summary
Officials promote healthy eating and sustainable, accessible food policies
Story
October 24 is National Food Day, a day to celebrate and support a healthy, sustainable, and accessible food system. In recognition of the occasion, a rare joint proclamation was issued today by the King County Council and Executive and the Seattle City Council and Mayor in support of the national Food Day campaign and many local events occurring in the region.
Metropolitan King County Councilmember and Board of Health member 
Kathy Lambert
and Seattle City Council President
Richard Conlin
, who chairs the Puget Sound Regional Council's Regional Food Policy Council, invited their colleagues to join them for a joint city-county presentation, which took place in the County Council Chambers. Local representatives involved with Food Day events and food policy activities also participated in the celebration.
"It is critical that the County and City continue to work together to advance our joint goals of access to healthy food, farmland preservation, environmental sustainability, regional economic development, and public health," said Council President Conlin.
"We all benefit from keeping fresh, locally produced foods available and accessible to everyone in King County – from families to farmers to grocers," said King County Executive Dow Constantine. "Food Day rightly recognizes the important role that agriculture plays – and will continue to play – in our region."
"Healthy and locally-produced food should be accessible to everyone," said Seattle Mayor Mike McGinn. "Raising awareness of food issues at both a county and city level will help us toward that goal."
"We are fortunate in the Northwest to have the climate and the agricultural land needed to produce plenty of food, and harvest time is a great opportunity to recognize the essential contributions of our local farmers," said Councilmember Lambert. "This joint city-county proclamation draws more attention to the issue of access to healthy food and the importance of agriculture in both urban and rural areas of King County."
The proclamation is one part of a full week of activities and celebrations occurring in the Puget Sound region, including panel discussions, film screenings, dinners, farm tours and a resolution passed on Oct. 21 by the King County Board of Health. More information is posted on a Food Day
web site
.
Food Day is a new nationwide grassroots mobilization promoting healthier diets, food security and sustainable food policies. More information about National Food Day is available at
www.foodday.org
.
---
PROCLAMATION

WHEREAS, the health and well-being of our citizens is of primary concern; and

WHEREAS, reducing obesity and diet-related diseases by promoting safe and healthy eating is fundamental to improving the overall health of our citizens; and

WHEREAS, supporting sustainable family farms and local agriculture is essential to the health of citizens and our local economy; and

WHEREAS, improving equity for food and farm workers is beneficial for both the producer and consumer; and

WHEREAS, expanding access to food and ending hunger is important to the quality of life for those who live in food deserts that lack sources of fresh, healthy food; and

WHEREAS, curbing junk-food marketing aimed at children is a valuable tool to combat rising childhood obesity rates; and

WHEREAS, protecting the environment and the ability of our land to produce food is necessary to provide ready access to locally grown, nutritious food and farm products and to sustain future generations;

NOW, THEREFORE, we, the King County Executive, Metropolitan King County Council, Mayor of the City of Seattle and Seattle City Council, do hereby proclaim Monday, October 24, 2011 as
FOOD DAY
in the City of Seattle and King County, Washington, and we urge all citizens to participate in the activities that support a healthy, sustainable local food system.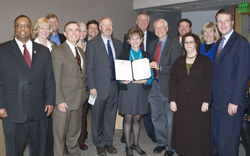 Members of the King County Council and Seattle City Council along with Seattle Mayor Mike McGinn and representatives from King County Executive Dow Constantine shortly after the combined Councils declared October 24 "Food Day" in Seattle and King County