King County recognizes University of Washington for its 150 years of contributions to the community
Summary
Councilmembers, County Prosecutor join in presenting recognition to School President Young
Story
Elected leaders in King County today recognized the 150th anniversary of the University of Washington with a celebration that included Metropolitan King County Councilmembers and King County Prosecutor Dan Satterberg, a UW law school graduate. King County Executive Dow Constantine, also a UW grad, conveyed his congratulations as well.

The public officials shared their reminiscences about the university and presented a special recognition to UW President Michael Young. Council Chair Larry Gossett noted that he and six of his Council colleagues also are graduates of the University of Washington, which is recognized as one of the top research and training institutions in the country.

Gossett and Councilmember Kathy Lambert, another UW graduate, congratulated the University particularly for its School of Medicine and Medical Center that ranks among the top 17 in the country, and for its School of Law, which graduates many civic leaders. Among the Husky alumni are King County Councilmembers:

• Bob Ferguson, former student body president
• Larry Gossett, founder of Black Student Union
• Kathy Lambert, teaching certification and business education degree
• Larry Phillips, political science degree
• Julia Patterson, English degree
• Joe McDermott, public administration degree
• Reagan Dunn, law degree

"In its 150 years of service, the University of Washington has played a pivotal role in the lives people throughout the region and throughout the world," said Gossett, recognized as one of the University's "Wonderous 100" most influential UW graduates over the past 100 years. "World-renowned for its leadership in the sciences, medicine, forestry and the arts, the UW also should be recognized for the opportunities it has provided for communities of color. I'm proud to have been the first head of the school's Black Student Union and to be part of the creation of the University's Office of Minority Affairs."

"The longevity and prestige of the University of Washington are prime indicators of the importance of education to our citizens here in the Northwest," said Councilmember Lambert, a former teacher. "Through research and innovation, the UW has built an unmatched reputation that attracts the best and brightest staff and students from all over the world. There are so many remarkable contributions of this institution to our economy, our culture, our quality of life and to the lives of the UW alumni."

"The University of Washington is the center of higher education, academic research, and arts and culture for our region and our state," said Executive Constantine. "Check into any major local success story in business, in science and technology, or in the public sector, and you're bound to find at least one Husky in the mix. As a three-time UW grad, I'm happy to join the celebration of 150 years of the University of Washington."
"After 150 years, the UW continues to shape our community and influence our criminal justice system," said Satterberg, a graduate of the UW School of Law, which was established in 1899. "Each year we hire UW graduates as deputy prosecutors and staff at the Prosecutor's Office. They come equipped with a uniquely Northwestern set of values – pragmatic, compassionate and innovative. We need these leaders now more than ever. Bow down to Washington!"

The recognition marks the 150th anniversary of the first classes conducted at the newly founded university on Nov. 4, 1861. The first location for the school was on donated property at what is now Fourth Avenue and University Street in downtown Seattle.

"Over the past 150 years, the University of Washington and Washington state have worked together to create one of the most livable, innovative and vibrant areas of the nation," said UW President Young. "The UW has provided access to world-class education for generations of leaders, thinkers and doers, who have contributed to the state in countless ways. The UW, along with our alumni and friends, shares a concern with the citizens of our state for the well-being of people and of the planet we share. Together, we've built a region that attracts the brightest, most curious people — people who make a difference in our neighborhoods, our communities and our world. As we take a moment to recognize the shared accomplishments of the past 150 years, we look ahead with excitement to what the next 150 years will bring."

---
RECOGNITION

WHEREAS, the University of Washington was established in 1861 and conducted its first classes on November 4th in its original location at what is now Fourth Avenue and University Street in downtown Seattle; and

WHEREAS, the University of Washington started with just 30 students taking classes in the first school located on 10 acres of donated land, and the university now enrolls about 48,000 students at three campuses and confers more than 12,000 degrees annually; and

WHEREAS, the UW School of Law began in 1861 as one of the first four departments stipulated by the Territorial Legislature; and

WHEREAS, the law school, as well as other university departments, have graduated legions of leaders in the public arena, including Governors, Senators, Congressmen, Mayors, and King County Councilmembers: and

WHEREAS, the UW School of Medicine is recognized as one of the top research and training institutions, and the UW Medical Center is ranked among the top 17 hospitals in the country; and

WHEREAS, the University of Washington has become one of the most enduring institutions in the State of Washington; and

WHEREAS, the research, accomplishments, professionalism, and innovation of the university's faculty, staff, and students have contributed immeasurably to the economy and culture of our region, as well as to the advancement of medicine, science, business, politics, athletics, and arts around the globe;

NOW, THEREFORE, we, the Metropolitan King County Council and the King County Executive, recognize the

UNIVERSITY OF WASHINGTON

upon the 150th anniversary of its first classes and celebrate the accomplishments and contributions it has made to the quality of life in our region.

DATED this thirty-first day of October, 2011.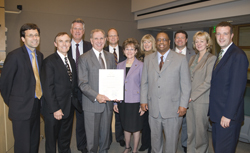 BOW DOWN TO WASHINGTON!!  Members of the King County Council and County Prosecutor Dan Satterberg are joined by Michael Young, President of the University of Washington. Young accpeted a proclamation from the County recognizing the UW's 150th Anniversary.