Sheriff's truck benefits Search & Rescue
Summary
Retired vehicle donated to volunteer organization
Story
The donation of a surplus medium-duty truck from the King County Sheriff's Office will allow the equipment to help save lives with King County Search and Rescue, a non-profit, all-volunteer organization that provides search and rescue services under the direction of the Sheriff's Office.
The 2008 Ford extended-cab pick-up with a canopy was used by the Sheriff's Office for search and rescue operations until it reached mandatory retirement mileage. The vehicle recently was replaced and then declared surplus by King County.
"This donation of a surplus truck demonstrates efficient use and reuse of public assets," said Metropolitan King County Councilmember
Kathy Lambert
, chair of the Council's Law, Justice, Health and Human Services Committee. "I commend the Sheriff's Office and Fleet Administration for working together to transfer this surplus vehicle so that it can have a second life with Search and Rescue, where it can continue to be used to help save more lives. We so much appreciate all of the more than 500 volunteers who make themselves available on a moment's notice to go out in the field and assist with searches for missing persons and lost hikers as well as backcountry rescues when people are injured."
So far this year, Search and Rescue volunteers have been called out to assist on almost 100 missions, including high-profile cases such as providing helicopter base operations during the April search for Peter Keller's mountain bunker following the murder of his wife and daughter in North Bend. Volunteers also contributed more than 2,800 hours in the search for missing 2-year-old Sky Metalwala in Bellevue and a plane crash on Mount Si.
The King County organization is one of the largest and busiest search and rescue operations in the country. Several hundred volunteers serving in eight different units such as Explorer Search and Rescue for youth and 4x4 Search and Rescue are trained, outfitted and supplied solely through donations and volunteer efforts. They provide search services in remote and sometimes rugged areas. They also conduct urban searches for missing Alzheimer's patients and autistic children, as well as evidence searches at crime scenes, allowing law enforcement officers to remain at their normal duties and saving taxpayer money by providing these services at no cost to law enforcement agencies.
"This truck will provide additional capability for King County 4x4 Search and Rescue to transport communications equipment, survival gear and volunteers to remote locations that often are not accessible by regular vehicles," said Branden Powell, vice president of operations for Search and Rescue. "It will also ease the burden on our venerable 1969 Chevrolet Step Van still used on missions by our unit."
King County Search and Rescue currently is accepting new volunteers for training for its eight different units:
• King County Explorer Search and Rescue
• King County 4x4 Search and Rescue
• King County Search Dogs
• Seattle Mountain Rescue
• Ski Patrol Rescue Team
• Pacific Northwest Trackers Association
• Northwest Horseback Search and Rescue
• King County Search and Rescue Incident Support Team
More information is available at
www.kcsara.org
or at 425-785-8237.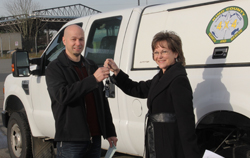 Councilmember Lambert hands over the keys to a surplus Sheriff's Office truck to Branden Powell of the all-volunteer non-profit King County Search and Rescue.