Deputies and dispatchers recognized for lifesaving efforts
Summary
Public Health partnership puts AEDs in Sheriff's vehicles
Story
The Metropolitan King County Council today recognized the year-old partnership between the King County Sheriff's Office and Public Health – Seattle & King County to equip deputies' vehicles with life-saving automated external defibrillators (AEDs).
In its first year, the program was able to acquire AEDs and equip 78 vehicles, along with providing training for deputies and emergency dispatchers. Sheriff's deputies are available in the field and are able to respond to emergencies quickly and sometimes arrive at a scene prior to emergency medical personnel.
During 2012, deputies and dispatchers were involved in utilizing their AEDs as well as cardio pulmonary resuscitation skills successfully on at least three occasions. The Council recognized the five deputies and four dispatchers involved in those incidents, as well as Capt. Bryan Howard and Public Health Emergency Medical Services Community Programs Manager Linda Culley, who coordinated the program.
"Our deputies and emergency dispatchers are to be congratulated for volunteering for this extra duty and responding to help save at least three lives using the new AED equipment and CPR skills," said Councilmember
Kathy Lambert
, chair of the Council's Law, Justice, Health and Human Services Committee. "Our community is fortunate to benefit from this resourceful deployment of AEDs, which contributes to achieving the nation's best cardiac arrest survival rate, now up to 52 percent."
"The success of this program is due largely to the partnership between the Sheriff's Office, King County Public Health, and EMS," said Sheriff John Urquhart. "This is a great example of how teamwork benefits the citizens we serve."
"Equipping Sheriff's deputies with AEDs is a great service for all residents in King County and will definitely save lives," said Dr. Mickey Eisenberg, the Medical Director for King County Emergency Medical Services. "Every minute counts, and the key to success is trained emergency dispatchers who can rapidly dispatch deputies to the scene of a cardiac arrest patient."
Certificates of appreciation were presented to:
• Deputy Clint Herman
• Deputy Kelly Hardin
• Deputy Dave Lyon
• Deputy Mark Souza
• Deputy Gregory McKinney
• Communications Specialist Amber Frederick
• Communications Specialist Samuel Buckwalter
• Communications Specialist Kimberly Tyler
• Communications Specialist Monique DuVair
---
RECOGNITION

WHEREAS, public safety and emergency medical services are among the most important services provided to King County residents and visitors; and

WHEREAS, a year ago, at the beginning of 2012, Public Health – Seattle and King County and the King County Sheriff's Office worked to coordinate emergency medical and public safety services by equipping Sheriff's deputies' vehicles with automated external defibrillators (AEDs) using Emergency Medical Services Levy funding; and

WHEREAS, under the leadership of Linda Culley, Public Health Community Programs Section Manager, and Captain Bryan Howard of the King County Sheriff's Office, the AED program and training in cardio pulmonary resuscitation (CPR) was implemented during 2012 for 78 deputies at the Sheriff's Office and contract cities; and

WHEREAS, deputies participating in the AED program volunteered to receive this extra training and respond to medical emergencies, and communications specialists at the Sheriff's Office Communications Center took on additional duties and underwent specialized training to support the AED program; and

WHEREAS, during the first year of the AED program, deputies responded to many medical emergencies, and on numerous occasions, arrived at the scene first and employed their CPR and AED skills and equipment, successfully saving three lives; and

WHEREAS, rapid access to effective emergency care dramatically improves the survival and recovery rate of those who experience sudden illness or injury; and

WHEREAS, King County's regional partnerships and innovative deployment of AEDs contributes to achieving the nation's best cardiac arrest survival rate, now 52 percent, and the region's reputation as the best place in the world to survive a heart attack;

NOW, THEREFORE, we, the Metropolitan King County Council, hereby recognize

PUBLIC HEALTH – SEATTLE & KING COUNTY
and the KING COUNTY SHERIFF'S OFFICE

for their partnership, dedication, and achievements in providing to AEDs to the public and saving lives.

DATED this twenty-second day of January, 2013.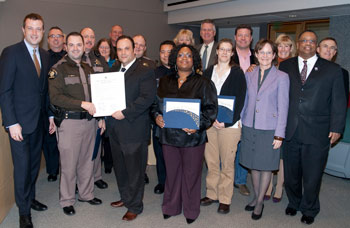 Councilmembers are joined by members of the King County Sheriff's
Office to recognize the use of automated external defibrillators (AEDs) by Sheriff's Deputies to save lives in 2012