Councilmember Kathy Lambert Receives Outstanding Public Official of the Year Award from United Way of King County
Summary
Recognized for her work in bringing Safe Place to King County
Story
Councilmember Kathy Lambert received the Outstanding Public Official Award at United Way of King County's Annual Spirit of Caring Celebration on Tuesday, March 19 in recognition of her leadership in bringing Project Safe Place to King County.

Project Safe Place is an organization that provides help to kids in crisis throughout King County, utilizing Metro and Sound Transit bus drivers, YouthCare, Friends of Youth, Auburn Youth Resources, King County Libraries, the YMCA and other partners to give immediate assistance to kids in need.

"I'm so pleased to receive this award" said Lambert, who represents Northeast King County and Sammamish. "Bringing Project Safe Place to King County was very gratifying and was motivated by knowing how important it is to rescue kids from the hazards of the street immediately. I'm grateful to the United Way for this award and for their commitment to Project Safe Place evidenced by the awarding of a grant to support its important work."

This is the second year of the public official award at United Way of King County's annual Spirit of Caring event. They look at public officials who have achieved success in United Way of King County's priority areas, have provided a strong voice in advancing issues within those priority areas and who are positioning for success in the future.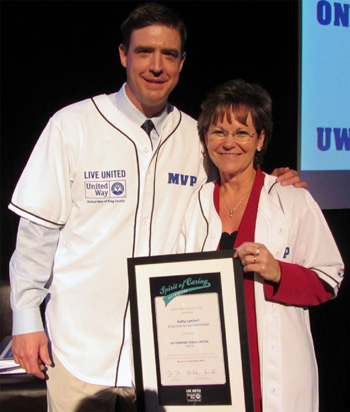 Councilmember Lambert receives her award from former Mariners catcher Dan Wilson, who co-chaired United Way's 2012-13 Annual Giving Campaign with his wife Annie.