Phillips recognizes Wallingford Farmers Market
Summary
Named Washington State's "Farmers Market of the Year"
Story
The Metropolitan King County Council today recognized the Wallingford Farmers Market for its exceptional work in promoting local food and building community in the Wallingford neighborhood, which earned the market the honor of being named the Washington State Farmers Market Association's "Farmers Market of the Year."
"The Wallingford Farmers Market is more than a place to shop for healthy, local produce--it is also a weekly destination and a community event," said recognition sponsor Councilmember
Larry Phillips
, who represents the Wallingford neighborhood on the County Council. "I am proud that the Wallingford Farmers Market is located in my Council District. This market is not to be missed!"
At the end of 2010, the Wallingford Farmers Market moved from Wallingford Center to Meridian Park, which is located in a more residential part of the neighborhood. Market leadership was not sure how the move would affect would affect vendors and sales, but it turned out to be a great decision.
The Wallingford Farmers Market now boasts a greater number of vendors, more diversity in vendors, and more visitors, than before the move. It has also become more than a place to shop—the market now features dozens of live musicians every week, cooking demonstrations from local chefs, and an adjacent park, which makes it a picnic destination for families and people of all ages.
The market is an innovator in promoting local food. Not only do the majority of vendors hail from inside King County, the market has also implemented a policy requiring prepared-food vendors to use only Washington-grown ingredients in their products. The market also introduced the first Chefs Market in Seattle, allowing only chefs to shop at the market for the first half hour each week, making sure that local restaurants can serve top-notch local produce.
"I congratulate the Wallingford Farmers Market on being recognized statewide for their leadership in promoting community and local food," said Phillips.
Judy Kirkhuff, Market Master for the Wallingford, Ballard, and Madrona Farmers Markets, addresses the members of the King County Council shortly after the Council recognized the Wallingford Farmers Market as the Washington State Farmers Market Association's 2012 Farmers Market of the Year
(l-r) Gil Youenes, Wallingford Farmers Market Manager, Kirkhuff, Councilmember Larry Phillips.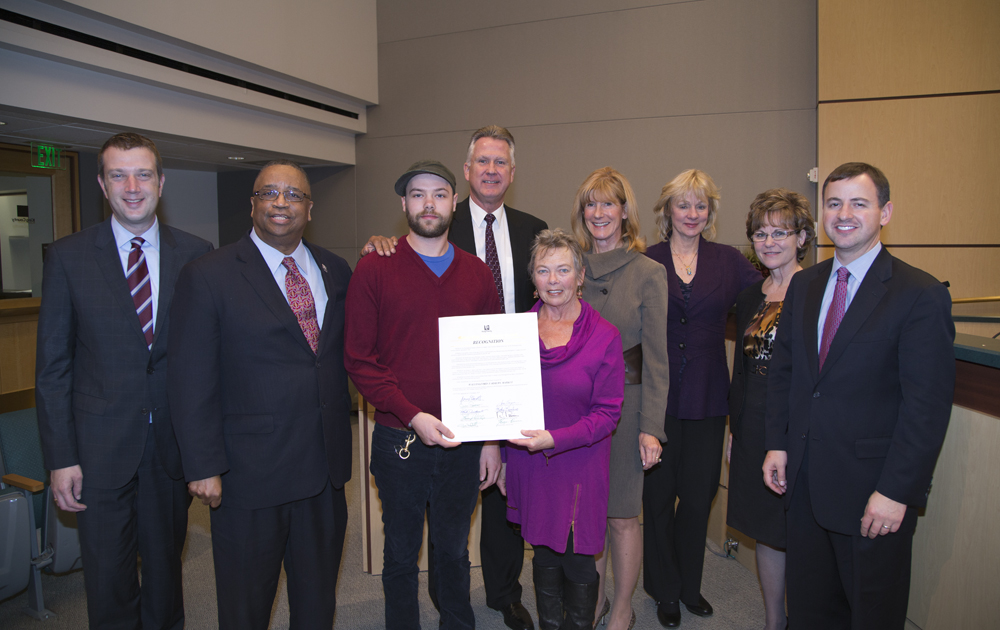 Councilmembers Judy Kirkhuff and Gil Youenes after the Council recognized Wallingford Farmers Market for being the Washington State Farmers Market Association's 2012 Farmers Market of the Year