Sno-Valley Senior Center Receives "Retired" Van from King County
Story
The programs of the Sno-Valley Senior Center recently received a boost through the donation of a surplus van from the King County Metro Vanpool Program.
Metropolitan King County Councilmember
Kathy Lambert
, who represents District 3 in northeast King County, presented the keys of the "retired" van to Peggy MacNamara, Executive Director of the Sno-Valley Senior Center and a group of members from the Center.
"I've been attending events and working with the Sno-Valley Senior Center for many years. It's a most-valued organization that serves the seniors of the Snoqualmie Valley," said Councilmember Lambert. "I know the donated van they received will be put to good use serving the many programs they offer to seniors. This additional van will give them more opportunities to serve."
"The Sno-Valley Senior Center is very appreciative of Kathy Lambert's assistance with getting us an 8 passenger van, through the King County Surplus program, at no cost, said Peggy McNamara, Executive Director of the Center. "We were in need of a reliable vehicle to help transport people to events, day trips, and social services; it is a big help to have this van. Thank you Kathy Lambert!"
Earlier this year, the Metropolitan King County Council approved donating three retired vans in each of the nine council districts to agencies that provide transportation assistance to local governments, community programs, senior citizens and young people.
"It was fun to deliver the vans and to visit with Peggy and some of the seniors. Peggy is the new Executive Director at Sno-Valley and I know she's going to do a great job." Lambert said.
In 1995, the County Council began donating retired vans to non-profit groups for the transportation of low-income clients. That donation effort has grown to include both non-profits and local governments.
The vans now meet the transportation needs of low-income clients, youth, the elderly and the disabled.
The vanpool program provides mobility for a diverse array of King County residents, supports the positive work of various local organizations, and relieves traffic congestion by reducing the need for single-occupancy vehicles. Interested organizations can contact Councilmember Lambert's office at 206-477-1003 or
kathy.lambert@kingcounty.gov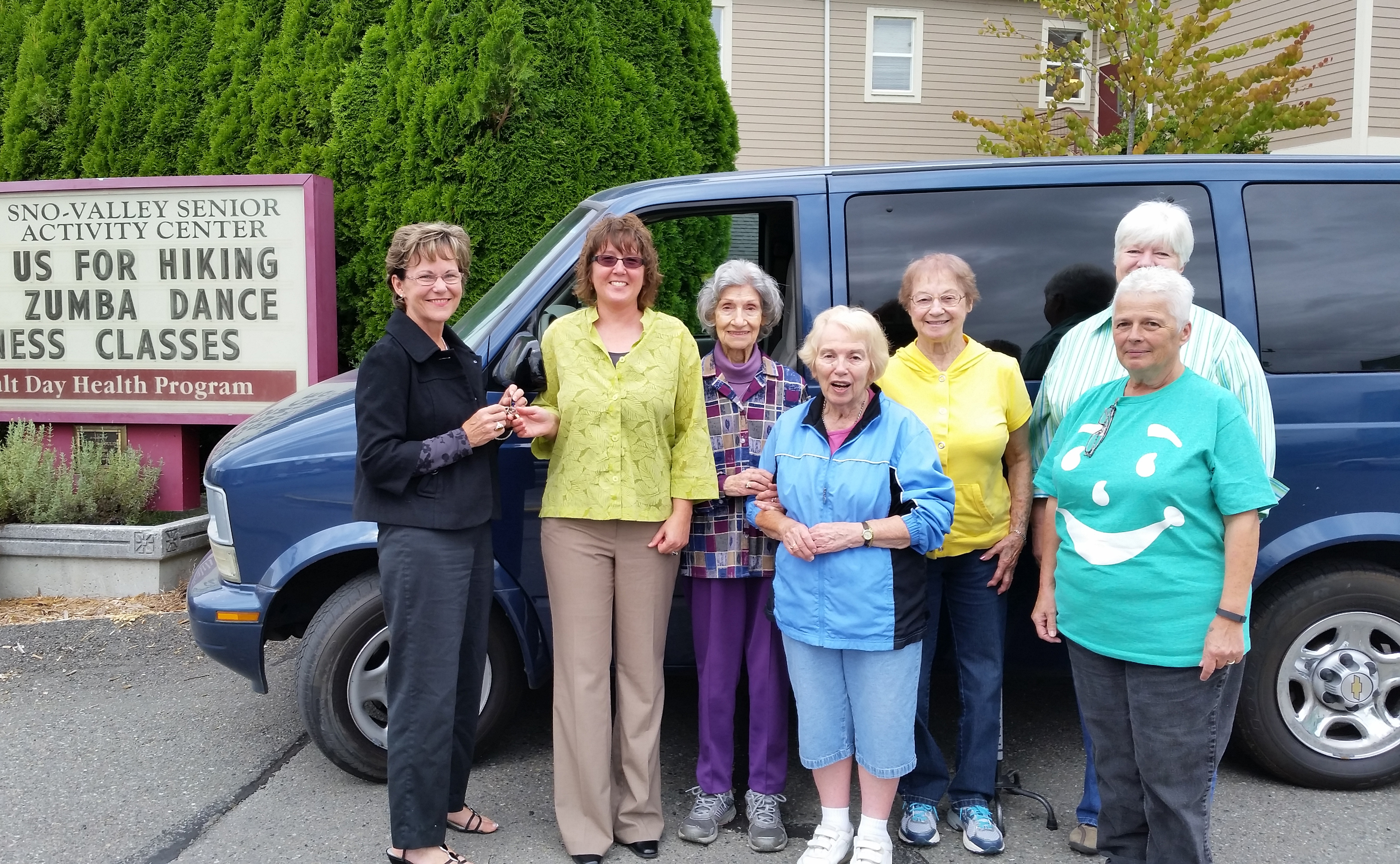 Members of the Sno-Valley Senior Center join Councilmember Lambert
and Center Executive Director Peggy McNamara as Lambert presents
the keys to a donated King County Vanpool van.