County Council acknowledges achievements and challenges facing women
Summary
Council proclaims "Women's Equality Day"
Story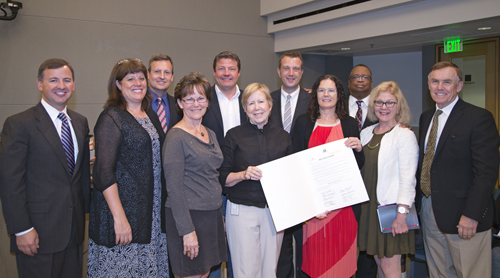 Back Row (l-r) Councilmembers Dave Upthegrove, Reagan Dunn,
Joe McDermott and Larry Gossett
Front Row (l-r) Councilmembers Rod Dembowski, Claudia Balducci,
Kathy Lambert, Jeanne Kohl-Welles,
Women's Advisory Board Co-Chair Annette Messitt, and Linda Wells,
staff for the Women's Advisory Board

In recognizing "Women's Equality Day," the Metropolitan King County Council acknowledges the successes and the struggles that women in King County—and around the world—continue to face.
"It's important to recognize Women's Equality Day, as it reminds us of the amazing strides that have already been made, and the enormous work that still remains to be done," said Councilmember Jeanne Kohl-Welles, prime sponsor of the recognition. "In 2015, female full-time workers made only 79 cents for every dollar earned by men. While that's better than the 58.9 cents they earned in 1963, if we continue at the pace of the last fifty years, it will take until 2060 for women to finally reach pay parity with men. We've come a long way, but we have yet to achieve full gender equity."

"Today we honor the women who have fought for equality throughout history," said Councilmember Claudia Balducci. "Since 1920 when women won the right to vote, women have continued to face inequities in our society but remain persistent champions for equal opportunity all people, regardless of gender. I am proud to join my colleagues on the County Council in recognizing August 26th as Women's Equality, honoring the brave and tenacious women who made it possible for successive generations of young women to have the opportunity to participate fully in our community."

It was in the last century that women in the United States gained suffrage with the adoption of the 19th Amendment to the Constitution in 1920—a decade after women won the right to vote in Washington state.

Women's Equality Day highlights the adoption of the 19th Amendment, but also recognizes the challenges that women continue to face, socially, economically, professionally and politically. The recognition urges the continuing effort to ensure that the "rights and privileges are available to all citizens equally, regardless of one's gender."
---
WHEREAS, women's equality is integral to peace, prosperity and the well-being of all people; and

WHEREAS, women have historically had to fight for full equality and legal rights, and have demonstrated leadership in taking significant strides towards equality for themselves and posterity; and

WHEREAS, women continue to face social, economic, professional, and political barriers to equality, and continue to advocate for their right to make critical choices in every aspect of their personal and work lives, and to assure that these rights are available to all citizens equally, regardless of gender; and

WHEREAS, in Washington State, suffrage was first won in 1883, but was repealed as unconstitutional on a technicality by the Washington Territorial Supreme Court in 1887; restored in 1888 with the provision of exclusion from jury service; but repealed later that year as unconstitutional, except for voting in local school board and OSPI elections; and

WHEREAS, on November 8, 1910, women in Washington State gained the lasting right to vote and worked diligently in the following years for social reforms and to expand their opportunities in society; and

WHEREAS, on August 26, 1920, the United States Congress adopted the 19th amendment into the U.S. Constitution, guaranteeing women the right to vote, except for Native American women, who gained the right to vote federally four years later in 1924; and

WHEREAS, on the 50th anniversary of the adoption of the 19th amendment, on August 26, 1970, a nationwide demonstration for women's rights took place; and

WHEREAS, August 26th is recognized by the U.S. Congress as Women's Equality Day nationwide;

NOW, THEREFORE, we, the Metropolitan King County Council, recognize August 26, 2016, as
in King County, and urge all residents to celebrate the many struggles and sacrifices, as well as the accomplishments and victories of, women in our county, state, nation, and the world.

DATED this twenty-ninth day of August, 2016.