Kohl-Welles' swearing in touches on past, focuses on future
Summary
"I look forward to working collaboratively to achieve common-sense solutions on tough issues and to making a positive difference in our district and all of King County!"
Story
Jeanne Kohl-Welles
, the new Councilmember for the King County Council's 4th Council District, is looking forward to working on social justice and economic issues in a collaborative, nonpartisan body.
"It's been an incredible honor to be elected to represent Council District Four in Martin Luther King Jr. County" said Kohl-Welles after her ceremonial swearing in at the Council's Jan. 11 meeting. "I look forward to working collaboratively to achieve common-sense solutions on tough issues and to making a positive difference in our district and all of King County!"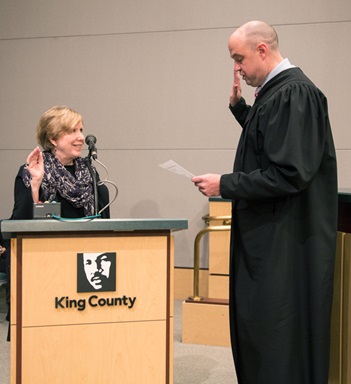 Councilmember Kohl-Welles is sworn in by King
County Superior Court Judge Sean O' Donnell
as the new Councilmember for County Council
District 4
Kohl-Welles, who served in the state Legislature for 24 years, noted that her swearing in occurred on the first day of the 2016 session of the Washington state Legislature, saying she had "no regrets, no sadness" in leaving Olympia and was "excited, energized, motivated and inspired" on moving to the King County Courthouse.
"I love being in a non-partisan body, working with highly committed, thoughtful, and talented colleagues and staff in a collaborative setting, tackling real issues in a more immediate way than what is the norm in the legislature."
Kohl-Welles said her focus on the Council will be:
•
Quality of Life and Natural Environment:
creating a sustainable economy aligned with income equality while working on solving persistent growth, infrastructure and fiscal demands and conserving our natural resources and parks,
•
Public Safety:
eliminating disproportionality and disparities in the juvenile justice and adult criminal justice systems, fighting sexual violence, human trafficking and commercial sexual exploitation of children, and expanding proven diversion programs,
•
Mobility:
emphasizing congestion reduction; transit, bicycling and pedestrian modes; and extension of light rail to Ballard and West Seattle through voter approval of Sound Transit 3,
•
Health/Human Services
: addressing disparities in health care, mental health services and housing; and fairly implementing state and local adult and medical marijuana laws.