Kent-based youth environmental education organization receives $5,000 grant for stream restoration projects
Summary
"Thank you to Councilmember Dave Upthegrove for assisting young people of South King County in responding to their own dream to make a difference."
Story
Last week, the Metropolitan King County Council passed the supplemental omnibus budget, which included a $5,000 grant for the Kent-based Institute for Community Leadership to continue environmental education and stream restoration work.
"The Institute for Community Leadership is an outstanding organization that not only restores fish and wildlife habitat, but also inspires the next generation of environmental stewards and leaders to have an eye towards social justice," said budget Chair
Dave Upthegrove
.
The Institute for Community Leadership (ICL) partners with schools in South King County to carry out classes and civic engagement projects focused on social and environmental justice.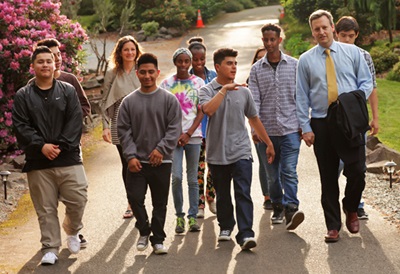 Youth participating in ICL programming show
Councilmember Upthegrove stream restoration work in East Kent
"The Institute for Community Leadership encounters significant numbers of young people eager to become involved in organized efforts to repair stream and river habitat and to promote sustainable use of our watersheds and our fish and natural resources," said Dr. Roy D. Wilson, Executive Director of the Institute for Community Leadership. "Thank you to Councilmember Dave Upthegrove for assisting young people of South King County in responding to their own dream to make a difference."
ICL maintains the O'Dell Education Center in Kent and collaborates with South County environmental organizations including the Friends of Soos Creek and the Green River Coalition in environmental restoration and classes that focus on water quality and the health and wellbeing of the streams and rivers that flow into Puget Sound.