County Council recognizes LGBTQ Pride Month
Summary
Recognizing accomplishments and continuing challenges to equality
Story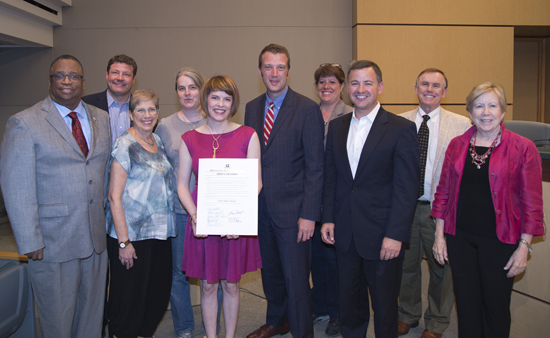 Councilmembers are joined by representatives of the LGBTQ communities
as the Council proclaimed the month of June "LGTBQ Pride Month"
in King County.
Front row (l-r): Councilmember Larry Gossett, Louise Chernin,
Greater Seattle Business Association, Danni Askini, Gender Justice League,
Council Chair Joe McDermott, Councilmembers Rod Dembowski and
Jeanne Kohl-Welles.
Back row (l-r): Councilmember Reagan Dunn, Elayne Wylie,
Gender Justice League,
Councilmembers Claudia Balducci and Pete von Reichbauer.



The Metropolitan King County Council today declared June LGBTQ Pride Month, celebrating the accomplishments and history of the region's lesbian, gay, bisexual, transgender, and queer communities while acknowledging the challenges to their full participation in society.

"In 2011, for the first time ever, the Council declared June Pride Month in King County. We've seen significant progress in those years including full marriage equality. Yet, we continue to see attacks on the rights of the LGBTQ community," said Council Chair Joe McDermott. "LGBTQ Pride Month serves as an opportunity to reflect on our progress and recommit ourselves to the fight for equal rights under the law."

"For me, Pride month is a time to tell our community's story and to celebrate our community's fight for justice on all fronts," said Councilmember Dave Upthegrove. "I am proud to be a member of a community that fights for equal rights, access to justice, and environmental stewardship for everyone all over the state."

"I am honored today to celebrate our region's LGBTQ community," said Council Vice Chair Rod Dembowski. "While we have seen immense progress and success in the past few years, the fight for equality and inclusion is not over. We must continue our work to advance the cause of equal opportunity for everyone."

Pride Month is celebrated in June in recognition of the June 1968 Stonewall Riots in New York, considered the start of the modern movement for equal rights for lesbian, gay, bisexual, transgender and queer people.

"As we celebrate LGBTQ Pride Month, we are reminded that we must protect the victories that we have won in the past in protecting the rights of lesbian, gay, bisexual, transgender and queer people, but we must also move forward to ensure that discrimination is eradicated completely," said Councilmember Larry Gossett. "Only then will there be room at the table for all!"

"The month of June is an opportunity to celebrate one of our County's greatest strengths, our diversity," said Councilmember Jeanne Kohl-Welles. "I'm honored to stand beside LGBTQ individuals in our community to celebrate Pride and continue to fight for equal rights."

"Today we honor our LBGTQ community, and celebrate how far we have come in our evolution as a country that respects the rights and individuality of all people," said Councilmember Claudia Balducci. "At the same time, we must continue to be vigilant and actively oppose discrimination based on sexual orientation and gender identity whenever and wherever it occurs."

While there have been a number of accomplishments in LGBTQ residents gaining the rights that most citizens take for granted, there are still challenges for their communities. A number of states have challenged equity laws for the LGBTQ communities with the adoption of "bathroom protection" legislation that would prevent transgender residents from using the bathroom that corresponds to his or her gender identity.

"Gender Justice League was honored to join the council today in celebrating LGBTQ Pride Month," said Danni Askini, Executive Director of the Gender Justice League. "At a time when we are seeing increased attacks on the transgender community's civil rights, we are honored to live in a county whose businesses, elected officials, and public celebrate transgender people an integral part of the fabric of our communities."

King County and the County Council have worked to end discrimination against sexual minorities. In 2012, the County supported marriage equality legislation in Olympia. In 2008, the Council sent an amendment to the King County Charter adding gender identity and expression to the anti-discrimination section to voters, who approved it with a 71 percent yes vote.

Seattle's annual Pride Parade will be held on Sunday, June 26.
---
WHEREAS, equal access to opportunity and freedom from discrimination are fundamental to ensuring success and personal fulfillment; and

WHEREAS, lesbian, gay, bisexual, transgender, and queer Americans often still lack equal rights under the law; and

WHEREAS, transgender people across the nation face unprecedented levels of discrimination in housing, employment, education, and public accommodation, as well as attacks on their civil rights; and

WHEREAS, the modern movement for LGBTQ equal rights in this country began with the Stonewall Riots in June of 1969; and

WHEREAS, King County has been a leader in promoting equality by prohibiting discriminatory policies; and

WHEREAS, the City of Seattle held its first LGBTQ celebration 42 years ago in 1974; and

WHEREAS, the Gender Justice League celebrates Trans Pride Seattle, now in its fourth year, on Friday, June 24th; and

WHEREAS, on Sunday, June 26th, the annual Seattle Pride Parade will take place, with the theme of this year's celebration being the "Future of Pride"; and

WHEREAS, numerous organizations, such as PrideFest and the Dyke March, celebrate diversity and freedom of expression during the month of June across King County;

NOW, THEREFORE, we, the Metropolitan King County Council, proclaim June 2016 as

in King County and encourage all county residents to honor the march toward equality for LGBTQ individuals.

DATED this sixth day of June, 2016.