Council Celebrates "Juneteenth"
Summary
Recognition of "African American Independence Day"
Story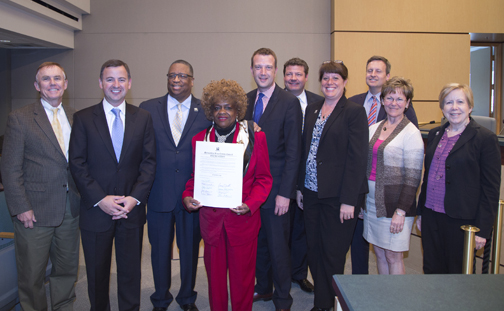 Councilmembers are joined by DeCharlene Williams, President of
the Central Area Chamber of Commerce, after the County Council
recognized June 19th as "Juneteenth" in King County.
The Metropolitan King County Council today recognized Juneteenth, the celebration of the end of two centuries of bondage of Americans of African descent in the United States.

"June 19th is a day of celebration and remembrance," said Councilmember Larry Gossett, the sponsor of the recognition. "For those newly freed men and women and for their ancestors who have spread across the U.S., Juneteenth is a day to celebrate the end of over two centuries of bondage in this country. It's also a day to remember their sacrifice and understand that even today people of color are still not truly 'free' until we enjoy the rights that so many others take for granted."

Two years after President Abraham Lincoln issued the Emancipation Proclamation, two months after Robert E. Lee surrendered his Confederate forces, and one month after the last official battle of the Civil War, the last Africans and African-Americans in bondage were told of their freedom by Union forces. That date, June 19, 1865, became a day of celebration for the African-American descendants of those freed slaves.

As those descendants left Texas and spread throughout the United States, they took the celebration with them, a recognition and remembrance of the challenges they faced then and today.


---
WHEREAS, Juneteenth commemorates the day on June 19, 1865, when African slaves in Texas were told by Major General Gordon Granger that they are now "free" and that their 246 years of chattel slavery had ended; and

WHEREAS, the abolishment of slavery throughout the U.S. had actually taken place some two and a half years earlier when President Abraham Lincoln enacted the Emancipation Proclamation on January 1, 1863, but resistance to his Executive Order and continued conflict in Texas regarding the abolishment of slavery significantly delayed the freedom of slaves; and

WHEREAS, a year after Major Granger's announcement, on June 19, 1866, the freed African American men and women in Texas held the first "Juneteenth" or African American Independence Day celebration, which would later spread to all corners of the country; and

WHEREAS, in 1979, Texas became the first state to make Juneteenth an official holiday and has been followed by 41 other states that have recognized Juneteenth as a state holiday or holiday observance; and

WHEREAS, in King County, Juneteenth will be celebrated in people's homes and neighborhoods, with the longest and largest celebration being held by the Central Area Chamber of Commerce;

NOW, THEREFORE, we, the Metropolitan King County Council, recognize the historic event of


and encourage all residents of Martin Luther King, Jr. County to join us in its celebration.

DATED this thirteenth day of June, 2016.