Upthegrove delivers on county-wide need for more human services bus passes
Summary
The human service bus ticket program is critical for the mobility of low-income riders in all corners of the county
Story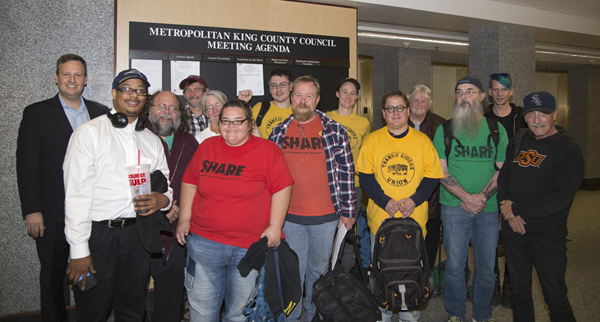 Councilmember Upthegrove with members of the
Transit Riders Union after the Council gave its unanimous support to expanding the
King County Metro human services bus ticket program.
A plan initiated by Metropolitan King County Councilmember
Dave Upthegrove
to expand the King County Metro human services bus ticket program was unanimously approved today by the County Council.
"Access to transportation is the number one predictor of social and economic mobility," said Upthegrove, chair of the Council's Budget Committee. "The human service bus ticket program is critical for the mobility of low-income riders in all corners of the county."
King County Metro offers discounted Metro bus tickets to human service agencies at 20 percent of their cost. These organizations provide the bus tickets to clients so that they can get to medical appointments, meal service programs, and employment and education opportunities. This ordinance expands the number of bus tickets available annually by approximately 20 percent.
"The ticket program is a lifeline for so many people," said Katie Wilson, an organizer for the Transit Riders Union, an advocacy group for expanding and improving the public transportation system on behalf of working and low-income people. "Raising the cap on the quantity of tickets available is a great first step toward ensuring that everyone in our community has access to our public transit system."
Each year the King County Department of Community and Health Services determines whether an agency is eligible to participate in the program and the number of tickets in their allotment. Many human service providers reported that they were running out of tickets before the end of the year. Raising the cap provides approximately 330,000 additional tickets annually.