Recognizing history, challenges, and contributions of African-Americans
Summary
King County Council honors Black History Month.
Story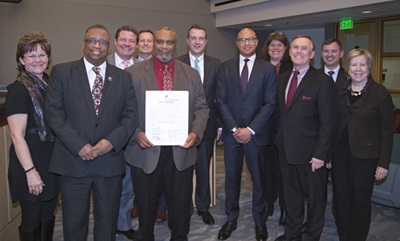 The Metropolitan King County Council today celebrated the continuing contributions of African-Americans in the United States and throughout the world by proclaiming the month of February Black History Month in King County.
"Over the years I've heard many ask: Why is there a Black History Month? Well, for centuries, the countless contributions, sacrifices, and influences of millions of African Americans were hidden, ignored, and denied," said proclamation sponsor Councilmember Larry Gossett. "Many of the specific contributions in science, medicine, industry, education, and every other sphere in our society are still widely unknown. My hope is that celebrating Black History Month will lead to the further illumination of these contributions, many of which have positively impacted not just African Americans, or Americans in general, but the world community."
"To understand American history is to know the history of people of African descent in America," said Councilmember Jeanne Kohl-Welles. "Black History Month is a chance for all Americans to reflect upon our connected past and the ongoing impact of slavery, as well as celebrate the many important contributions of African-American communities to our society and national identity."
"Our country benefits from the contributions of African Americans every day of the year," said Council Chair Joe McDermott. "But while many in our country prosper, too many of our African American neighbors are being left behind by our economy, our justice system, our schools and more – the list is far too long. Black lives matter. Honoring Black History Month is an important opportunity to recommit, every year, to our shared fight for a more just and equitable society.
African-American History month was the idea of historian and educator Dr. Carter G. Woodson, who hoped to raise awareness of African American's contributions to civilization. As the founder of the Association for the Study of Negro Life and History, Dr. Woodson created Negro History Week to be celebrated in February, the birth month of Abraham Lincoln and former slave and African American abolitionist Frederick Douglass.
"Celebrating Black History Month allows us to celebrate the many accomplishments of African-Americans throughout history," said Council Vice Chair Reagan Dunn. "I am glad that we as a County Council are acknowledging this month and the historical significance it carries."
"To understand our shared American history must learn and understand black history," said Council Vice Chair Rod Dembowski. "If we are to improve our community as a whole and address discrimination and systematic oppression, we must heed to the lessons of history and Dr. King's words, "whatever affects one directly, affects all indirectly."
The first Negro History Week was celebrated in 1926. In 1976, as America celebrated its bicentennial, Negro History Week became Black History Month, a celebration recognized in the U.S. and Canada.
"I'm really happy to celebrate this month each year," said Councilmember Kathy Lambert. "Some time ago I had the opportunity on a trip to visit a station of the Underground Railroad that had been run by Harriet Tubman. I was so impressed by her commitment to that just cause and for the lasting contributions made by her and the many other conductors on the railroad as well and so many others. It is important to celebrate these and many other great achievements during this month."
"Today we honor the accomplishments and remarkable achievements of African-Americans throughout our nation's history," said Councilmember Claudia Balducci. "Now, as much as at any time in our history, we must recognize that the advancement and success of African-Americans is a bellwether, telling us how well America is living up to its highest ideals and values."
"One of the most helpful, impactful paradigm shifts in thinking we all must undertake is to understand that African American history encompasses the histories of all of us," stated Dr. Quintard Taylor, retired University of Washington professor and the founder of Blackpast.org, a historical research project that documents the history and contributions of African Americans and other people of African descent here and throughout the world. "Through my work I've discovered that, contrary to what we've been taught here, African history has a significant role in places like Germany, Poland, and upward of 160 nations around the world. This has been the reality in many of these countries for centuries. It is time for us as Americans to understand that the contributions of each of us improve the lives of all of us." Dr. Taylor was on hand to receive the proclamation from the Council.
PROCLAMATION
WHEREAS, since 1976, the United States of America and Canada have designated the month of February as Black History Month; and
WHEREAS, Black History Month originated in 1926, when famed activist, writer, and preeminent historian Carter G. Woodson influenced the American Historical Society to designate the second week of February as "Negro History Week"; and
WHEREAS, as President of the National Historical Society, Carter G. Woodson chose that month because the birthdays of two individuals who were very influential in the lives of African Americans, President Abraham Lincoln and former slave and abolitionist Frederick Douglass, were in the month of February; and
WHEREAS, Negro History Week, which officially became Black History Month during the nation's bicentennial in 1976, is a time to remember the many people, events, and contributions of African Americans, historically and currently, not only in the United States, but throughout the world; and
WHEREAS, the contributions and cultural innovations created by African Americans in the United States have been meaningful and beneficial to the development of our nation and other nations throughout the world; and
WHEREAS, an accurate analysis of American history clearly suggests that all people have contributed to the greatness of our nation, often under the most difficult of circumstances, without proper recognition and acknowledgement in our history books; and
WHEREAS, in 1986, King County was re-designated in honor of our country's foremost civil rights leader, the Rev. Dr. Martin Luther King, Jr., and the county logo bears his image;
NOW, THEREFORE, we, the Metropolitan King County Council, proclaim the month of February 2017 as
BLACK HISTORY MONTH
in Martin Luther King, Jr. County and ask all residents to join us in commemorating the countless contributions of African Americans to our nation and the world.
DATED this thirteenth day of February, 2017.
Follow the Council's deliberations through Facebook and Twitter by signing up through the
King County Council Web site at:
www.kingcounty.gov/council

Watch all Council proceedings held in chambers LIVE on King County TV
on Comcast channel 22 (HD channel 322) and Wave Cable channel 22 (HD channel 722),
or online at:
www.kingcounty.gov/KCTV


# # #