Dembowski, Upthegrove award MLK Medal of Distinguished Service to local Filipino leaders
Summary
Frank Irigon and Fred Mendoza recognized for decades of community involvement and human rights leadership
Story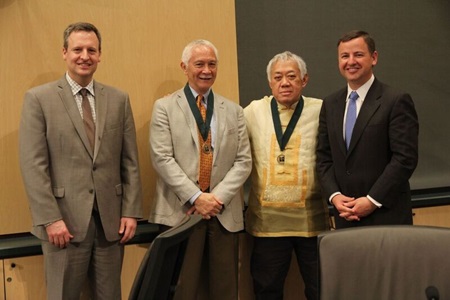 Councilmember Upthegrove, Fred Mendoza, Frank Irigon
and Council Vice Chair Dembowski
Two active members of the region's Filipino community—Francisco "Frank" Irigon and Fred Mendoza—were recognized for their work within King County and around the region. At the May 22 meeting of the Metropolitan King County Council, both Irigon and Mendoza were presented the Council's highest honor, the Martin Luther King, Jr. Medal of Distinguished Service.

Irigon, whose leadership in the Asian Pacific Islander community spans close to six decades, was recognized by Council Vice Chair Rod Dembowski.

"There are few more deserving of this honor than Frank, known to many as Uncle Frank," said Dembowski. "He is a tireless advocate, a humble agitator, who is quick to raise his voice to call out injustice. While Frank is well known in the Asian Pacific Islander American community for his work, many King County residents have been positively impacted by his constant diligence in protecting our civil rights. I am honored to recognize him with the MLK Medal of Distinguished Service."

From being the first Asian American to serve on the UW student government (ASUW) in the 1970s, to being a leader in the effort to preserve the Chinatown/ International District, to serving on the board or as director of several non-profits, Irigon has been a constant advocate for social justice.

Councilmember Dave Upthegrove selected Mendoza, for his life's work supporting South King County, the area that he was born, raised and continues to live in.

"Fred has been a committed public servant to the South King County community," said Upthegrove. "Along with the countless number of people who he has impacted throughout his career, I'm thankful for his service and proud to present him this well-deserved honor."

Mendoza grew up in Algona, farming with his dad in the Auburn Valley. A graduate of Auburn High School, Mendoza would get his law degree and work in the office of the King County Prosecutor. But his focus was always on the South County communities he was raised in. Mendoza served 39 years on the Board for Seattle Lighthouse for the Blind. He was a founder of the Kent King County Bar Association Neighborhood Legal Clinic and volunteered his time there for 35 years. He served on the Board for the Highline Medical Center, and was a founding Board member for the Highline Schools Foundation.

Irigon and Mendoza are two of nine citizens living across King County whose contributions to their community echo the incredible selfless leadership of the Rev. Dr. Martin Luther King, Jr. The MLK Medal of Distinguished Service recognizes those who have gone above and beyond in their efforts to make a difference in communities across King County.