King County recognizes Todd Beamer Boys Soccer for bringing home 4A Title
Summary
First Championship in School's History
Story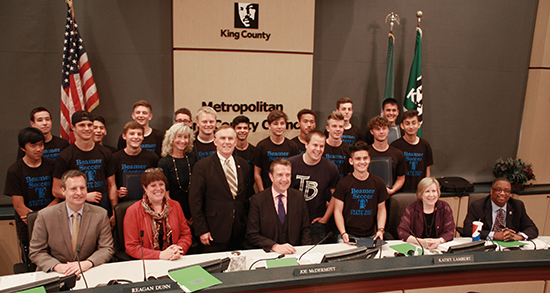 Members of the state champion Todd Beamer High School Boys
Soccer team with Councilmembers after the Council
recognized the team for winning the school's first state title
A team of young Titans were recognized today by the Metropolitan King County Council.

The Boys Soccer team from Federal Way's Todd Beamer High School brought the school its first championship with a 2-1 victory over Pasco late last month. Titans Coach Joel Lindberg and the team were recognized by Councilmember Pete von Reichbauer and the other members of the Council for winning the state title.

"There are a lot of negative headlines about our young people, but today it's great to have a positive story concerning students. These students are strong role models for their classmates, and a great representation for Todd Beamer High School and student athletes everywhere," said von Reichbauer, the sponsor of the proclamation.

Lindberg took a young team that that lost 9 seniors and failed to make the playoffs in 2016 into the state tournament. The Titans advanced to the championship game after a shootout win against Glacier Peak. In the finals against Pasco, the Titans broke a tie game with a penalty kick in the 49th minute and held on for the victory.

The soccer team presented Todd Beamer and Principal Joni Hall the school's first state title since it opened its doors in 2003.
---
WHEREAS, the Todd Beamer High School Soccer team won the WIAA 4A Boys State Championship on Saturday, May 27, 2017; and

WHEREAS, this state championship is the first state title in the school's history; and

WHEREAS, despite not making the 2016 playoffs and losing nine seniors, the Titans achieved a season record of 19 wins, one loss, and one tie in 2017; and

WHEREAS, Titans Coach Joel Lindberg, and Assistant Coaches Zach Brenneman, Andrew Lindberg, Ben Draeger, and Troy Peterson directed the team to victory after a hard-fought 2-1 match with Pasco at Puyallup Sparks Stadium, where fouls outnumbered shots on goal; and

WHEREAS, with the match tied 1-1 in the 49th minute, a penalty kick was awarded to Todd Beamer, and the shot slipped past the Pasco goalkeeper to break the tie for the victory; and

WHEREAS, Coach Lindberg stated this team works hard every day in practice, they have "heart," and always compete as a team; and

WHEREAS, the championship team members are Brandon Locke, Richard Bezus, Jordan Carmel, Eric Pena, Tyrese Collins, Shawn Narayan, JJ Allen, Jonathon Fischer, Zak Gregg, Austin Stafford (Captain), Faraz Hamidani, Jonah Fuller, Adam Shown, Diego Sanchez, Dylan Alley (Captain), Gregorio Romero, Mark Filimonov (Captain), Malik Henry, and Luke Gregg (Captain);

NOW, THEREFORE, we, the Metropolitan King County Council, recognize and congratulate
2017 Todd Beamer High School Titans Boys Soccer Team
Coach Joel Lindberg, Assistant Coaches, and Players
for winning the WIAA 2017 4A Boys State Soccer Championship.

DATED this twelfth day of June, 2017.