Emergency action to speed repairs of West Point Treatment Plant
Summary
Kohl-Welles directs effort to extend waiver of contracting and procurement procedures
Story
As repairs are made to the mechanical failure at King County's West Point Wastewater Treatment Facility that forced the plant to discharge untreated wastewater/stormwater directly into Puget Sound, Metropolitan King County Councilmember
Jeanne Kohl-Welles
is working to expedite the efforts to get the facility back to full capacity.
Kohl-Welles, whose Council District includes the West Point Plant, sponsored a motion unanimously adopted by the Council February 27. The motion extends County Executive Dow Constantine's Declaration of Emergency issued on February 9 creating a waiver on the competitive bidding and solicitation requirements for contracts relating to the repair and replacement of damaged structures and equipment at the plant.
"I felt given the magnitude of the disaster the Council needed to act quickly, comprehensively, and responsibly," said Kohl-Welles. "Puget Sound is iconic, beautiful, and a driver of our local ecosystem—what happened must never happen again."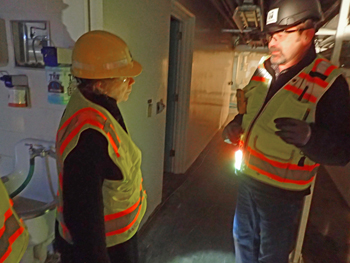 Kohl-Welles on a tour of the West Point Treatment Plant with Robert Waddle, the Wastewater Treatment Division's Operations and Maintenance Manager
The approved motion extends the waiver period through May of 2018 on the competitive bidding and procurement requirements for repair and replacement contracts. The motion also requires reporting on a quarterly basis on the expenditures being made toward the repairs, estimates on the total cost of the repairs, and actions taken to obtain competitive prices and achieve the County's other policy goals in spite of the waiver.
West Point—which treats wastewater flows from homes and businesses in Seattle, Shoreline, north Lake Washington, north King County and parts of south Snohomish county—is back online, but is not operating at full capacity. The goal of the adopted motion is to expedite the repairs needed to get the plant back to full operation.
West Point is part of the County's wastewater treatment system. When running at full capacity the plant treats 90 million gallons of wastewater a day during dry weather and can handle in excess of 400 million gallons of wastewater/stormwater during heavy rains.