Iraqi Community Center of Washington gets the keys for surplus van
Summary
Upthegrove delivers vehicle to "working retirement"
Story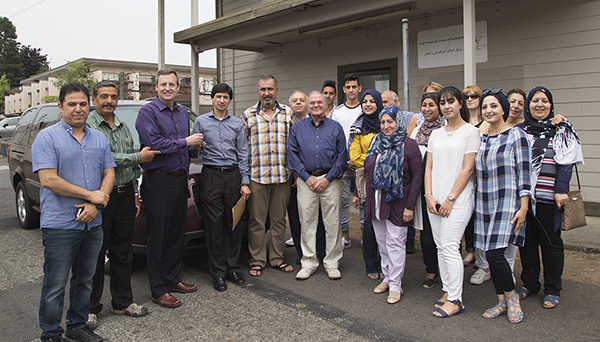 Surrounded by clients and staff from the Iraqi Community Center of Washington,
Councilmember Upthegrove presents the keys to a retired King County vanpool van
to Yahya Algarib, Executive Director of the Community Center.
Metropolitan King County Councilmember Dave Upthegrove presented to the staff of Kent's Iraqi Community Center of Washington (IRCCW) the keys to a retired Metro Transit Vanpool van the center will be using to transport both seniors and youth to events throughout the region.

The IRCCW is dedicated to ensuring the economic success and effective integration of Iraqi community members through advocacy, culturally competent services, leadership development and civic engagement.

IRCCW will use the van to take high school students to visit colleges, community colleges, and various industry/job sectors.

"This van is going to make a difference in the lives of the students we serve," said Yahya Algarib, Executive Director of the Iraqi Community Center of Washington. "We're grateful for Councilmember Upthegrove's interest in helping us add capacity, and we can't wait to put the van to use."

"It is often difficult for high school students to visualize the academic and professional opportunities available to them after graduation," Councilmember Upthegrove said. "I am thrilled to play a role in donating this van to the IRCCW, which will encourage more students to reach their potential."

The vanpool program provides mobility for a diverse array of King County residents, supports the positive work of various local organizations, and relieves traffic congestion by reducing the need for single-occupancy vehicles.

Three other organizations in Council District 5 will be receiving surplus vans:

• The Kent HOPE Program, which provides services to the homeless,
• Global to Local, a program that focuses on collective culture of health equity,
• And ANEW, which is working to increase the number of women in the construction trades by providing pre-apprenticeship programs and training.

Interested organizations can contact Councilmember Upthegrove for more information on applying for a vehicle next year.