Lambert presents keys of surplus vanpool van to Snoqualmie Valley Shelter Services
Summary
I am so delighted to support the mission of SVSS by facilitating the donation of a van so they can better serve their clients
Story
An organization that aids the homeless received a "retired" County employee from Metropolitan King County Councilmember Kathy Lambert. Surrounded by employees and volunteers from Snoqualmie Valley Shelter Services (SVSS) Lambert presented the organization with the keys of a retired Metro Transit Vanpool van. This van will provide transportation assistance for clients of SVSS.

Jennifer Kirk, Executive Director of SVSS, said, "In a community where transportation is a major barrier, Councilmember Kathy Lambert's advocacy has helped to build a bridge between those experiencing homelessness and the services they so desperately need and deserve. This van donation is truly a gift that will provide access to doctor's appointments, social services and the like."

The vanpool program provides mobility for a diverse array of King County residents, supports the positive work of various local organizations, and relieves traffic congestion by reducing the need for single-occupancy vehicles.

Councilmember Kathy Lambert said, "This is such an amazing program that connects retired vans to worthwhile organizations across our county. I am so delighted to support the mission of SVSS by facilitating the donation of a van so they can better serve their clients."

Interested organizations can contact Councilmember Lambert for more information on applying for a vehicle.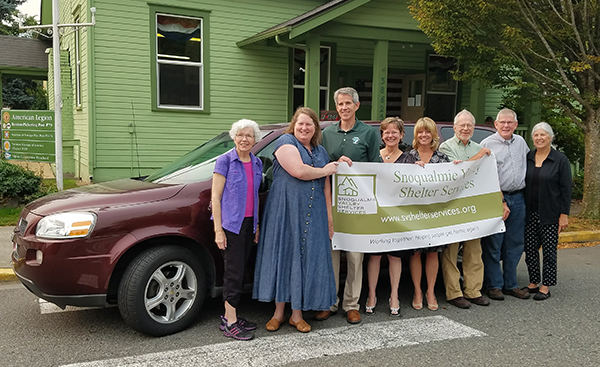 Councilmember Lambert with staff and volunteers from the Snoqualmie Valley
Shelter Services after dropping off a surplus Metro Transit Vanpool van to
the organization.
Snoqualmie Mayor Matt Larson (3rd from the left) and
SVSS Exec. Dir Jennifer Kirk (5th from the left) joined in the celebration.