Planning, Rural Service and Environment Committee to reach out to communities where county is "local" government
Summary
New committee will take proactive approach to meeting with unincorporated residents
Story
"The residents of unincorporated King County, if they lived in a city, would be the county's second largest 'city,'" said Metropolitan King County Councilmember
Kathy Lambert
. The council's newest committee will focus on providing the people living in those communities a strong voice to their local representatives.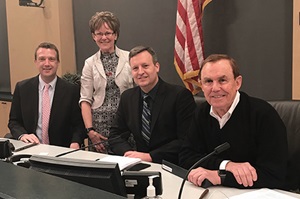 Members of the Planning, Rural Service and Environment (PRE) Committee.
(l-r): Councilmember Joe McDermott, Lambert, Councilmember Dave Upthegrove, Councilmember Pete von Reichbauer.

Today they held the first meeting of the Planning, Rural Service and Environment (PRE) Committee, which she will chair. The meetings will be held the first and third Tuesdays of the month at 9:30 am and can be viewed on television or online.

The PRE Committee will consider and make recommendations on a number of polices that directly impact the 250,000 people living in unincorporated urban, suburban and rural communities of the county:

• Growth management, including land use development and regulation, comprehensive planning and annexations,
• Environmental issues including: salmon recovery, surface water management and water supply and energy,
• Issues specifically facing unincorporated and rural areas including being their local service provider and
• Local government, since all members of the County Council represent the residents of unincorporated communities as both regional and local representatives.

The first panels at today's meeting included representatives from the King County Executive's office led by the Interim Director Harold Taniguchi who talked about how they have prepared to form this new Department of Local Services (DLS) and the roles of each service area. Then the Hearing Examiner David Spohr and Elizabeth Hill, King County Rural Ombudsman, discussed efforts and actions their offices are taking to increase access to residents and to assist them in dealing with many land and other local issues. The committee talked about ways to increase the quality of customer service.

Lambert said this new service delivery model focuses on becoming the "best run local government" and is a great step forward in meeting the needs of the unincorporated residents. "It is exciting to see how this new department will come together with community input to put the people back in their government!" said Lambert.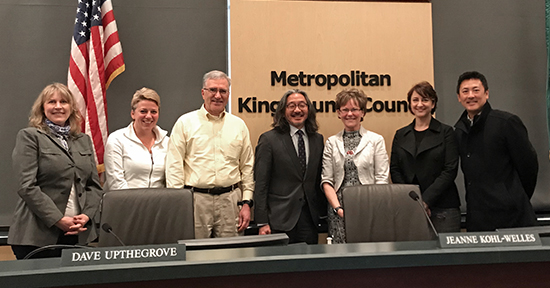 Lambert with the local government leadership team from the executive office.
(l-r): Susan Oxholm, Intergovernmental Relations & Grants,
Department of Transportation,
Cheryl Binetti, Strategic Planning Manager,
King County Department of Transportation,
Alan Painter, Manager of the Community Service Area (CSA),
Harold Taniguchi, Director, Department of Transportation,
Councilmember Lambert,
Lauren Smith, Director, Regional Planning
Office of Performance, Strategy and Budget,
Jim Chan, Acting Director,
Department of Permitting and Environmental Review.