Three Eastside Youth Organizations receive "retired" vans from Councilmember Balducci
Summary
The repurposed van will help each organization improve the lives of Eastside youth
Story
Over the past week, King County Council Vice Chair Claudia Balducci donated three "retired" King County vans to three impressive non-profit organizations that improve the lives of Eastside youth and their families.

The three organizations, Friends of Youth, Tennis Outreach Programs of Puget Sound (TOPs), and the Boys and Girls Club of Bellevue, will use the repurposed vans to deliver on their important and unique missions.

"These vans will help each organization in its mission to ready young people for successful lives," said Balducci. "All three organizations give Eastside youth and their families more tools and services to succeed and I'm so happy King County can assist with these vans."

Friends of Youth serves over 6,500 youth, young adults and their families each year. The organization operates facilities and programs at 26 sites in 18 cities across the Puget Sound region.

"Friends of Youth is thrilled to receive a donated van from King County," said CEO and President Terry Pottmeyer. "We'll be using the vehicle to transport young adults in our transitional housing program in Kirkland to medical appointments, grocery shopping, recreational activities, service learning commitments and so much more. These activities help our young people achieve stability and strengthen their self-sufficiency skills. We are so grateful to Councilmember Balducci for her advocacy and support!"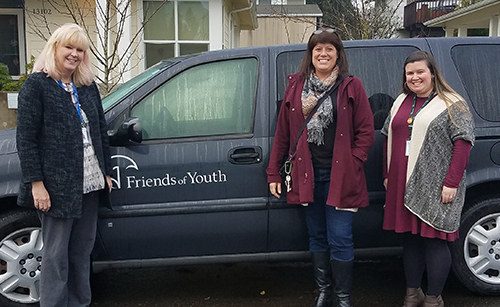 l-r Friends of Youth President and CEO Terry Pottmeyer,
Councilmember Balducci, and
Senior Director of Homeless Youth Services Karina Wiggins.
TOPs empowers youth for lifetime success, through tennis, education, fitness and character development, regardless of economic circumstance.

"TOPs is excited to utilize this passenger van to transport the large number of youth we are serving on the Eastside to more opportunities to learn and develop," said Executive Director Travis Roach. "The van also will provide access for youth that previously didn't have transportation to our year-round tennis and off-court enrichment programs at our non-profit, public tennis center (Eastside Tennis Center in Kirkland). Thank you so much to Councilperson Claudia Balducci and King County for helping TOPs serve more kids and in more ways!!!"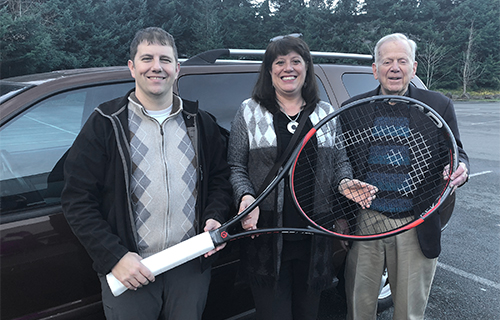 l-r Travis Roach, Councilmember Balducci, and Charles "Chick" Hodge
Boys and Girls Clubs of Bellevue will use its donated van to transport transporting youth from school to its clubhouses and field trips, as well as providing transportation to club members that live at five King County Housing Authority properties located in Bellevue.

"We are truly thrilled to be the recipient of this van," said President/CEO Kathy Haggart. "Transportation remains one of the biggest challenges when it comes to providing the kids in our community with access to our Clubs. Although we do get support from the school district buses, who drop off kids at Clubs where there is a school bus route, many times that is just not feasible. This van will get a lot of use and help us provide even more kids who need our life-saving programs!"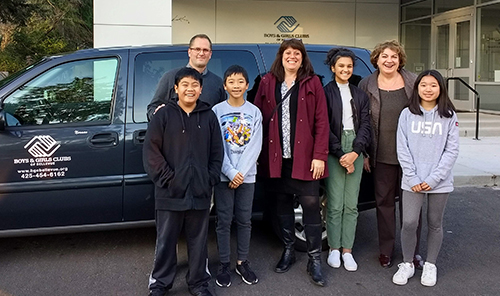 (l-r) BGCB Vice President/CDO Ryan Scott, Councilmember Balducci,
BGCB President/CEO Kathy Haggart,
and members of the Boys and Girls Clubs of Bellevue
The King County van donation program allows the King County Council to provide direct support to nonprofits in our communities. Retired, but still useable, vanpool vans give people better access to critical services and enriching programs.

Interested organizations can contact Councilmember Balducci at 206-477-1006 or claudia.balducci@kingcounty.gov for more information on applying for a vehicle.