Congressman Adam Smith Joins Local Leaders to Discuss Results of the 2018 Midterm Election
Summary
The Congressman emphasized the need for collaboration in finding solutions despite disagreements
Story
9th District Congressman Adam Smith spoke to Auburn and Federal Way city leaders at the November "Good Eggs" breakfast hosted by Metropolitan King County Councilmember Pete von Reichbauer.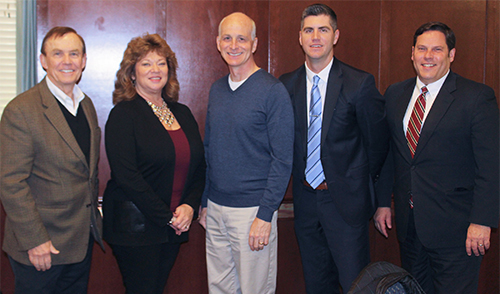 (l-r) Councilmember von Reichbauer, Auburn Mayor Nancy Backus,
Congressman Adam Smith, Jeff Stock, Jr. of Caffé D' Arte
and Federal Way Mayor Jim Ferrell
Smith discussed the results of the 2018 midterm election and what they mean for South King County. Smith also discussed his priorities for representing his constituents in our nation's capital.

The Congressman emphasized the need to move beyond disagreements to find solutions, and stressed the importance of improving economic security by making investments in health care, job training, and infrastructure.