King County Budget Appropriates $3 million to Provide Resources for Low-Income Families
Summary
Funds will be used to offer families emergency transitional housing, day care,job training and community services

Story
At the request of King County Councilmember
Pete von Reichbauer
, the Metropolitan King County Council appropriated $3 million in funding to help the Federal Way-based non-profit, Friends United to Shelter the Indigent, Oppressed and Needy (FUSION,) build a Family Transitional Housing and Community Services Center in partnership with Light of Christ Lutheran Church in Federal Way.
The project, which has received government, business and community support, aims to provide 22 units of family emergency transitional housing, a day care center, job-training facility, and a community services facility that will be available to members of the public. Located on the Light of Christ property between 344th and 21st Avenue SW, FUSION will work in conjunction with Light of Christ and Mary's Place or Catholic Community Services to provide these services.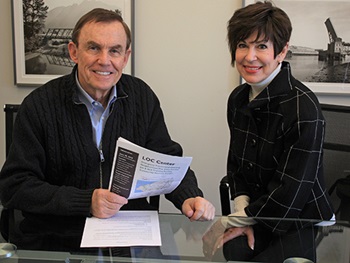 Councilmember von Reichbauer with Peggy LaPorte, Founder and President of FUSION (
Friends United to Shelter the Indigent, Oppressed and Needy)
"I support this proposal because of the role FUSION will play in managing the property," said von Reichbauer. "For 25 years, FUSION has worked with local South King County neighbors as they have provided transitional housing and services to struggling families in our area. With the cooperation of our local neighbors, FUSION has successfully incorporated these families into condos and homes in our area."
South King County has a critical need for housing for low-income and temporarily homeless families. Currently, Federal Way has two shelters; one for men and one for women. The LOC Center will focus on families with children who may be currently sleeping in cars or receiving vouchers for short-term motel stays. The funding for the LOC Center was part of the 2019-2020 King County Council budget adopted by the council November 13.
"As a long-time supporter of FUSION and its mission of helping low-income families, I am proud that King County has adopted my recommendation to partner with them as they move forward on this project," said von Reichbauer. "Our area has a compelling need for a permanent center that can serve families and provide them with the accessories such as day-care and job training that can help get them on their feet again."