Attorney General Meeting with South King County Community Leaders Focused on Consumer Protection Efforts
Summary
The Attorney General discussed his views about his role overseeing the largest law firm in the state of Washington
Story
Washington State Attorney General Bob Ferguson provided an update on his ongoing efforts as Attorney General to South King County community leaders at the February "Good Eggs" breakfast hosted by Metropolitan King County CouncilmemberPete von Reichbauer.

The Attorney General discussed his views about his role overseeing the largest law firm in the state of Washington. The Attorney General's Office represents and provides legal counsel for every aspect of the state. He also discussed his office's legislative efforts in Olympia during this year's legislative session.

During the questions and answer portion, the Attorney General discussed some of his priorities including the opioid epidemic, consumer protection efforts, and the importance of maintaining a non-partisan office culture.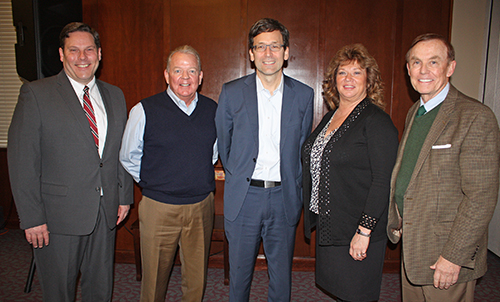 Attorney General Bob Ferguson with South King County community leaders.
L to R: Federal Way Mayor Jim Ferrell, Way Scarff of Scarff Motors, Washington State Attorney General Bob Ferguson,
Auburn Mayor Nancy Backus, Councilmember von Reichbauer