Remembering the challenges women have faced, recognizing their continuing contributions locally, nationally and globally
Summary
County Council celebrates Women's History Month
Story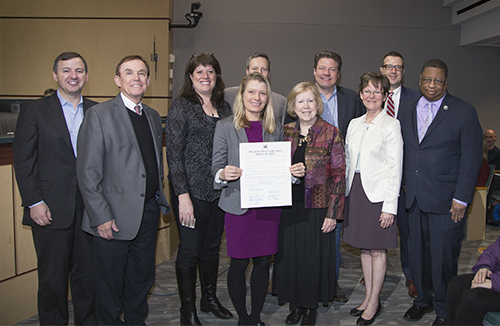 Councilmembers are joined by Sarah Reyneveld, Chair of the King County
Women's Advisory Board (holding proclamation),
after the Council declared March Women's History Month in King County
The Metropolitan King County Council today celebrated the historic contributions women of every race, ethnicity, sexual preference, and socioeconomic background have made, and continue to make in the growth, and strength of King County, Washington State, our nation, and the global community. The council recognized that history in proclaiming March Women's History Month in King County.

Councilmembers Jeanne Kohl-Welles, Kathy Lambert and Claudia Balducci co-sponsored today's proclamation. They are three of the 15 women who have served on the King County Council beginning with Bernice Stern in 1969.

Stern was followed by Ruby Chow, Patricia Thorpe, Lois North, Audrey Gruger, Cynthia Sullivan, Louise Miller, Jane Hague, Maggie Fimia, Julia Patterson, Carolyn Edmonds, Jan Drago and Kohl-Welles, Lambert and Balducci.

Today's recognition is an opportunity for all Councilmembers to reflect on the contributions of the women who have served on the Council as well as the challenges facing all women as they continue their vital role in shaping history and policy throughout the world.
---
QUOTES:
---
"Women's History Month is not just a time for reflection and celebration. Rather, it is a time to look ahead, to continue the struggle, and resurrect our desire and passion for a world in which no woman is treated differently because of her gender. We still have much to do here in King County and across the globe. But, I'm as inspired as ever by the women with whom I work."
--Councilmember Jeanne Kohl-Welles

"Our state has been a leader in the number of women serving in elected public office at all levels. I appreciate and respect the growing number of women who are dedicating their lives to public service and they serve as an inspiration to the next generation of women leaders. While much work has been done to remove some of the obstacles women face in the workplace, there is still much more to do and we must continue to increase awareness of these challenges."
--Councilmember Kathy Lambert

"It's always humbling to reflect on those who have come before us—the trailblazers, the women who stepped up to make it possible for us to hold office today—and to remember that we are a part of their heritage. We honor their legacy when we serve our communities well and work to ensure that future generations of women know there is no limit to what they can achieve."
--Council Vice Chair Claudia Balducci

"The King County Women's Advisory Board is honored to accept this Proclamation and extends our sincere thanks to Councilmember Jeanne Kohl-Welles and the King County Council for their leadership in helping to advance gender equity and access to opportunity for all women in King County. The WAB appreciates the opportunity to partner with the King County Council to help strengthen women's access to justice, improve wage equity, and support family friendly work places. We look forward to continuing to work with the Council to further improve child care access and affordability throughout King County."
--Sarah Reyneveld, Chair of the King County Women's Advisory Board
---
WHEREAS, in 1910, Washington became the fifth state to enact women's suffrage, and the success of which helped inspire the campaign that culminated in the passage of the 19th Amendment to the U.S. Constitution in 1920, when women won the right to vote nationally; and

WHEREAS, Native American women were specifically excluded from Washington's 1910 suffrage act, still systematically denied the right to vote in Washington following the passage by Congress of the Indian Citizenship Act of 1924, and continue their struggle for equality up to the present day, as evidenced by last week's passage of Senate Bill 5079, the Native American Voting Rights Act, and by the fact they suffer violence inflicted upon them at nearly four times the rate of other women; and

WHEREAS, since 1914, March 8th has been recognized as International Women's Day, and since 1987, March has been designated National Women's History Month in the United States; and

WHEREAS, beginning in 1998, King County has observed March as Women's History Month in recognition of the role played by women in the growth and development of our economy, our government, our cultural and artistic achievements, and many other areas of accomplishment; and

WHEREAS, with the inception of the King County Council and the election of Councilmember Bernice Stern in 1969, women from all over our county have represented the people of King County on the Council for the past 50 years; and

WHEREAS, women constitute a majority of King County's population and a significant portion of the labor force, making countless contributions to our community across every facet of life, and many women are committed to their dual roles as professional women and mothers; and

WHEREAS, women of every race, ethnicity, sexual orientation, ability, and socioeconomic background continue to make historic contributions to the growth and strength of King County, Washington State, our nation, and the global community; and

WHEREAS, women from all backgrounds have fought for equal treatment for all, recognizing that together, we can make great strides;

NOW, THEREFORE, we, the Metropolitan King County Council, proclaim March 2019 as

in King County, to recognize and celebrate the contributions women have made to our nation's history and will make to its future..

DATED this thirteenth day of March, 2019.