King County provides funding opportunities to community organizations throughout the year. We will update this page as new grants become available, and when requests for proposals are posted. Sign up for our new Grant Listserv here. We'll be sending out updates on open grants across the county.
New Best Starts for Kids Funding Grant
Best Starts for Kids has a new request for proposals that promote healthy outcomes for families through community-based parenting and peer supports. Find additional details and download the RFP on the BSK Blog.
Best Starts for Kids
Best Starts for Kids (BSK) is King County initiative to improve health and well-being by investing in early intervention and prevention for children, youth, families and communities. The BSK Blog features community meetings and open Requests for Proposals (RFPs). You can find open funding opportunities here.
4 Culture
4 Culture is a cultural funding agency in King County. It has four program areas – arts, heritage, historic preservation, and public art. 4 Culture offers a variety of rolling grants throughout the year. Click here to find open funding opportunities.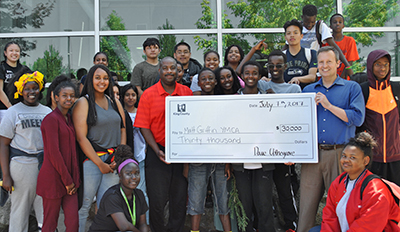 CM Upthegrove at Matt Griffin YMCA in SeaTac. Matt Griffin YMCA received $30,00 through the Youth Sports Facilities Grant Program