December Good Eggs breakfast with Sheriff Sue Rahr
Sue Rahr, Sheriff of King County, talked about the importance of supporting social service and early learning programs to mitigate the potential for costly incarceration later in life.

The "Good Eggs" breakfast is a monthly roundtable discussion of local elected officials and business leaders from south King County.
Photos: Top: Councilmember von Reichbauer with King County Sheriff Sue Rahr. Bottom (from left): Councilmember von Reichbauer, Sheriff Sue Rahr, Mayor Dave Hill of Algona, Mayor Pete Lewis of Auburn, and Mayor Debra Perry of Milton.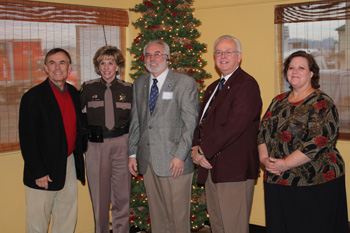 Duclos retires after 16 years with Multi-Service Center

On December 7th, the community came together to recognize Dini's service to the region after sixteen years as CEO of the Multi-Service Center.

Photo (from left): Betty Simpson, Dini Duclos, Councilmember von Reichbauer, Sue Celski, and Federal Way Councilmember Bob Celski.


Councilmember Pete von Reichbauer speaks at South King County Sound Transit Summit
On December 7th, I met with other south King County leaders and Sound Transit officials to discuss the challenges that the region is facing largely due to financial shortfalls in tax revenues. The meeting took place at Highline Community College, which serves a growing student population in south King County. I concluded the meeting with a call for a modern day Marshall Plan to help solve south King County's increasing demand for public transit.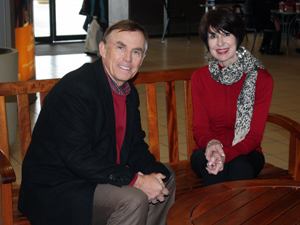 FUSION of Federal Way receives King County funds to aid homeless families

Councilmember von Reichbauer meets with Peggy LaPorte, a founder of FUSION during the holidays to advise her of a special $20,000 grant that was added to the 2012 County Budget to help South King County house homeless families. Read more
District 7 hosts Rob McKenna, Washington State Attorney General
During this month's Good Eggs Breakfast, Rob McKenna, our state's Attorney General, spoke to regional leaders of District 7 about his community focused initiatives.

Photo (from left): Jim Blanchard of Auburn Youth Resources, Mayor of Auburn Pete Lewis, Nancy Colson, Washington State Attorney General Rob McKenna, Auburn City Councilmember Lynn Norman, Eric E. Robertson of Valley Regional Fire Authority, Pam Taylor of Valley Cities Counseling Center, Councilmember von Reichbauer


City of Algona Community Center receives retired King County van
On November 2, I delivered a retired Metro van to Algona Mayor Dave Hill for transportation of senior citizens to their community center. I know that this van will be put to good community service by the city of Algona.
November is Pancreatic Cancer Awareness Month in south King County
On November 2 during the Federal Way Chamber of Commerce membership luncheon I presented a proclamation making November Pancreatic Cancer Awareness Month in South King County.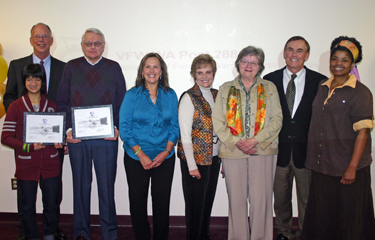 Reach Out fundraising breakfast
I emceed the Reach Out Fundraising Breakfast in Federal Way on October 13. Proceeds went towards opening a new winter shelter for homeless women in south King County.
Photo (from left): Recognized Local Hero Megan Johnson, Mayor of Federal Way Skip Priest, Recognized Local Hero Bob Wroblewski, Reach Out Coordinator Laurie Fiorito,Reach Out Coordinator Nancy Janicke, Reach Out Coordinator Willa Gaines, King County Councilmember Pete von Reichbauer, and Guest Speaker Sheila Sebron.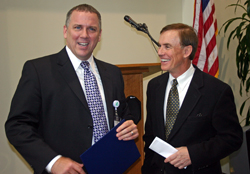 Auburn Regional Medical Center
I presented a proclamation to Larry Coomes, new CEO of Auburn Regional Medical Center (on the left), recognizing the medical center's 90 years of service to south King County and its importance to healthcare in our region.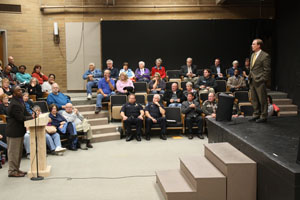 Town Hall on combating gang violence and prevention
On October 10, I was joined by King County Prosecutor Dan Satterberg and Chief Deputy Sheriff Steve Strachan at Thomas Jefferson High School for a Town Hall meeting on the growing problem of gangs in South King County.
The meeting was a direct response to the calls and emails I've received from constituents who are concerned about the growing cancer of gang violence in our communities. Read more.

Economic development and the arts
Jim Kelly, Executive Director of 4Culture, was the guest speaker at my September "Good Eggs" breakfast meeting. Jim spoke to us about the importance of art as a part of economic development in south King County.

Photo: (from left) Councilmember von Reichbauer, Federal Way Councilmember Jeanne Burbidge, 4Culture Executive Director Jim Kelly, and Auburn Mayor Pete Lewis.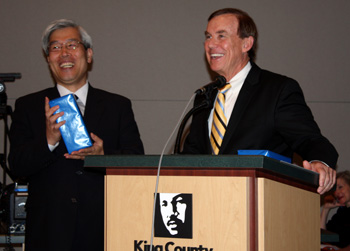 Recognizing Korean Independence Day
At the August 15th meeting of the King County Council, I presented a letter of recognition to Korean Consul General Young Song in celebration of Korea's Independence Day, stating that "It is my extraordinary honor to celebrate this holiday with our Korean community."

South Korean Independence Day, celebrated annually on August 15th, commemorates freedom from decades of foreign occupation and the formation of the South Korean republic. The holiday is called Gwangbokjeol (pronounced "choh-goo-kay-bahng-eh nal") by South Koreans, meaning "Restoration of Light Day.". Read more.

New President of Trade Development Alliance speaks at Good Eggs breakfast
At my "Good Eggs" breakfast meeting on August 24th, keynote speaker Sam Kaplan, the president of the Trade Development Alliance, explained that one in three jobs in the greater Seattle area is linked to international trade. This makes Washington the most trade-dependent state in the country. TDA helps connect potential trade partners as well as acting as a clearinghouse for various trade groups.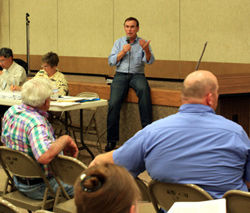 Informational town hall on Pacific Raceways legislation
Nearly 100 people attended a town hall meeting I moderated on proposed legislation regarding Pacific Raceways. The meeting, which was held on August 18th at Lakeview Elementary School in Auburn, drew neighbors, stakeholders, and concerned citizens on both sides of the issue to have their questions answered. Read more
District 7 hosts Randy Dorn, State Superintendent of Public Instruction
I was honored to have State Superintendant of Public Instruction Randy Dorn in Federal Way on July 27th for my monthly "Good Eggs" breakfast meeting, attended by civic and local business leaders. Read more.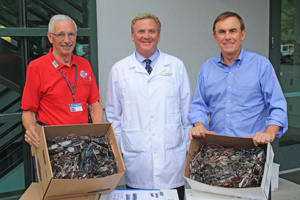 Bringing new vision to developing countries
Since 1993, ophthalmologist John Jarstad has been providing residents in developing nations the gift of sight. Dr. Jarstad and the Federal Way Kiwanis have been part of the Save Old Spectacles (SOS) program, which provide glasses throughout the world. I was able to provide SOS with 1,500 glasses from Metro Transit's lost and found. Read more.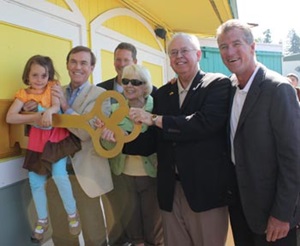 Celebrating the opening of Wild Waves
During our summer months, we are lucky to have family-friendly areas, such as Wild Waves, right here in South King County's own backyard.

On Saturday, July 2, I joined Mayor Pete Lewis of Auburn, Mayor Rebecca Olness of Black Diamond, Wild Waves' General Manager, Todd Suchan and Wild Waves' owner, Jeff Stock, in officially opening the amusement park for the month of July.

The 4th of July weekend marks the true beginning of summer for most Northwest sun-seekers. Wild Wave's water attractions offer the community a variety of family-friendly options to stay cool during the summer months.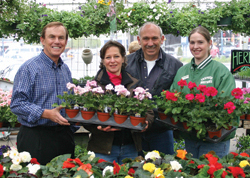 Farmers markets and farms near district 7
King County is still farm country, with a variety of local options still available. Every year, I provide a directory of the local farms and farmer markets in our region. County farms produce some of the best products in the country, and continue to be a vital part of our regional economy. Your business ensures that small farms can continue to operate. Find out more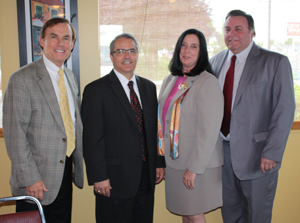 Lt. Gov. Owens provides Olympia update at breakfast meeting
Every month I meet with south King County business and civic leaders for a roundtable discussion on the issues facing our communities. This month's meeting had a special guest: Lt. Gov. Brad Owens, who spoke not only about his role in Olympia, but on the results of the recent legislative session. Read more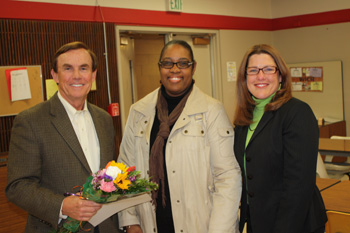 Councilmember Pete von Reichbauer was honored by Thomas Jefferson High School for his positive involvement in the school
The 15th Annual Board Recognition Event honored individuals and groups who have demonstrated outstanding achievements, knowledge, skills or citizenship and are representative of the school and school District, and/or have had an impact on the implementation of the District's Strategic Plan.
During his time as a County Councilmember, von Reichbauer has helped to secure funds for a new track, tennis courts, and a sound system at Thomas Jefferson; he has also participated in and funded a campus beautification project, as well as hosted a health and fitness summit for students.
My forum is now live!
Join us online to engage in an informative dialogue about issues which are important to you. The website offers a place to voice your concerns, suggestions and complaints.
Features include a question and answer form titled "Ask Pete" and a Customer Service Survey. In the future the forum will host additional surveys and communication pieces.
King County's RapidRide A Line tops expectations for ridership, customer satisfaction
New findings show A Line ridership up an estimated 25 percent

King County Metro Transit's RapidRide A Line has become so popular in its first few months of operation that ridership along the 11-mile route serving Pacific Highway South/International Boulevard in South King County has surpassed expectations. Not only has ridership increased by about 25 percent, overall satisfaction with service on the corridor is at an all-time high with 84 percent of riders giving the A Line a thumbs-up. Read more...
Metro and Sound Transit Bus changes effective February 5


The month of February brings bus changes to both Metro Transit and Sound Transit. Metro Transit updated its bus service, starting February 5. This includes additional bus service on State Route 520, routing and bus stop changes for approximately two dozen bus routes from various areas of the county that pass through downtown Seattle, and a new express route connecting Kenmore to First Hill with stops in Lake City and South Lake Union. The Sound Transit Express Regional Bus also made bus changes that were effective beginning February 5. Major changes include more trips added to Route 522 and stop changes in downtown Seattle for most of the Sound Transit Express routes. Read more...
2011 Seattle Mariners Friends of Scouting Luncheon benefits the Chief Seattle Council Boy Scouts of America
King County Councilman Pete von Reichbauer attended the annual Seattle Mariners Friends of Scouting Luncheon at the Bellevue Hyatt Regency. The program at the Friends of Scouting luncheon featured a panel discussion with panelists including Mariners General Manager, Jack Zduriencik and new Field Manager, Eric Wedge, as well as current Mariners Infielder Dustin Ackley, Pitcher Brandon League, and Outfielder Michael Saunders. Read more...
South King County leaders sit down with Sound Transit Chairman Aaron Reardon
King County Councilmember Pete von Reichbauer hosted a breakfast meeting for south King County business and civic leaders with Snohomish County Executive and Sound Transit Board Chairman, Aaron Reardon as the guest speaker. Read more...