WA State and Local Superior Court Rules
Authority for Filing, Access and Maintenance of Electronic Court Records
Washington Court Rules provide the standards for Washington courts. Local courts may, at their discretion, create Local Rules to elaborate on state standards so long as they are in accordance with the state court rules. ECR Program stakeholders were particularly involved in and affected by the development of four Washington State General Rules and related Local Rules during the ECR Program's development.
The development of Washington Courts General Rule 31 involved a years-long, robust debate over the appropriate balance between access and privacy. Also known as the Access to Court Records rule, General Rule 31 opened court records to public inspection (with limited exceptions). Attorneys, clerks, the press, and victims' advocates all considered the myriad of issues raised by providing easier, more comprehensive, and online access to court records.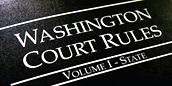 A paper-based records system can provide a level of practical obscurity that an electronic record (possibly accessible online) does not. General Rule 31 sought to find the correct balance between access and privacy. Information below describes the way King County has maintained that balance locally under Local Rule 31.
The Washington State Clerk's Association worked with the Supreme Court Rules Committee to develop General Rule 30 (also known as the Electronic Filing rule) ensuring the Clerk's authority to accept electronically filed documents (unless otherwise prohibited by statute). GR 30, a state court rule, allowed for the possibility of e-filing - see below for further information about establishment of mandatory e-filing in King County.
Though the Clerk's Office had less involvement with the development of
General Rule 15
and
General Rule 22
, no discussion of the laws relating to ECR would be complete without them. GR 15 sets forth acceptable procedures for destruction of court records (including electronic court records) and GR 22 provides safeguards for records in family law and guardianship proceedings. These two rules continue to have strong effects on the day-to-day experience of the ECR program.
General Rule 31 facilitated online access to electronic court records, and Local General Rule 31 clarified which records would be accessible in King County. Under Local Rule 31, criminal, civil, and probate records filed after November 1, 2004 were made accessible online, with some limited exceptions.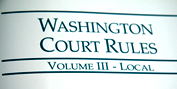 At the state level, General Rule 30 made e-filing optional. In practice, optional e-filing resulted in very low usage. As customers explained (and statistics confirmed), users were reluctant to adopt new processes and work flows while e-filing remained optional. As a result, King County Superior Court and the Clerk's Office engaged in conversation with the local legal community regarding the possibility of mandating e-filing. With the community in broad agreement that mandating e-filing would be the most effective path to adoption of the new model, King County implemented Local General Rule 30, mandating e-filing for attorneys. This local rule came into effect in July, 2009, and has helped King County Superior Court and its customers gain the benefits of the greener, more efficient e-filing model.